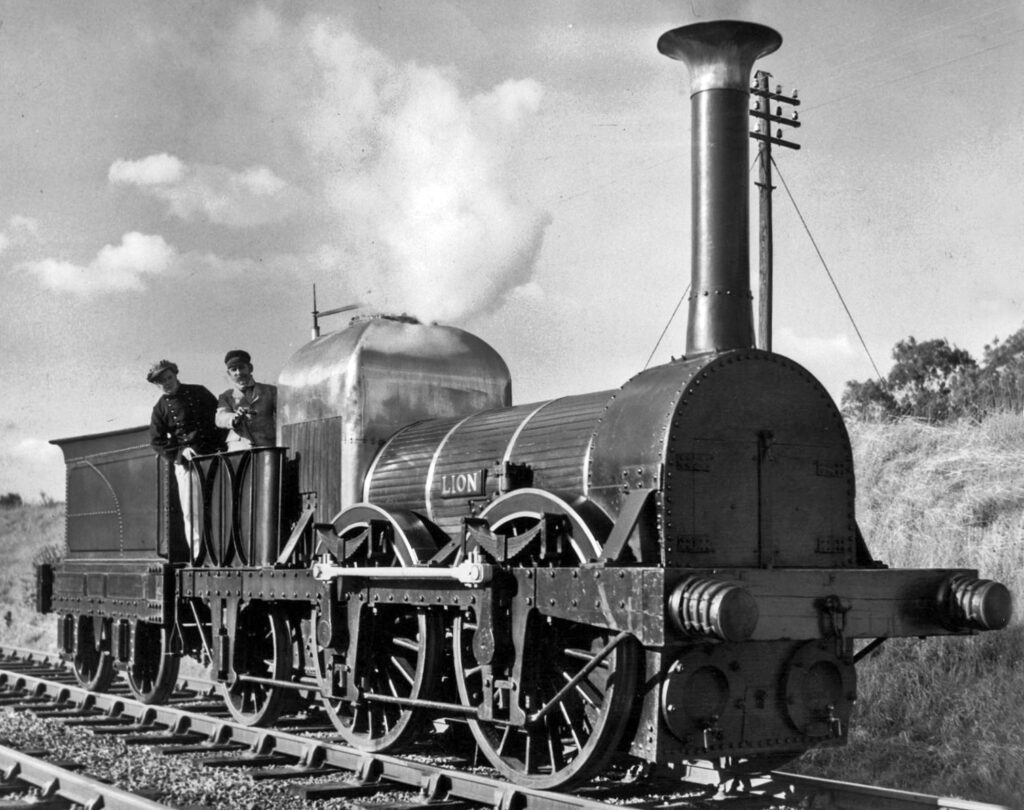 Kitson was one of the great names in industrial Hunslet and Leeds. For over a century locomotives bearing the name were exported all over the world covering the new railways which fed growth and development and one of the men at the heart of this was James Kitson.
James Kitson was born on 2 October 1807. The son of William Kitson, a publican, he was born in the Brunswick Tavern Camp Road, Leeds, an area now behind the Leeds Arena, he was the oldest of six children. He was educated firstly at a school in Woodhouse Carr and then at James Sigston's School in Woodhouse Lane. He was known to have helped out in the family pub and slept under the bar. At the age of 14 he became apprenticed to a local Dyeworks to learn the trade and here he acquired a bad injury. Two years later his father died from drink and he had to help his mother sort out the tangled affairs, run the business, and look after the five younger children.
In spite of his injury he was determined to improve himself so he joined the newly opened Mechanics Institute where he studied chemistry, mathematics, and mechanics, proving to be a diligent student. He also became fascinated with the new railway technology. James decided to undertake an apprenticeship at Fenton, Murray & Wood in Holbeck at the Round Foundry works, a path well-known to be followed by other Leeds engineers.
He then went to work under Robert Stephenson at the Robert Stephenson & Company factory in Newcastle-upon-Tyne; it was from this time that he came to count the elder George Stephenson as one of his closest friends.
James ran the Inn and just before his 21st Birthday in 1828 he married Ann Newton. The couple would have eleven children, though only six survived into adulthood: Frederick William (1829-1877); James Junior (1835-1911); Mary Ann (1838); Emily (1842); James Hawthorn (1843-1899); Arthur (1849). One of the surviving sons James (Junior) was to follow in his father's footsteps as a locomotive builder and a politician.
Having decided on engineering for his future career James decided to move to Hunslet where other locomotive works had been established to feed the railway boom. In 1835 James Kitson started a Company at a Foundry off Pearson Street, and formed a partnership with Charles Todd, an ex-Matthew Murray apprentice. Initially they made parts for other builders, then in 1838 they brought in David Laird, a farmer looking for a good investment for his money thus providing the finance for the project and forming Todd, Kitson & Laird, Railway Foundry, Hunslet Lane.
In 1838 their first locomotive, 'The 'Lion' was rolled out through a hole knocked in the mill wall, The Lion still exists and anyone old enough would see her in the film 'The Titfield Thunderbolt'. However, shortly after this Todd left to form Shepherd & Todd, of the Railway Foundry which later became known as EB Wilson & Company leaving the firm to become Kitson & Laird.
Together with Laird they started a new works at or near the site of what was to became the Airedale Foundry (possibly the old Airedale Brewery site) under the name Laird, Kitson & Company with the first wage sheet amounting to £3.1s.8d (£3.8½ p) being paid on 18 May 1839 to five men who had worked two to five days. These early wage records were made out in an Account Book that had belonged to a certain Portuguese wool merchant, whose warehouse, contents included, appears to have been taken over.
In 1840 they built their first locomotives, No 1 and No 2 for the North Midland Railway and this led to a long connection between Kitson and this railway. Locomotives No 3 and No 4 were built for the Lancashire & Yorkshire Railway while No 7 and No 8 were built for the York & North Midland Railway but things were not working out. David Laird left the Company because he was not getting a good return for his money and this led to the Company reconstituting on 10 June 1842 with new partners.
The new name for the Company was now Kitson, Thompson & Hewitson. Isaac Thompson was born in Northallerton in 1795 and in 1851 he was living with his wife Hannah, a Skipton born woman, at Govemor Lodge, Headingley with their two sons while William Watson Hewitson who was born in Allendale, Northumberland in 1814 was, in 1861, living at Woodlands, Otley Road.
The Company made locomotives for many of the UK railway Companies as well as some of the major Continental railways and from 1856 many Indian railways became major customers. In 1851 they won an Award at the Great Exhibition and in this year there was a strike of the mechanics at the works. Isaac Thompson left the partnership in 1858 and the Company now traded as Kitson & Hewitson.
Hewitson was a Manager and the principle Draughtsman and continued thus until his death on 7 May 1863 aged 48. He had made the locomotive engine his special study from his first connection with the company, but during the last two years of his life he worked on the development of the steam plough with John Fowler. He built some of the steam plough engines for John Fowler & Company until their factory (Steam Plough Works) was ready. On the death of Hewitson the firm became Kitson & Company.
In 1854 he bought the Monkbridge Ironworks in Whitehall Road to ensure a good supply of quality iron placing his two eldest sons, James Kitson (Junior) and Frederick William Kitson in charge of the works, which in 1858 were incorporated with the Airedale Foundry. In 1853 he is shown as age 43 living at 18 Blenheim Terrace having moved from Hunslet Lane and in 1861 as living at 1 Little Woodhouse aged 55. He was also active in public life: Chairman of the first Leeds Musical Festival in 1857, a JP, Alderman, and Mayor in 1860 and 1861. He became President of the Mechanical Institute which had helped him to set out on the road to success. As well as being involved in banking and railways he belonged to all the elite Leeds societies.
He was now distant from his early Trade Union links and was a tough employer, ready to break a strike among his workers. In 1877 he brought James (Junior) to help him manage the engineering factory in Hunslet.
In 1868 after the death of his first wife, Ann, he bought Elmete Hall in Roundhay, this was set in 65 acres with spectacular views. The old hall was demolished and a huge Italianate mansion was built and fitted out regardless of cost and it was to here that he brought his second wife, Elizabeth, 26 years his junior and with who he had four children, two girls, Frances R and Eva M, and two boys (names not known) to live in luxury. When the creation of Roundhay Park was proposed because it adjoined his land Kitson objected. It was at Elmete Hall a far cry from the old tavern in Camp Road that James Kitson (Senior) died in 1885 aged 78.
Main photo: No2 'Lion' photographed in 1961