Advertising with South Leeds Life helps to keep the website and newspaper going, and allows us to continue offering the content we provide.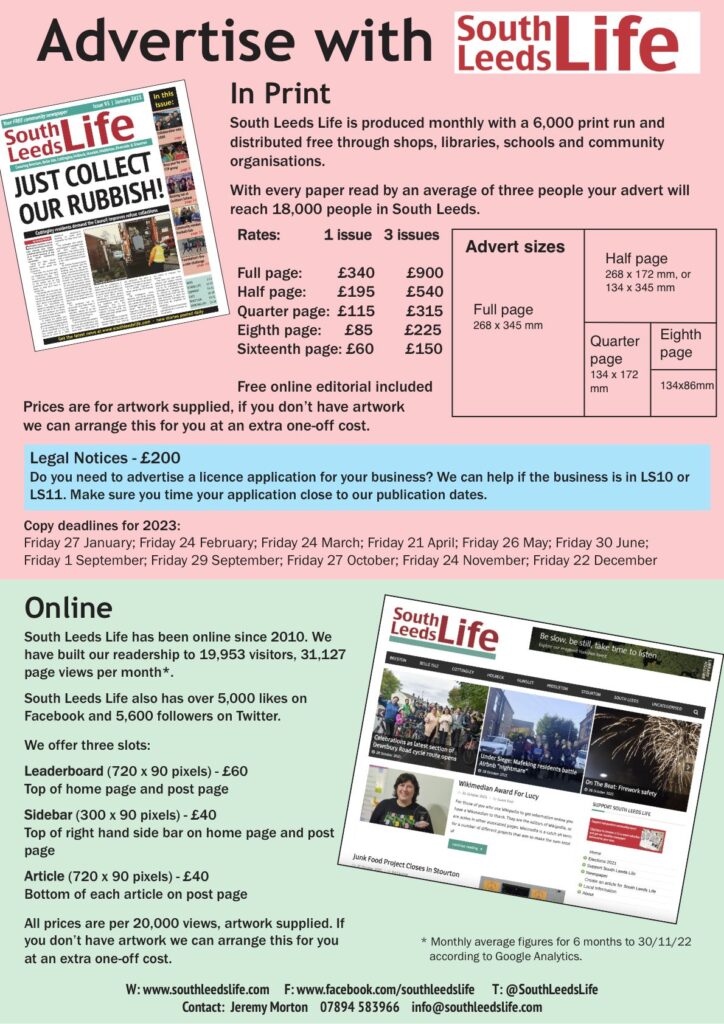 Download our rate card here: Advert rate card South Leeds Life 2023
We offer Display Adverts on our website.
Display Adverts appear across the whole site and are available in three sizes:
Leaderboard  appears at the very top of each page. 
  Size: 720 x 90 pixels  |  Price: £60 per 20,000 views

Sidebar appears near the top of the sidebar on each page.
  Size: 300 x 90 pixels  |  Price: £40 per 20,000 views

Article appears at the bottom of each article
Size: 720 x 90 pixels  |  Price: £40 per 20,000 views

All Display Adverts will require an appropriately sized graphic. You can provide this yourself or we can produce one for a small additional cost.
Clicking on a display advert will link to further information. This can be:
a link to a page on an external website.
a downloadable pdf  version of a leaflet or poster (we can help with this if required).
an article on our website promoting your product or service (we will work with you to produce this).
To place a Display Ad or make further enquiries please email info@southleedslife.com or telephone 07894 583966