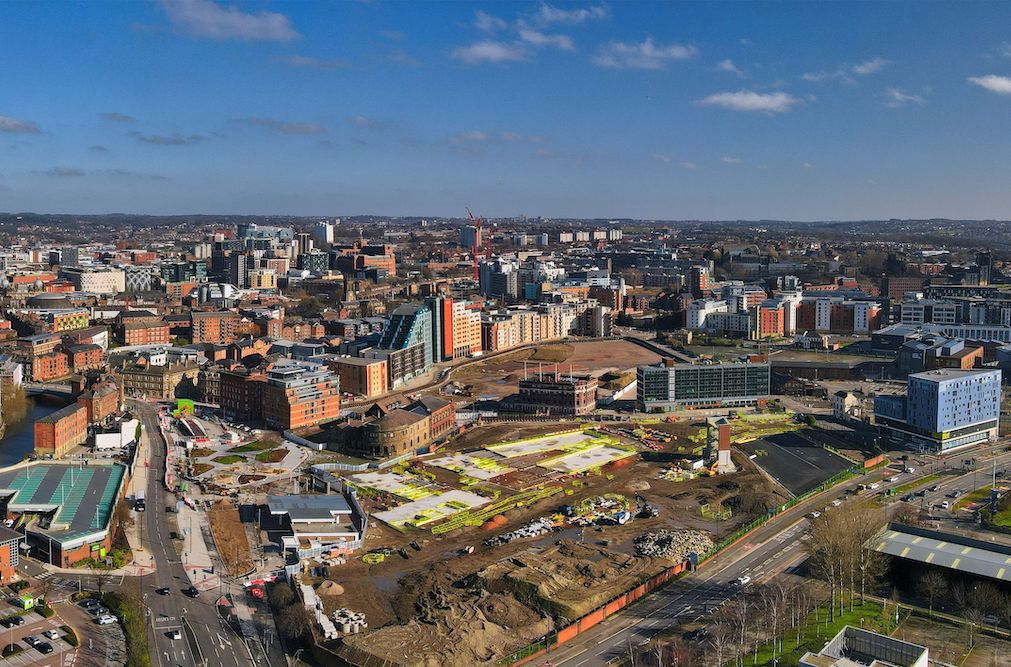 An exciting double milestone has been reached in the development of Aire Park – the urban oasis that will change the face of Leeds city centre and strengthen its reputation as a world-class place to work, rest and play.
The largest new city centre green space in the UK, Aire Park will be made up of a series of attractive, diverse and interconnected public areas stretching across eight acres of land – from reclaimed roadway at Meadow Lane to tree-lined lawns and gardens on the former Tetley Brewery site in Hunslet. The green space will sit at the heart of a new mixed-use district which will provide much-needed homes, offices and retail space for the centre of Leeds.
And today Leeds City Council can confirm that the Meadow Lane part of the park – delivered for the local authority by contractor John Sisk & Son Ltd – is nearing completion, with a public opening date set for mid-April.
In a second milestone, developer Vastint UK has begun construction work on the five-acre section of Aire Park that will stretch east towards Crown Point Road. This phase of construction includes a large public events space and the first of the commercial buildings, both of which will open for use in 2023.
Today's announcement comes as Leeds rides the crest of an infrastructure investment wave, with the city – recently named the most vibrant of its size in Britain – seeing record levels of construction activity during 2021.
Aire Park and other major schemes – such as the successful implementation of the Leeds Public Transport Investment Programme and work towards the general traffic-free transformation of City Square by the end of 2022 – are designed to support the council's net zero ambitions and its vision of Leeds as a place where you don't need a car to get around and access opportunities.
These sustainable and people-focused infrastructure initiatives will, it is hoped, power Leeds's post-pandemic economic recovery by attracting even more of the kind of investment that helps deliver jobs, homes and quality spaces where everyone can meet and connect.
Leeds City Council leader Councillor James Lewis and Councillor Helen Hayden, the council's executive member for infrastructure and climate, were among a number of key players who last week paid a visit to the Aire Park site – in the city's South Bank regeneration area – to see the progress being made on the project. Also in attendance were Simon Schofield, construction lead for Vastint UK North, and Sisk managing director Dominic Hodges.
A new animation has today been released that brings to life the plans for the park and the part it will play in weaving better connections between local neighbourhoods while also adding a flavour of rural Leeds to the city centre.
Starting out from Sovereign Square and its existing green space, the fly-through heads south-east via the new David Oluwale Bridge, which is due to be moved into position over the River Aire at the end of March. Other elements featured in the animation include:
Meadow Lane, where the initial phase of work on Aire Park has seen the narrowing of the highway, the removal of the old Hunslet Lane surface car park and the creation of new green space;
The five-acre phase of the park that is set to occupy much of the Vastint UK-owned former Tetley Brewery site and will include features such as a playground, café and public events area;
Crown Point Road, where work is due to start at the end of March on changes – such as a new cycleway, wider footpaths and green landscaping – that will make the route more suitable for active travel. The road will remain open to traffic, but is being reduced from two lanes to one.
A further phase of Aire Park will, subject to the future award of planning permission to Vastint UK, eventually take shape on the other side of Crown Point Road.
Councillor James Lewis, leader of Leeds City Council, said:
"Aire Park will have a transformational effect on life in Leeds and it's great to see how the plans are coming together thanks to significant investment by Vastint UK and help from other partners and stakeholders.

"Projects like this are testament to the strength of Leeds's economy, as are the city's recent record-breaking construction figures and investment successes such as the opening of the UK Infrastructure Bank, the arrival of Channel 4 and the new Leeds-based hub being planned by the Bank of England.

"The park will be a fantastic year-round attraction for people of all ages to enjoy and underlines our collective commitment to creating places and spaces that bring all our people together.

"Crucially, it should also act as an environmentally-friendly driver for regeneration and inclusive growth – and new homes, jobs and opportunities – as our economy bounces back from the effects of the pandemic.

"By creating public spaces that are greener and better connected, we want to make Leeds a magnet for investment and business activity that will turbocharge the city's already impressive momentum and provide a wellbeing benefit that everyone who lives here can share in.

"The Aire Park investment is a massive vote of confidence in Leeds and I am looking forward to watching the project continue to take shape over the coming months."
Sisk managing director Dominic Hodges said:
"Sisk is extremely proud of the work we've delivered in Leeds over the past three years. Many of our staff, partners and workforce are from Leeds and will benefit from the improvements for years to come.

"I'd like to thank everyone who's been involved on this project, from our colleagues at Leeds City Council to our dedicated teams who've delivered this significant scheme."
The construction of the David Oluwale Bridge and the work on Meadow Lane and Crown Point Road is being jointly funded by the council, section 106 developer contributions and the West Yorkshire Combined Authority, with the latter's share coming through the Government's Getting Building Fund.
Tracy Brabin, Mayor of West Yorkshire, said:
"Green spaces are vital to our mental health, and often in short supply in town and city centres. That's why I'm glad to see the plans for Aire Park coming together, bringing new recreational opportunities as well as redeveloping an existing brownfield site for new uses.

"Together with the other improvements in the area such as the new David Oluwale footbridge and cycle lanes this will make Leeds a much more people-friendly place to live and work."
The work now under way on the Meadow Lane to Crown Point Road section of the park is being funded and carried out by Vastint UK as part of its wider redevelopment of the old Tetley site. In total, Vastint UK will bring forward over six acres of public park, 1,000,000 square feet of commercial space, 850 homes and retail and leisure facilities in the first phase of the Aire Park development. The park will be maintained and operated by the council under a lease and management agreement with Vastint UK.
Simon Schofield, construction lead for Vastint UK North, said:
"We are incredibly excited to see the long-awaited vision for a city park in Leeds begin to come to life. We have been working closely with the city council on the design of Aire Park and are delighted to announce commencement of works on what will be a fantastic asset to the people of Leeds.

"Aire Park will be a truly mixed-use district for people in Leeds to live, work and visit, and we are looking forward to opening the first phases of our development to the public in 2023."
The David Oluwale Bridge will link Sovereign Street and Water Lane, with its name being chosen to commemorate the life and legacy of Mr Oluwale, who died in Leeds in 1969 after his mental health, homelessness and race made him a target for harassment by the police.
The traffic-free bridge will provide an additional walking and cycling route between Aire Park and the rest of the city centre, tying in neatly with the council's aim of reducing reliance on the car, cutting carbon emissions, bringing neighbourhoods closer together and improving access to jobs and other opportunities for people from all backgrounds. As part of this, the Leeds Public Transport Investment Programme has seen significant improvements in public transport priorities, cycling and walking measures and public realm over the last four years.
This post is based on a press release jointly issued by Leeds City Council and Vastint UK