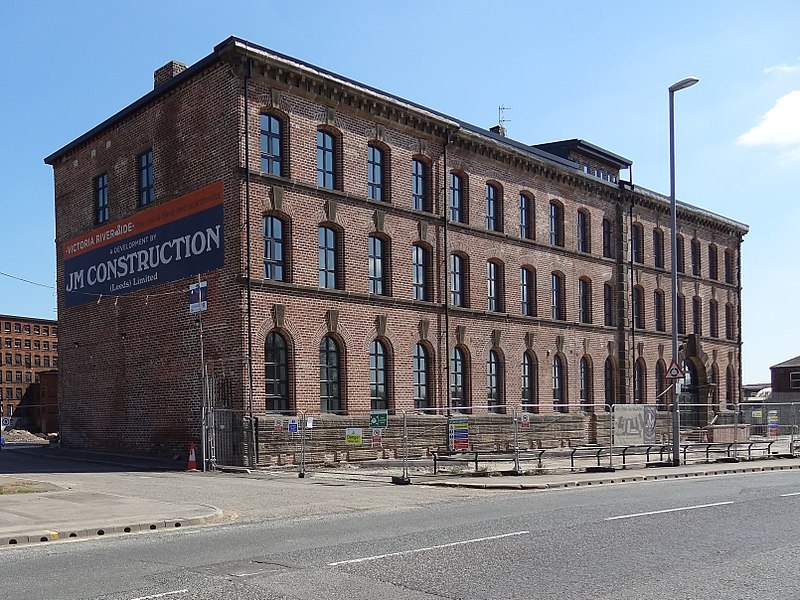 Residents on the Hunslet riverfront are crying foul over a proposed alteration to a planning application – requested by a property developer – which will see them miss out for the second time on having a neighbourhood shop; the deadline to comment on the application is Monday 18 May (2020). (Click here, then search for: 20/01957/LI.)
Victoria Mill is a former flax mill, and part of a cluster of listed iconic buildings off Goodman Street, on the Hunslet riverfront. It became derelict in the 1980s, and was deemed 'at risk' by Historic England – until 2017, when JM Construction got permission to convert it into 327 flats (with the total number of flats on the combined site at 425).
The plan also crucially featured planning permission for a retail unit – a commitment that local residents (especially at the neighbouring H2010 development) were delighted to see. The H2010 plans had also originally featured shops, but these had been scrapped at a late stage during the development stage, and replaced with extra houses. This new planning change would leave the neighbourhood – which will feature up to 900 homes once the new development is complete – without any regular retail stores within half a mile.
The developers have argued that there's been no interest from retailers in taking the unit, and asked to convert the space into an extra seven flats – but residents and stakeholders (including Leeds Civic Trust and Cllr Paul Wray) have reacted angrily. Online comments have included allegations that the developers are "playing the system", "greedy", and "only interested in profits"; some have suggested that this is "a proper bait-and-switch" (where people are enticed with promises of amenities to buy or rent properties, then let down); and other allegations such as the developer playing around with numbers of flats, to downplay the demand.
Dozens of comments (almost all of them objections) have been submitted on the Council's online Planning Portal; to find out more about the application, and to comment, click here (then search for reference number: 20/01957/LI). The deadline to do so is midnight on Monday 18 May (2020).