Leeds City Council has issued the following information to residents:
Dear resident,
We hope that you're staying safe and keeping well.
On Sunday (10 May 2020) the government made the announcement they would begin easing lockdown restrictions.
Our priority continues to be the safety of our residents and workers, which is why we are asking people to continue to stay at home as much as possible, and follow guidance on social distancing if you do need to go out.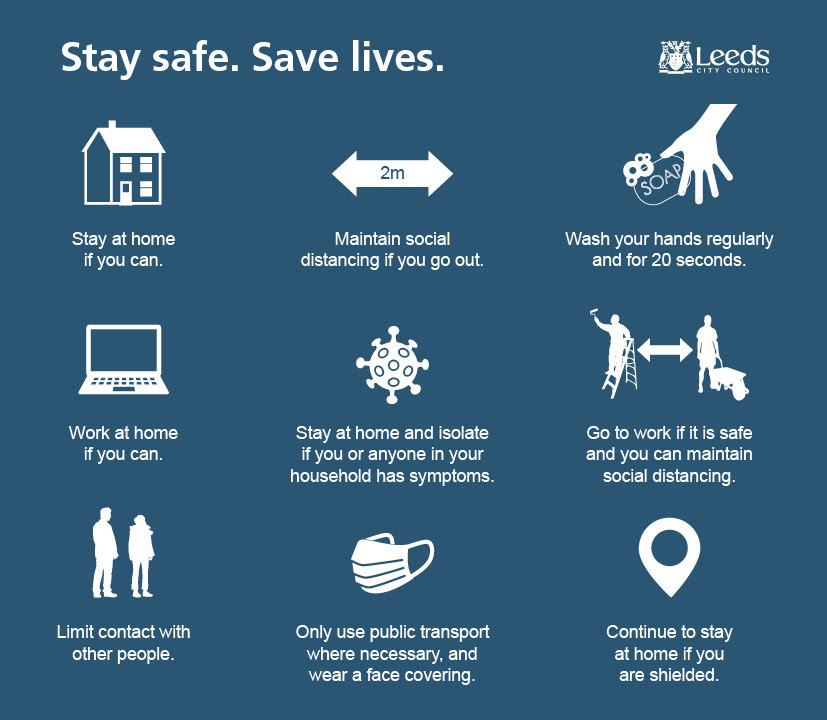 Can I return to work?
For people who work in construction, manufacturing and other areas where working from home isn't possible, the government have advised that you can return to work, but only if it's safe to do so.
Your employer must make sure that the workplace is safe to return to by following the new 'COVID-19 secure' guidelines.
Other factors, such as living with someone who is shielding or having symptoms of coronavirus may impact your ability to go to work. Information on what to do in these circumstances is available here.
What is the advice if I am shielding?
If the NHS has sent you a letter informing you that you're 'clinically extremely vulnerable' it's important to continue shielding to protect your health. We know you may be finding this difficult but we will continue to support you during this time. Advice on this can be found here.
How can I travel safely during the coronavirus outbreak?
Government guidance is that you should walk or bike, or travel by car if you can't. But if you have to travel by public transport, operators are working to make your journey as safe as possible.
In Leeds they have introduced new measures to help prevent the spread of the virus, including: regular deep cleaning of services and stations; procedures to make sure passengers can maintain social distancing when travelling; and protective equipment for drivers.
Information on how you can travel safely can be found here
What's happening in Leeds City Council parks?
We have put in place some changes to our parks in response to the latest guidance.
Our park car parks have reopened but playgrounds in parks will still remain closed for now, as will toilet facilities and outdoor gym equipment.
You can find out more here.
Be vigilant against scammers
We have been made aware of a number of scams circulating at the moment which look to be coming from gov.uk. We're asking people to remain vigilant and report any concerns here.
Mental Health Awareness Week May 18-24
This year's mental health awareness week focuses on "Kindness." The Mental Health Foundation has produced some ways you can actively spread kindness. Here in Leeds we've themed some ideas around the 5 ways to wellbeing and also want to stress the importance of being kind to yourself.
Visit our Leeds-based websites MindWell and MindMay8 to see their local Kindness campaigns.