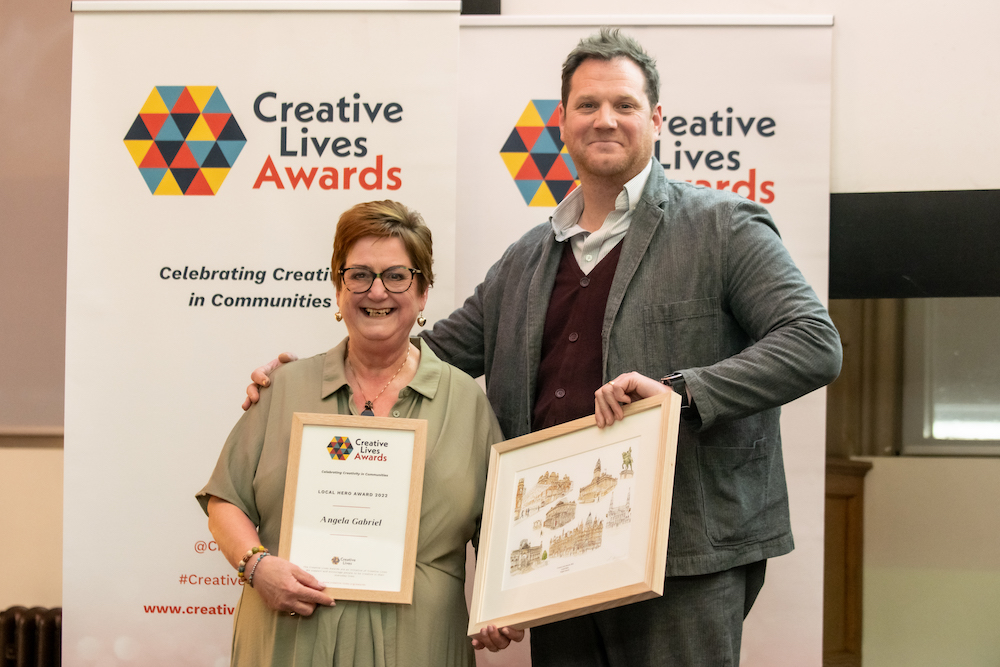 Creative Lives, the registered charity that champions community and volunteer-led arts activity, held its 2022 Creative Lives Awards ceremony in Leeds last month.
Each year, the Awards ceremony is held in a different location across the UK and Ireland. This year, it took place in Leeds on 7 March 2023 as part of LEEDS 2023 Year of Culture. The Awards were hosted by Nick Ahad of BBC Radio Leeds.
With the awards taking place in Leeds this year, the Local Hero Award was awarded to Angela Gabriel, a former Councillor for Beeston & Holbeck who has devoted a huge amount of her time to volunteer for groups Beeston in Bloom and Beeston Festival. Beeston in Bloom promotes community pride through gardening projects. The Beeston Festival, organised by and for local people, celebrates the life and diversity of the local community.
Angela was nominated for the award by Alan Lane, Artistic Director at Slung Low. He said:
"Angela has always been at the heart of culture in the community and we wanted her to be recognised for all that work. With the film screenings she organised she showed the area the importance of coming together even to do something that we could all do alone in our own homes.

"With her In Bloom worked she showed us the hope necessary in planting seeds and believing beauty will arrive. And in the leading role she has had at Beeston Festival she has consistently shown us all the complexities and diversity of the brilliance of South Leeds. For these things and so much more we were honoured to nominate Angela. Our local hero."
Angela Gabriel commented:
"I'm honored and humbled by this award. I was  privileged to be a Councillor for  Beeston & Holbeck for 25 years. I was supported by some wonderful people.

"Beeston in Bloom was one of my first projects I became involved with, holding the position of Chair the entire time. We have entered Yorkshire in Bloom for over 20 years and  have been lucky enough to win Gold many times. We work with schools and businesses to improve the environment. Beeston in Bloom is truly a team effort and without everyone working together, none of our projects would be successful."
The award follows Angela receiving the British Empire Medal in the New Year's Honours List and being created an Honorary Alderwoman of Leeds last October.
Awards host Nick Ahad was so impressed by Angela that he invited her and Alan Lane onto his show on BBC Radio Leeds.
Photo: Angela Gabriel with Alan Lane of Slung Low with her award
Whilst you're here, can we ask a favour?
South Leeds Life is published by a not-for-profit social enterprise. We keep our costs as low as possible but we've been hit by increases in the print costs for our monthly newspaper – up 83% this year.
Could you help support local community news by making a one off donation, or even better taking out a supporters subscription?
Donate here, or sign up for a subscription at bit.ly/SLLsubscribe