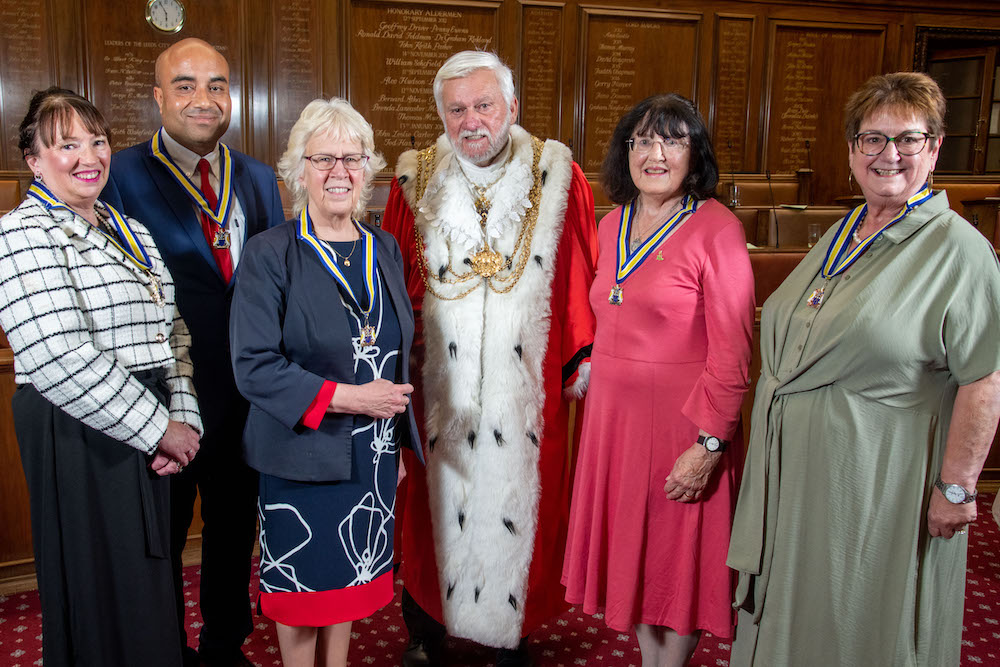 Five former South Leeds Councillors are to be made an Honorary Alderwoman or Alderman of Leeds at a special meeting of Leeds City Council tomorrow (19 October 2022).
The ceremonial position of Honorary Alderman is open to any person who, in the eyes of the council, has given eminent service to the area in a public position. It does not entitle the holders to any special privileges, but does enable them to attend civic functions, such as Remembrance parades, and actively support the Lord Mayor's charity.
We caught up with our former representatives to ask them how they felt about the honour.
Judith Blake, Baroness Blake of Leeds, was a Councillor for Middleton Park ward and Leader of the Council. She was elevated to the House of Lords and stood down as a Councillor in 2021. She told South Leeds Life:
"I was delighted to be told that I had been recommended to become an Honorary Alderwoman of Leeds. I am very conscious that I will be joining a group of very esteemed former councillors who have given service tirelessly over generations, serving their communities. It was an enormous privilege for me to serve as a councillor in South Leeds for almost 20 years representing the communities of Hunslet, Belle Isle and Middleton. I was first elected in 2002 representing the former Hunslet Ward and then was elected to the newly formed Middleton Park Ward in 2004.

"I am proud of the many achievements we made over that time and the work we did with so many brilliant people in our communities to achieve transformational change. I am pleased to say that I still talk about that work regularly in my new role in the House Of Lords and use all the experience I gained in South Leeds to inform the decisions I make today. Can I say a sincere thank you to everyone I worked with. I miss you all and always enjoy the opportunities I have to meet up and catch up with progress."
Angela Gabriel represented Beeston & Holbeck ward until she was deselected and stood down in May 2022. She commented:
"I feel so privileged to have been nominated as an Alderwomen of Leeds. I was born in Malta but moved to Leeds at the age of 3. I've seen Leeds change over the years and love the warm-hearted, diverse communities which I've been part of. I was elected as a councillor 25 years ago and have since taken Beeston to my heart, moving to Beeston soon after being elected. I love the community spirit and have always wanted to be a councillor who focussed on community and improving the area we live in. Within my time I have seen Beeston grow and flourish with projects including Beeston Festival and Beeston in Bloom. I will remain dedicated to Beeston and the fabulous work that goes on within my community. I want to thank those who have supported me and hope I have equally supported you."
Kim Groves was first elected as a Councillor for Middleton Park in 2010 and stood down last May. She is now Director of Inspiring Positive Futures and Evo Futures helping bridge the gap between Education and Business and told us:
"I am humbled to be nominated to receive the honour of Honorary Alderwoman of Leeds for my work in Belle Isle, Middleton, and the City of Leeds. I was born in Leeds and have lived in the South of the City all my life, so this is very special to my family and me.

"The communities across Leeds are full of people who work and volunteer to help others daily. I feel lucky to have worked with many individuals, community organisations and businesses that continue to give to society and inspire others.

"It's a great privilege be awarded a Civic Title, something that is part of history and ancient traditions in Leeds and something that I wasn't expecting. I will accept the award knowing that many people, family, friends, work colleagues and members of the community I served have supported me through my twelve years of Civic Duties In Leeds.

"I will also think of many outstanding community activists from South Leeds who have passed away but contributed so much to our communities, including my Mum. I want to thank everyone for their support."
Elizabeth Nash served as a Councillor for fifty years through many ward boundary changes. She represented City & Holbeck ward from 1989; City & Hunslet ward from 2004; and Hunslet & Riverside ward from 2018, having previously represented Kirkstall ward. She lost her seat in the 2022 election. She said:
"I am very pleased to be made an Honorary Alderwoman. I have spent nearly all of my adult life serving as a councillor, firstly on the Leeds Corporation from 1972 and subsequently on the new metropolitan Leeds City Council from 1973 (there was an overlap year of the two councils). It is good to keep the Council connection and I hope that in that role I will be able to assist the Council in whatever way I can."
Adam Ogilvie represented Beeston and then Beeston & Holbeck ward from 1999-2018. Since stepping down he has become Chief Executive of Meanwood Valley Urban Farm. He reflected:
"I was really lucky to have the chance to represent Beeston and Holbeck as a Labour councillor for 19 years and to work with some amazing people and groups over that time in south Leeds and beyond. This honour is as much a thank you to everyone in Beeston and Holbeck as it is to me and is a formal end to that period which I will always cherish."
The ceremony will be live streamed from 4:30pm on Wednesday 19 October. You can find the link here.
Photo L-R: Hon Alds Kim Groves, Adam Ogilvie, Judith Blake, Elizabeth Nash and Angela Gabriel with Lord Mayor Cllr Bob Gettings    ©Mark Bickerdike
Whilst you're here, can we ask a favour?
South Leeds Life is published by a not-for-profit social enterprise. We keep our costs as low as possible but we've been hit by increases in the print costs for our monthly newspaper – up 50% so far this year.
Could you help support local community news by making a one off donation, or even better taking out a supporters subscription?
Donate here, or sign up for a subscription at bit.ly/SLLsubscribe