As part of Leeds 2023 Year of Culture, Leeds People's Theatre and Slung Low have teamed up with the acclaimed Manchester Collective to stage a community performance of Noah's Flood.
In this vibrant staging of Benjamin Britten's community opera, director Alan Lane tells a story of hope and survival, featuring Lemn Sissay as the voice of God and 180 schoolchildren from Ingram Road Primary School as every bird and beast under the sun.
There are opportunities for local people to get involved in creating costumes and props and forming an adult choir.
When Britten wrote this show, he was determined to create parts for as many performers as possible – no matter their musical experience. True to this vision, a cast of world-class musicians will join forces with an army of performers from communities in Holbeck and Manchester to bring this ancient story to life.
Alongside the orchestra of Manchester Collective, the score features a motley crew of recorders, wind machines, mugs that you hit with sticks, bugles, an organ, and a trio of belting hymns for everyone to join in with.
Slung Low's Creative Director Alan Lane commented:
"Manchester Collective is an amazing, innovative orchestra that has already had three great and popular shows in Holbeck. We've always promised to bring the best artists in the country to Holbeck and Manchester Collective is one of the ways we keep that promise. With friends as talented as them you can make magic happen so when they approached us and said they wanted to make an opera – full of children! – we bit their hands off. This will be such an experience, for our audience and for the children of Ingram Road Primary School."
Ahead of the production in July, Slung Low are hosting a series of workshops starting later this month.
These are skills workshops where members of the design team will teach you techniques and you will also get to work on costumes, designs and ideas for the show.
These are workshops for all levels of experience and skill; everyone is welcome! You don't need equipment, everything will be provided and even refreshments.
Tails – Thursday 20 April, 2-5pm and 6-9pm
An introduction to basic sewing and working with yarn. And also a chance to work on the many dozens of tails we need so experienced sewers also more than welcome!
Wings – Saturday 29 April, 2-5pm
An introduction to basic sewing skills and working in collage. And to see how those techniques can be used to make wings!
Masks – Thursday 4 May, 6-9pm
Paper craft, cardboard construction, painting and decoration. And how all these things can be used to make masks.
Tie dye – Saturday 20 May, 2-5pm
Bring a t-shirt or two from home and you'll get to take something away with you.
Make-up & Animals – Saturday 17 June, 2-5pm
An introduction to the tricks of the trade on theatre make-up and develop the skills needed to turn your family and friends into lions or penguins!
Video projection – Saturday 17 June 6–8pm
An introduction to video projection.
Choir – Wednesday 14 & 28 June & Monday 3 July, 6–8:30pm
We need an adult choir for a key moment within the performance, providing the onstage opportunity for those of you who seek it.
To sign up for any of the workshops, or to book tickets for the show on Friday 7 July at The Warehouse in Holbeck on Crosby Street, go to www.slunglow.org/noahs-flood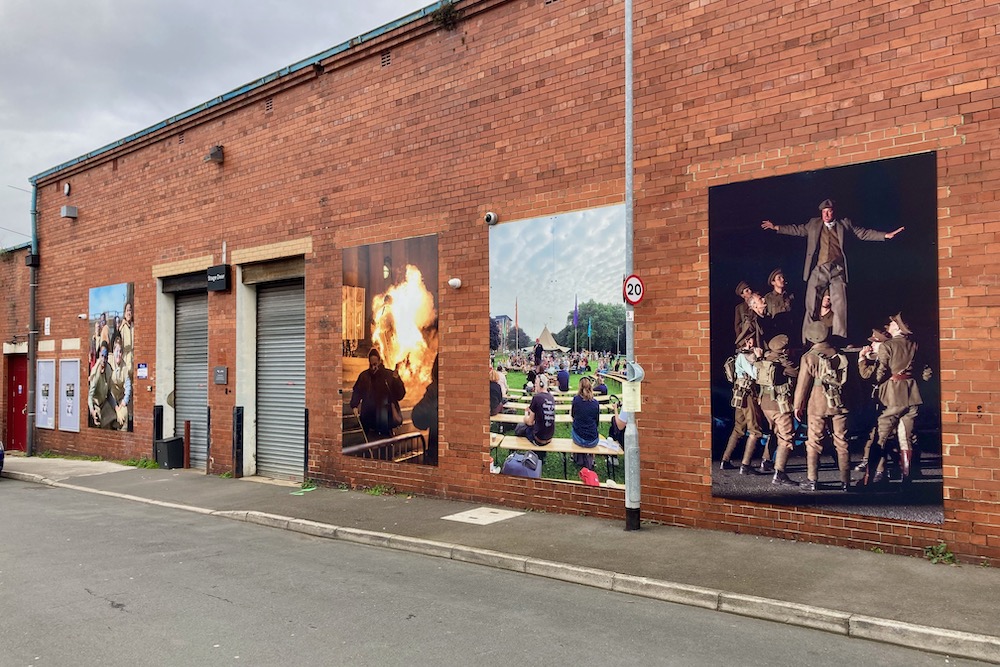 Whilst you're here, can we ask a favour?
South Leeds Life is published by a not-for-profit social enterprise. We keep our costs as low as possible but we've been hit by increases in the print costs for our monthly newspaper – up 83% this year.
Could you help support local community news by making a one off donation, or even better taking out a supporters subscription?
Donate here, or sign up for a subscription at bit.ly/SLLsubscribe