My year Kenneth Ingram, in the life as a South Leeds Life Blogger and Newspaper Reporter.
As I write this diary of blogs in 2016 I reach over 450th blog in 2 years, plus many news articles in the South Leeds life Newspaper.
Going back to December of last year, when I went along to some Christmas Parties. The 1st being the Cross Flatts Parkrun party held in the Phoenix bar at South Leeds Stadium.
Awards were given out to people doing amazing things during the year. We had a Buffet and a disco.
I wanted to do Karaoke; I've got you Babe by Sonny and Cher. Could not find anyone to be my Cher.
The second one in December was held at The Hunslet Club, held on behalf of the Ciaran Bingham Trust.
A full Christmas dinner was provided and entertainment and I even won a Christmas hamper in the Raffle.
Thanks go to our hosts for the evening Margaret Bingham and Nicky. I remember last year going out (for the same organisation) to Peoples house delivering Christmas lunches to those who could not get out and about. I really enjoyed doing that with instructions to spend 20 minutes with each person delivering meal to.
3rd was on Christmas day itself again Margaret and Nicky organised a Christmas dinner for those who might not be able to cook one, and on their own.
Was a very rainy and snowy day when Nicky picked me up, and others to go to the Vale in Beeston for the Dinner. A lovely Christmas dinner and a present to go home with.
My 4th Christmas Dinner was at a friend's house on Boxing Day where I had a very enjoyable day before Christmas dinner, playing video games with their young son.
I even came off my meds for the day, so I could have a few drinks, naughty.
This brings me onto the New Year, 2016 itself.
January started quite well. All the Parties and Christmas Fairs blogged.
My health continues to cause me concern. I had a medical procedure when they took Biopsies thankfully came back clear for cancer cells. In September had an operation, and again biopsies taken and later found to be clear of cancer. The operation itself was a success.
Saw my Phyatrist through the year for Dementia/Alzheimer's. Put me on medication, and now of last week prescribed some medicated patches. He contacted dvla as well as me, re new health problems and DVLA cancelled my clean driving licence, and gave me one that renews every year on the say so of the Doctor.
Now the good stuff.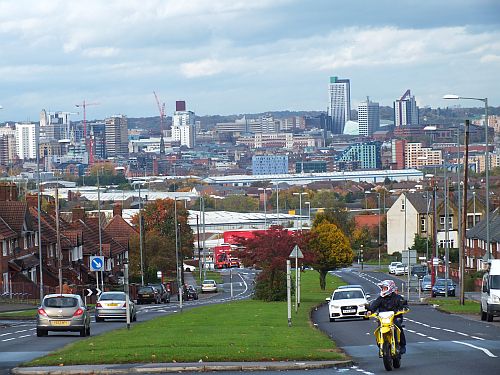 In January 2016 Chris Simpson (CEO Bitmo) asked me if I would take a photo of Leeds City Centre from Belle Isle. I took a few of the City from Belle Isle Circus (being the ideal place).
The picture Chris choose was to be framed and given to Judith Blake (Leader of Leeds City Council) for all her help with Bitmo and the Bitmo board.
You can see the blog at https://www.southleedslife.com/43688-2/ .
John (BITMOs GATE) resident Artist presented a water colour painting of the city to Judith along with the picture I took of the City Centre.
Judith tells me both pictures are on her office wall in the Leeds Civic Hall.
On Valentine's Day in February 2016 I did a 5k fun run with others in Middleton Park to raise money and awareness of Bone Marrow Charities.

This is in memory of Skye who died of a rare version of Leukaemia. I understand that the 5k fun run will be held every year to raise money for Skye's charities such as Candlelghters.
See more at https://www.southleedslife.com/42954-2/
And at https://www.southleedslife.com/skye-fun-run-14th-february-2016/
In February I blogged and took part in the walk a mile for Sports Relief. See more at https://www.southleedslife.com/44353-2/
During the year I also blogged about our community Nurse, Amanda Binns to run 12, 10k races in a year for Charity.
Amanda did complete her target. Well done Amanda.
See more at, https://www.southleedslife.com/43841-2/
Julie and Chris son, Aidan gets admitted to hospital. Julie writes about her sons time in hospital and put on the blog for everyone one to see what a brave boy Aidan is.

Please see blog at https://www.southleedslife.com/43755-2/
During 2016 many volunteers continue to do good work for Belle Isle in-bloom. You can see one of our blogs at https://www.southleedslife.com/belle-isle-middleton-bloom-good-not-good/
I continued during the year to reach my goal of 100 parkruns. Now complete and under Doctors orders , do no running, just walking.
See more of my parkrun blog at https://www.southleedslife.com/45786-2/
BITMO's GATE supports Dementia UK's Time for a Cuppa campaign. This was in March 2016 and of course money raised for a good cause.
See more at https://www.southleedslife.com/45502-2/
Another event I blogged about was the unveiling of the Hunslet Carr Wheel. Many residents came out to watch the unveiling by CCL Elizabeth Nash.
Please see blog at https://www.southleedslife.com/unveiling-hunslet-carr-wheel/
In June went along to Sharp Lane Community centre where they put a party on fit for a Queen to celebrate the Queens 90th Birthday.
See more at https://www.southleedslife.com/sharp-lane-centre-put-party-fit-queen/
I had to put this one for Peter. Queen's Birthday Honour for Rothwell Man. Peter Smith gets a gong in the Queen's birthday honours list.
See Peters story on

https://www.southleedslife.com/queens-birthday-honour-rothwell-man/
Maureen Makes A Speech About Been a Carer and Meeting Princess Anne.
Maureen can be seen at BITMOs GATE and is a carer for her Mum June.
Please see her story at https://www.southleedslife.com/maureen-wins-award-meets-princess-anne/
Well I had to add this blog. During the year The BITMO GATE walk and Talk Group had its 1st Birthday and also became Dementia Friendly.

See more at https://www.southleedslife.com/bitmo-gate-walk-talk-group-becomes-dementia-friendly/
Hunslet Methodist Church open new kitchen. Another feel good local story I blogged.
See more at https://www.southleedslife.com/hunslet-methodist-church-open-new-kitchen/
Middleton and Belle Isle commemorate World War One. I'm always happy to blog such events, yest we forget.
See unveiling memorial benches at https://www.southleedslife.com/middleton-park-belle-isle-commemorates-world-war-one/
My Temple Newsam Memory Walk for Alzheimer's.
I aim to do 1 fund raising event a year. This is one I choose for 20016.
Please visit to see how I got on in raising over £100.00 for charity.
https://www.southleedslife.com/temple-newsam-memory-walk-alzheimers/
In October 2016 BIEWA celebrates International Day of Older People. Blogged here on behalf of Belle Isle Elderly Winter Aid.

Please visit web https://www.southleedslife.com/biewa-celebrates-international-day-older-people/
Parkwood Estate forms new group.
See more at https://www.southleedslife.com/parkwood-estate-new-group/
Hunslet Hawks Rugby Rebrand.
See more at
https://www.southleedslife.com/hunslet-hawks-rebrand/
BITMO's GATE marked World Mental Health Day with a Balloon Race.

See more at https://www.southleedslife.com/bitmo-gate-marked-world-mental-health-day/
Well that's about it. The above is just a taster of my many stories and blogs. Hope you enjoy looking at a few of these. Will be doing more blogs up to Christmas, but I'm sure I have given you plenty to have a look at in the meantime. I continue to blog what's on at BITMOs Gate every month
I continue to write appeals on behalf of West Yorkshire Police, especially when someone goes missing. These blogs can reach 5000 hits, which means more of a chance people are found and of course most I'm pleased to say are.
Throughout the year I also team up with Peter Smith (BEM) to go to many of the Memory Cafes in the area. I'm proud to say I set up one in the Parnaby Tavern, along with help from Mark the Landlord and Peter Smith himself. It's called Parnaby Pals and is every Wednesday between 2pm and 4pm.
In 2016 I have met a lovely young lady, Susan. We can often be seen out and about at Memory cafes and BITMO GATE. Susan has a great sense of humour and really makes me laugh.
I'm waiting for her life story, so I can blog it, get typing Susan.
During 2016 (due to ill health) I decided to cut down on the amount of blogs I do for South Leeds Life, and just concentrate on blogs to tie in with BITMO GATE.
Guess what, did not work out that way I'm pleased to say. I still continue to blog for other events as well.
My Thanks must go to many people this year and in no particular order Amanda Binns, Peter Smith. Carla, Lynne, James and Chris Simpson at BITMOs Gate. Julie and Chris Holmes. Jeremy of South Leeds Life. Old friends Terry and Chris. And everyone at Parkrun. Sorry if I have missed you by name, blame it on my memory. God bless you all.
Ken (South Leeds Life Volunteer Reporter) .