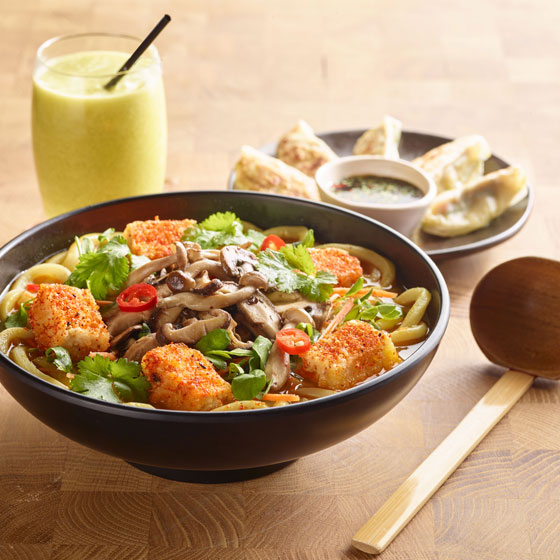 Wagamama is a Japanese inspired, Pan-Asian restaurant chain, currently boasting a varied and new menu. We went along to sample its delights and were pleasantly rewarded.
Greeted in turn by three dashing young waiters, which may have seemed like overkill, but as they were all so eager to please and brought our food to us very speedily, we let that go! The vibe of the restaurant is simple, modern yet tasteful and there is an air of the theatrical as you watch the chefs cooking the food, all in the same room.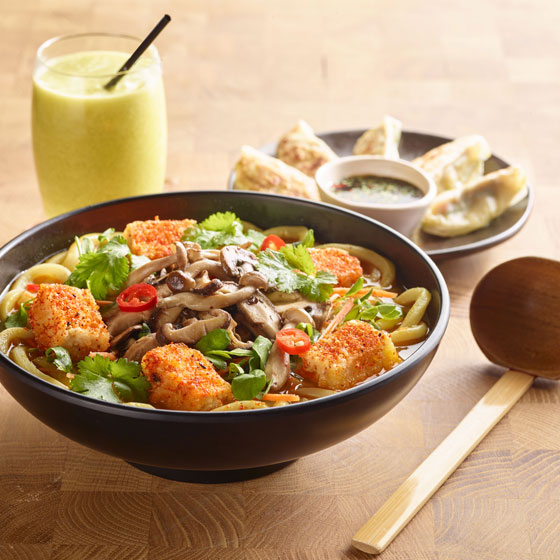 We started with the Tama squid, a new addition to the menu. Crispy fried little balls of tasty melt-in-the-mouth squid, drizzled with various tasty sauces, there weren't enough in the bowl, but I guess it was a starter. The mains vary from a selection of 'ramen' (hot broth with noodles, meat and vegetables) to teppanyaki (stir fried noodle dishes) to curries and other rice based dishes as well as the chef's special dishes, of which I chose the new vegan option.
Being a novice to Japanese food I didn't really know what to expect from a 'katsu' curry, or seitan coated in panko breadcrumbs, but the whole dish was very palatable and filling, even if it wasn't the most interesting dish I've ever tasted. My friend went for a 'firecracker' prawn curry, again served with rice. It lived up to its name and was very hot, but full of juicy prawns and crunchy vegetables that she enjoyed.
The dessert menu is interesting and varied including dishes like lemon tart, raspberry compote with mint as well as white chocolate ginger cheesecake topped with chilli toffee. It was a fairly standard cheesecake, but the chilli toffee was intriguing.
Price-wise Wagamamas is on the expensive end of the fast food restaurants, (e.g £13 for a main) although I'm not sure they class themselves as that, but more a restaurant that happens to serve good food fast!
The restaurant moved from town (Greek St) to South Leeds about a year ago and can be found next to Cineworld at the White Rose Shopping Centre.
This post was written by Tania Carlisle using our Create an article for South Leeds Life page.