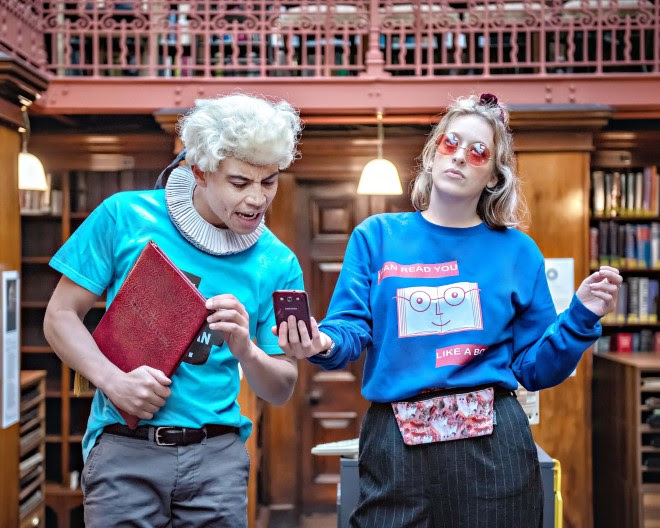 I was lucky enough to attend a performance of The Things We Wouldn't Otherwise Find, a play to celebrate The Leeds Library's 250 anniversary written by Leeds writer, Emma Adams.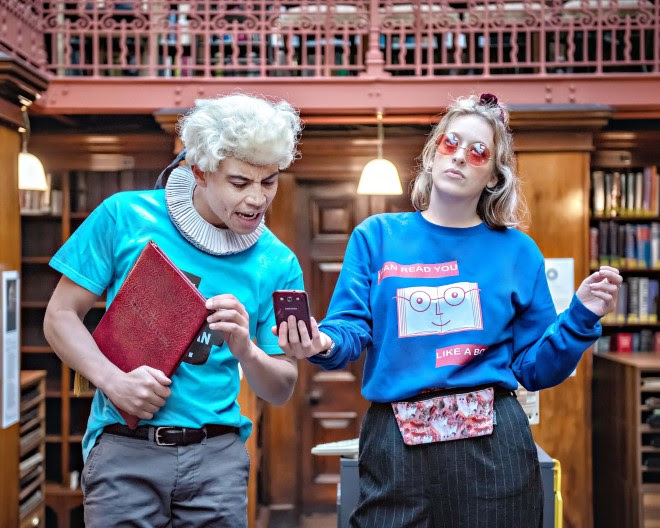 The play was staged in the stunning Leeds Library on Commercial Street. This Georgian building is a hidden gem containing row after row of books, beautiful ornate cornicing and spiral staircases. It really did feel like stepping into libraries past and the ambience fitted the subject of the play perfectly.
As an audience member you were certainly close to the action as the two actors Sinead Parker and David Judge set out their mission to explore the nature of books and libraries in the past and where they fit in our technology-fuelled present. The actors rotated through eight different characters to explore these themes and were so accomplished that each set of new characters genuinely felt like brand new people, despite very minimum costume changes. The play was laugh-out-loud funny from the offset and explored social themes with warmth and humility.
The play began with libraries past and libraries present working with each other (despite their differences and which were played for humour to great effect) to present a case to Future about why she should allow libraries to continue in time yet to come. It was a race against time as the actors morphed into different people, exemplifying the different ways people use the library and the positive impact this can have on lives.
Especially funny was a segment with an old West Indian library user and a young struggling writer, the humour segueing into compassion as the writer realised her block could be eased by listening to the stories of the old man she'd previously considered a nuisance.
Myself and my guest thoroughly enjoyed this performance and I'd recommend anyone to go along and enjoy it too. The intimacy of the venue made it seem as though you were privileged to have it played just for you (in a cosy library at Hogwarts no less). I don't think two minutes passed without something which made you laugh – I found the actors and the story equally compelling.
The Things We Wouldn't Otherwise Find runs until Saturday 17 November 2018. For more information and tickets go to: leedsplayhouse.org.uk/events/the-things-we-wouldnt-otherwise-find
If you would like to attend a Leeds Playhouse performance do get in touch. Readers can get two free tickets in return for reviewing the show. If you'd like help to write a review that can also be arranged. Email: info@southleedslife.com telling us which show you would like to see and why.
This post was written by Hazel Millichamp.