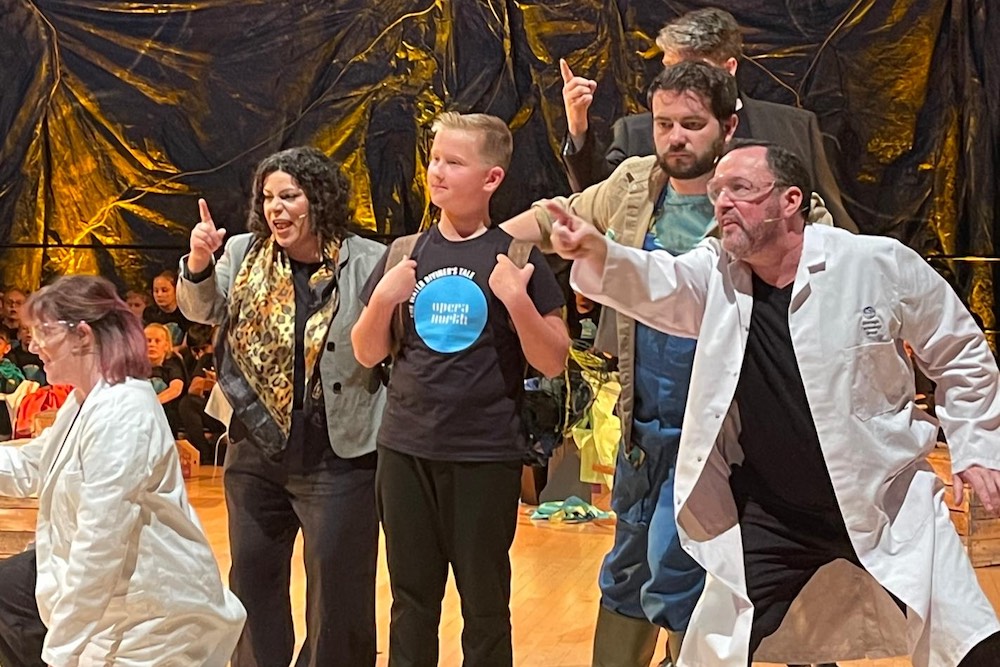 I was very pleased and honoured to be invited to witness Opera North and the Music Federation (Windmill and Low Road primary schools) join forces to present the Big Sing.
The performance they presented was a piece first created in 2007 for the BBC Proms and was commissioned by Rachel Portman, reimagined for children it was "The Water Diviner's Tale".
I am ashamed to say that I hadn't heard of this piece before, it was a moving performance based primarily on climate change. The piece was about 50 minutes long and the children rehearsed weekly for 30 to 40 minutes as the piece was very challenging and the content was just as tough.
I had the privilege to speaking to Opera North's director, Claire Armor, who said:
"It is amazing to work with these children, the aim is to show children what we do and for them to experience working with professional opera singers and be part of a professional opera company."
Whilst working with Opera North the children became stage designers, creating their own props and the teachers got resources in schools to help the pupils to learn their roles and their lines whilst in school.
The project is very collaborative, Bringing the school and Opera North together. The project isn't just south Leeds pupils but schools from Cumbria, Barnsley and Doncaster have all got involved too.
The audience was open to all, but was mainly proud parents. There was a five piece orchestra, four performers and singers from Opera North and of course the music federation's school choir, both Low Road and Windmill came together.
I was sat amongst the parents and believe me, mine weren't the only wet eyes in the room.
The performance was about a boy with magic powers who could see the future and how the world around him would change. The production talked about the consumption of the air, gas, fuel omissions and, of course, the water.
From start to finish, the journey from how the climate was changing to how it's used and consumed in the present day and how the future looks going forward. The performance talked about what role the youngsters had to play in a future and how better use of the planet. We can all make a difference.
The performance ended with the pupils holding up banners and signs they had lovingly made stating pledges and promises.
When the performance was over and it was time to leave, I hung back to hear the chitchat that was going on between the proud parents as they left and there was much conversation about how they could impact the planet and what they feel the government needs to do next. To me this is what it's all about, the children are our future. It's over to them now.
Many thanks to Opera North for welcoming our fantastic Music Federation!
This post was written by Stewart Walton
We encourage anyone living or working in South Leeds to use this website to tell their news. You can either use the Create an article for South Leeds Life page, or email us at: info@southleedslife.com