Olivia Sanderson-Shone, 11, from Beeston, is celebrating raising thousands of pounds for charity – and picking up a major community award for her efforts.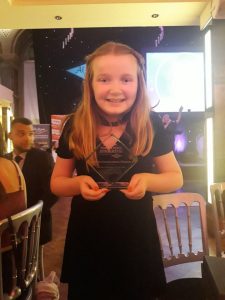 Olivia's been doing community fundraising for over 2 years, but earlier this year – following encouragement from members of the Save Our Beeston, Cottingley and Holbeck committee – set herself the challenge of raising £2,000 by Christmas for local good causes. (She raised over £1,000 last year.)
She has since then held a stall at the Beeston Coop whenever Leeds United are playing at home, sometimes for as long as five hours at a time. To honour her efforts, local residents nominated her for Radio Aire's Young Hero awards, for the Charity Fundraiser – which she attended last month, and won by a landslide.
Olivia – who attends St Anthony's Primary – told South Leeds Life: "I do this just because there are people less fortunate than us, and I really want to help. Many thanks to everyone who's donated so far: people are so generous, and surprised! I'm keeping going, so come support us if you can."
Mum Lynsey added: "She does it because she wants to: it's her who reminds me when there are matches on! There aren't many kids her age who'd do it, but she likes to help people, and loves doing it -although I'm not allowed to stand with her! And the Radio Aire awards were humbling: they were apparently overwhelmed with nominations for her."
The Save Our Beeston, Cottingley and Holbeck committee fundraise year-round, also running a regular Bonus Ball raffle, and events including a forthcoming charity swim. They use donations to support local schools, families in need, and more.