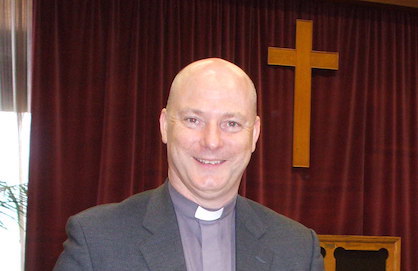 Peter Clarkson has been invested as the new Minister for The Church in Cottingley, an ecumenical project run jointly by the United Reform Church (URC), the Methodists and the Church of England.
Peter is a URC Minister and will split his time between Cottingley and Wigton Moor in North Leeds.
"Cottingley is a long way from Wigton Moor, both physically and socially" commented Peter, "but I am so impressed with the energy on the estate and the great work being done in the community centre."
Peter's sees his role to "share God's love" on the estate in the widest sense. He is keen help with social activities and is already working on plans to support parents of young children and older men – both groups that can suffer from social isolation.
During his twenty years in Leeds, Peter has also worked as part of the Chaplaincy team at the universities. He is a trained counsellor and can help people with issues such as bereavement and loss in the widest sense, such as redundancy, or relationship breakdown.
You will find Peter at the church and community centre most Tuesdays and Wednesdays plus alternate weekends. As well as the Sunday service, he will lead an informal morning worship on Tuesdays at 10:15am.