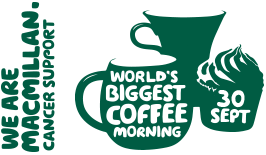 Community groups across South Leeds are joining in the Biggest Coffee Morning In the World this week to raise funds for Macmillan Cancer Care.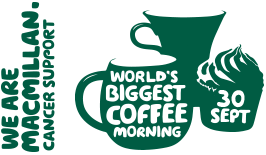 As well as their specialist nurses they offer support to patients, carers and families. Their motto is that no one should face cancer on their own. Coffee mornings are being held to raise much needed funds to keep these important services going.
Amongst our local coffee mornings are:
Thursday 29 September
The Holbeck club, Jenkinson Lawn, 10am-12:30pm
Voluntary Action Leeds, Lupton Street, Hunslet from 10am
Middleton Elderly Aid at St Cross Church, 10am-12pm
City View Medical Practice, Cemetery Road, Beeston from 10am
Friday 30 September
Cottingley Community Centre, 10am-12pm
St George's One Stop Centre, Middleton, from 10:30am
BITMO's GATE, Aberfield Gate, Belle Isle from 11am
Health For All, Tenants Hall, Acre Close, Middleton from 10am
Middleton Community Health Centre from 9:30am
John Charles Tennis Centre, Middleton Grove, from 1:15pm
If you know of any events we have missed, please add them in the comments section below.