Cllr Paul Truswell (Labour, Middleton Park) has welcomed proposals for a new gym extension at Middleton Leisure Centre. A report going to Leeds City Council's Executive Board in February is seeking to spend £1.146m to deliver the new 75 station gym and a re-modelled entrance for the Leisure Centre. The Centre, which is easily accessible to the majority of the Middleton Park ward, will give local people the opportunity to access affordable new equipment.
The new gym extension and entrance will be modelled to be a welcoming and user friendly space, full of natural light and new opportunity for informal interaction between staff and gym goers.
If approved by Executive Board, the gym is expected to be completed by April 2020. Middleton Leisure Centre will remain open and operational throughout the work, with alternative entrances to be provided whilst the new entrance is developed.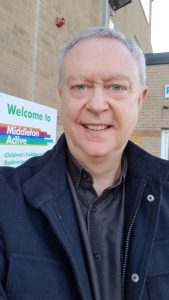 Councillor Paul Truswell (Labour, Middleton Park), said:
"As a result of local people's requests, we have been pressing for a gym since the previous major refurbishment of the Leisure Centre and surrounding pitches. It will be a tremendous addition to the facilities and will help the Leisure Centre to maximise its full potential by encouraging even more people to use it to improve their health.

"As Community Health Champion, I'm delighted that it has been possible to make a sustainable case for providing the gym, which will exceed Sport England standards.  It shows a real commitment to local people.

"It's obviously going to take a little time to complete and open the gym, but it's great that the Leisure Centre will remain open while the work is carried out. As this process unfolds, we will ensure people who use the Leisure Centre and the local community are updated on building works and any other exciting developments."
This post is based on a press release issued on behalf of Cllr Paul Truswell