Middleton Elderly Aid Annual trip. This year to Weymouth in Dorset.
We set off from Middleton at 9am on Monday morning. It was a sunny day in Leeds, and forecast the same in Weymouth.
It took us around 7 hours to reach our Hotel, The Royal in Weymouth with a break for driver to have a rest and us to get some lunch.
Please take time to see Slide Show of Holiday above.
The Royal Hotel was built in 1897 in the Victorian period. King George V was a frequent visitor to the Hotel.
The Hotel is said to be haunted on the 4th Floor, where my room was.
I did not see him or hear him but Ada one of our Members did.
While waiting for our cases to taken to our rooms, I decided to have a walk around Weymouth before coming back for Dinner.
I could not help in seeing how clean Weymouth is, compared to some seaside resorts I have been to in the last year.
After dinner we all went down to the Ballroom to play Bingo and Hoh.
This evening we had a lady singer (sorry forgot name) tunes from the 50s and 60s.
I retired to bed around 11pm.
Tuesday. Day of leisure
After breakfast, a group of us had a lovely walk around Weymouth, and had a look at the many shops in the town centre. Of course we found one of the two Weatherpersons for lunch.
After lunch, some of us went back to the hotel, I continued to walk in the opposite way on the front to where we have been in the morning.
After dinner, we all went down to the Ballroom and played Bingo.
The entertainment ended up the best one for me of the week. Again I'm sorry, don't know his name.
Most of the evening he sang Rock'n'Roll songs. Later he played guitar, most of these were Shadows songs, along with a bit of Cliff Richard, at one time Cliff's backing group was the Shadows.
The Entertainer also played a Queen number, Bohemian Rhapsody. For me the best song of the night. Unlike the other entertainers who finished at 10.30pm, he sang until well after Midnight.
The only complaint from many was the high price of drinks. A small glass of wine was £8.00. I opted on two occasions to buy a bottle at £23.00.
All tucked-up in bed, ready for the next day, being Wednesday.
Wednesday.
Another lovely day. The day trip out was to Dorchester Market, so I decided on that day do a bit of exploring and as you can see took some photographs for the blog.
I walked up to the Sea Life Centre after seeing on their web page that they opened at 10am. I arrived at 9.45am to see a sign saying not open until 11am. No seating anywhere, so not wanting to stay around for 75 minutes made my way back into Weymouth after having a rest first in Greenhill Gardens.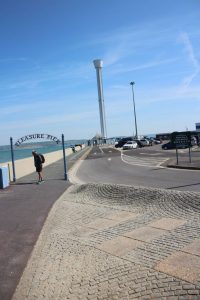 I went along the front to the pier at the west end of Weymouth to go up the observation tower.
At the top you can see for miles and take some lovely photographs. Unfortunately again, it was closed with no indication when it would be opened.
Everything can't just be open for school holidays. So I continued to explore Weymouth before having lunch at the second of the two Wetherspoons.
Back later at the Hotel after dinner, I went again into the Ballroom, played Bingo and enjoyed the entertainment that followed and bed about 11pm for me.
Thursday
The last day of our holiday to Weymouth. Our coach driver, Karl, picked us all up after breakfast for a day out in Poole. Karl asked us if we wanted to go to Poole via the scenic route or the quicker route. Of course we said the scenic route.
Along the road to Poole, we went through many villages with thatched roof houses and cottages.
It reminded me of when I went back to where Mum was born in Harrold, Bedfordshire, a couple of years ago where many houses and cottages had thatched roofs. According to the Sunday Times, Harrold is the 8th most popular place in the country where people would like to live.
Back to our trip to Poole, Karl took us past the houses of Sandbanks residents, which include Harry Rednap, Michael Portilo and Angela Rippon.
Other residents include football manager Tony Pullis and our very own Yorkshireman Geoff Boycott. You can see some of the house of Harry, Michael and Angela on the slide show. They are not perfect pictures as coach was driving at 30mph.
Sandbanks has been described as the fourth most expensive area in the world to live.
The peninsula of half a square mile of golden sand, near Bournemouth and Poole, is home to 15 properties worth a staggering £80million.
Most houses in the resort are sold, only to be demolished to make way for new buildings that make the most of every square inch of their plot.
https://www.dailymail.co.uk/news/article-2424761/Sandbanks-The-tiny-millionaires-playground-15-houses-cost-80m.html
OK, that's the end of the history lesson.
We then walked along the high Street, where every other shop seemed to be a Charity Shop.
Some of our group went on a boat trip, which they tell me was very enjoyable.
Anyway after some shopping, we had lunch at ,you've guessed it, a Wetherspoons.
We made our way back to our coach after having ice creams on the outside of a cafe.
On our way back to our hotel, Karl showed us where TE Lawrence, AKA Laurence of Arabia, lived. The cottage was quite small. He died on 19 May 1935 in a motorcycle accident. There seems to be a bit of speculation about how the accident happened.
Back at our hotel, there was just enough time for some of us to have a last walk around Weymouth, before dinner and back down to the Ballroom for Bingo and How.
The Entertainer was my second best of the week, with members of MEA playing blown up musical instruments. Oh dear.
The entertainment finished around 10.30pm, but we stayed in the Ballroom to finish our drinks until about 11pm.
Friday
The last day was Friday and after breakfast, some of us had a walk along the front, before getting on our coach for our journey home in the knowledge we all had a fantastic holiday in the sun.
The rain started just as we left Weymouth, nice timing.
The traffic was very bad on way back to Leeds, I think the journey was about 7 hours, with a stop for lunch at a motorway services, and to give our driver a break.
I want to thank all the staff for there help on this wonderful holiday. Without them, the holiday would not be possible. Poor Samantha looked tired looking after all of us. Hope Sam had a chance to chill over the weekend.