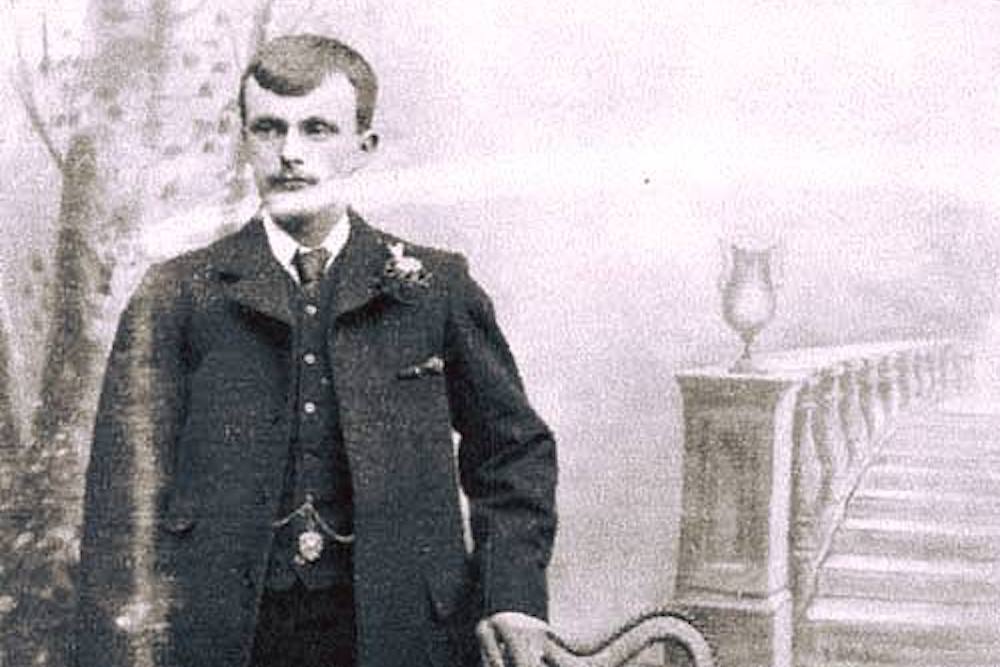 In August 1918 a woman, Annie Mayne, aged 29 was murdered.
Annie Mayne was married to Charles Washington Mayne but after eight years the marriage broke up after she was found in bed with Ben Hindle Benson and he took no further interest in her life; he moved into another house and took on a housekeeper. Although they acknowledged one another in the street and from what he had heard Benson was very good to Annie.
In the Great War (1914-18) Benson who was living with Mayne at 1 Atkinson Hill, Low Road, Hunslet, joined the Army before transferring to the Royal Flying Corps (Royal Air Force from 1 April 1918) as a mechanic serving in France. According to the next door neighbour Benson and Mayne seemed on the best of terms up to Benson joining the Army.
Ben Benson came home on leave unexpectedly hoping to surprise Annie but instead he received a surprise. While sat in the chair waiting for her to come home he dozed off, Annie came in a little later and a little tipsy with a young serviceman and went straight upstairs with him to make love.
Benson gathered himself from the shock of seeing Annie and her lover going upstairs he followed them and found them in bed. This so enraged him that he drove the young man out of the house.
This was on 27 August and they had a terrific argument and both slept apart that night. The next day two letters arrived for Annie who held them close to herself. Ben asked about the contents but she just laughed at him, Ben struck her and Annie told him she would sleep with other men while he was away. With this Ben just lost the plot and dashed into the kitchen where he grabbed a razor and on his return he slashed at Annie's throat, unfortunately he didn't miss. The woman who found Annie in a collapsed state understood Annie to have said:
"Benny did it and thinks he has left me dead."
Annie died in hospital shortly afterwards.
The Post woman said that she had handed a letter on the Monday morning to Mrs Mayne addressed to Mrs Ben Benson. This letter was found on the table and was obviously written by Ben Benson who stated he was coming home on leave it began with "Dear wife" and concluded with the words "so rest content that Ben loves you none the worse for this tale-telling."
In a statement voluntarily made by Ben Benson to the Police after he had given himself up, he stated the trouble between him and Annie was that he had been informed she had been carrying on with other men. Ben's brother told him a man had asked for Ben's address in order that he might write to him about Annie's "Carrying on" with a man named Moody, another named "Brummagem Jack", and a soldier wearing a ribbon.
Ben Hindle Benson on being charged with wilful murder on the death of Annie Mayne replied "Oh dear, I am sorry, it was done in temper and if she had given me the letter it wouldn't have happened. She had everything that money could buy her." Among the papers found was a cheque for £5 drawn by Ben H Benson in favour of Annie Benson.
At the trial the letter that had caused all the trouble began, "My dear Annie" and was written by a Private in the Guards Machine Gun Regiment who sent her his love. The Jury found Benson guilty of murder and the Judge pronounced the sentence of death.
In Armley Jail while waiting for the sentence to be carried out Benson sat in the condemned cell and a Gypsy's prophecy kept returning to make him restless. She had told him that "He would die in his boots" and seeking to falsify it his chief concern on reaching the scaffold on the Tuesday morning he asked that he might be relieved of his boots and go to his doom without them. The request was granted and Benson sat coolly on the scaffold took off his boots and pronounced himself "ready".
Ben Hindle Benson was just 41 years old when he was hanged at Armley Jail by Albert Pierrepoint on Tuesday the 7th January 1919. A moment of temper and rage had taken away the future of these two people and affected the future of all the family members who loved them.
The family of Alfred Benson who was a fairly wealthy coal merchant and removal man lived with his family comprising of his wife Sarah Anne (nee Hindle), and six children Ben, Alfred, Gertrude, Eliza Ann, Hannah, and Martha lived in Brandling Street before buying Woodsley House on Woodhouse Hill Road, Hunslet. It is thought he may have been in the funeral business because in 1906 he was in possession of a hearse; his vans for removals and cartage were built by J Wright of Bradford, a famous coachbuilder who was related to William Wright also a coachbuilder of Rothwell Haigh who specialised in Gypsy caravans. It appears that Woodsley House was put up for sale by the Benson family and bought by a Mr Schofield but the house was later demolished and three new homes Nos.53A, 53B, and 53C were built on the site.
Footnote on Armley Jail: Armley Jail had 93 men and one woman hanged there and all had to be buried within one hour of their death. The last execution took place in 1961. The only woman was Emily Swan aged 42 who when along with her lover John Gallagher, aged 30, murdered her abusive and violent husband by beating him to death; theirs was a joint execution on 29 December 1903. On the day after Ben Benson was hanged two other soldiers, Percy George Barrett and George Walter Cardwell, who were convicted of the murder of Mrs Rhoda Walker, a jeweller, of Pontefract were hanged on 8 January. Theirs was a double execution, the first for 15 years at Armley.
Main photo: A young Alfred Benson, father of Ben Benson
While you're here, can we ask a favour?
South Leeds Life is published by a not-for-profit social enterprise. We keep our costs as low as possible but we've been hit by increases in the print costs for our monthly newspaper – up 83% in the last 12 months.
Could you help support local community news by making a one off donation, or even better taking out a supporters subscription?
Donate here, or sign up for a subscription at bit.ly/SLLsubscribe