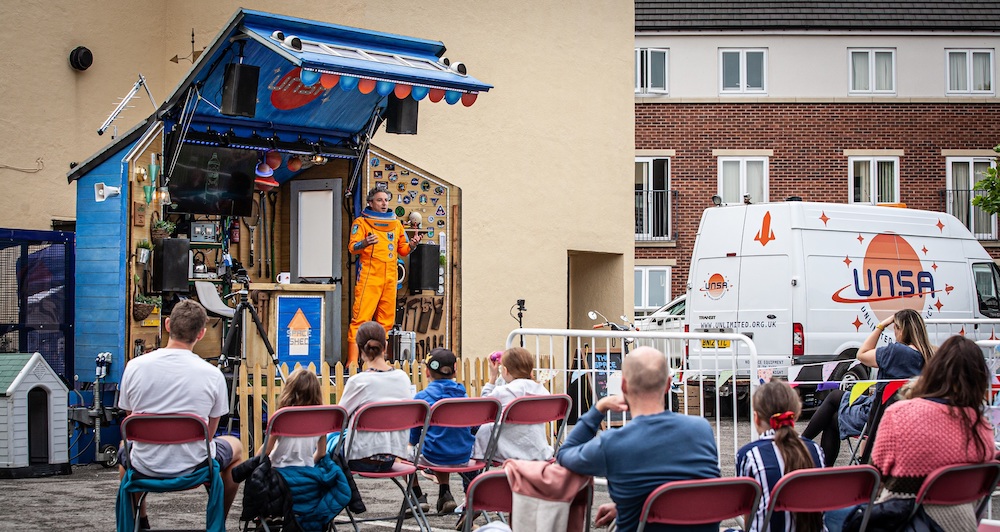 Collaboration brings children's theatre back to Leeds with day of socially distanced shows
Leeds theatre-makers tutti frutti, Wrongsemble, Unlimited Theatre, 154 Collective, Blah Blah Blahs, Alive & Kicking, Interplay, Fidget Theatre and Slung Low have joined forces to bring theatre back to children in the city, delighting them with a live experience on their doorstep.
Live Little Stories for Leeds saw the companies coming together to perform socially distanced theatre shows for free to pre-invited families and children at six locations in Leeds: Slung Low in Holbeck, Shine in Harehills, Interplay in Armley, and three sites of the Leeds Little Free Libraries.
Uniting as a direct response to the challenging times facing theatre-makers during the coronavirus, the collective was pulled together by tutti frutti to pilot the event. All performances during Live Little Stories for Leeds took place outdoors to small audiences following strict social distancing guidelines. Other adaptations included the provision of PPE equipment on site, one-way systems into locations and safety measures being incorporated in a fun way into performances.
How I Hacked My Way Into Space saw Unlimited Theatre bringing the Space Shed to Slung Low's The Holbeck site, with Jon Spooner performing his inspirational one-man show, telling the story of how he accidentally set up a space agency and sent an astronaut to space. The performance was digitally livestreamed across Facebook and YouTube, and is available until 27 August.
Through one day, families, nursery and primary school-age children experienced a range of diverse and imaginative micro-theatre and storytelling encounters in their local communities. At Shine in Harehills, tutti frutti productions' Hue Boy, an adaptation of the Smarties Prize winning book by Rita Phillips Mitchell and illustrated by Caroline Binch, transported children to a Caribbean village with performer Stewart Thomas telling the story of Hue Boy under a brightly coloured parasol. tutti frutti productions and Wrongsemble told the story of Rapunzel, staging Mike Kenny's bright adaptation of the adventure with Riana Duce playing the curious girl who yearns to explore the world beyond her tower.
At three sites of Leeds Little Free Libraries in Crossgreen, Middleton and Headingley, children were treated to Molly's Marvellous Moustache and Bird's Nest Billy: The Boy with Three Wishes by Fidget Theatre; Icarus Bly from The Museum Of Untold Stories, Jinny Greenteeth: The Boggart In The Cupboard and Frederick the Fisherman from File by Alive and Kicking. These imaginative tales were performed by Natalie Bellingham, Richard Priestley, Luke Dickson, Martin Riley, John Mee and Kathleen Yore.
At Interplay in Armley, The Adventures of Walter Lemon Face by 154 Collective presented children with a magical mix of live animation, music and storytelling, and was accompanied by Mustacha's Apprentice Storytelling Workshop by Blah Blah Blahs.
Wendy Harris, artistic director of tutti frutti, says,
"When lockdown happened and we cancelled most of our tours, I went back to look at tutti frutti's key values and asked myself how we can still deliver on these? Bringing together the new collective, we asked how we could do something extraordinary for the children of Leeds, by making live events safely. It was incredible and very moving to see families and children gathering in safe way for Live Little Stories for Leeds, seeing them laugh and join in with the stories.

"I want theatre to be part of how we can help our children overcome the challenges of COVID-19 – with support, artists and companies can engage with children to help their confidence, wellbeing and be part of their recovery. It's vital for companies and artists at this time to pull together, think creatively and come up with new ideas to create work opportunities; there was real team work from the partner organisations who delivered Live Little Stories for Leeds. I hope we can find new ways to continue working together to create more extraordinary events for children and families in our city."
Live Little Stories for Leeds was funded by Leeds 2023 and the aspiration is to build towards an ambitious and significant creative offer for Leeds in 2023 and create a lasting legacy for the children of Leeds. Leeds 2023 will be a landmark year of culture for the city and region. The ambitious and ground-breaking programme will transform people's perceptions of Leeds, confirming it as an international centre of cultural activity and cementing its reputation as a cultural giant in the world.
This post is based on a press release issued on behalf of Live Little Stories For Leeds
Photo: How I Hacked My Way Into Space, Unlimited Theatre. Live at The Holbeck. Credit: Simon K. Allen Photography