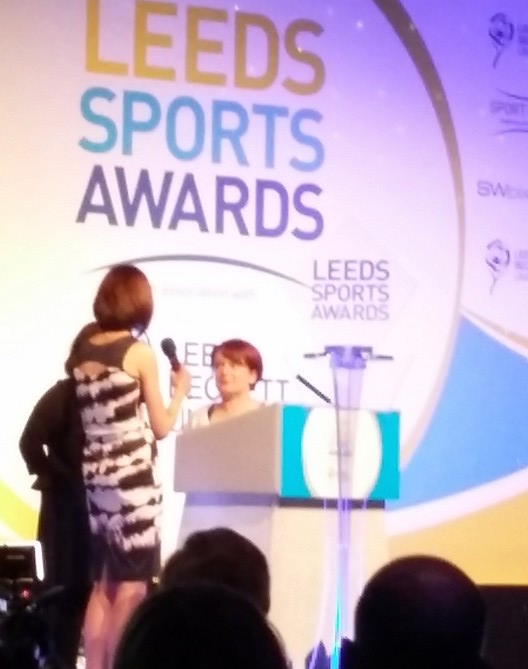 On Thursday 3 March 2016 it was the 13th Leeds Sports Awards at Leeds Dock. It is a fantastic occasion which recognises and celebrates the achievements of local sportsmen and women. I was lucky enough to be there as a guest of the "Leeds Girls Can" campaign.
When I arrived, I was directed towards the red carpet and the VIP area. The area soon filled up with sporty looking people and as I looked around feeling a little lost I spotted someone looking equally lost. The second lost soul turned out to be Tira who was there for exactly the same reason as me but she participates in a different sport (roller derby).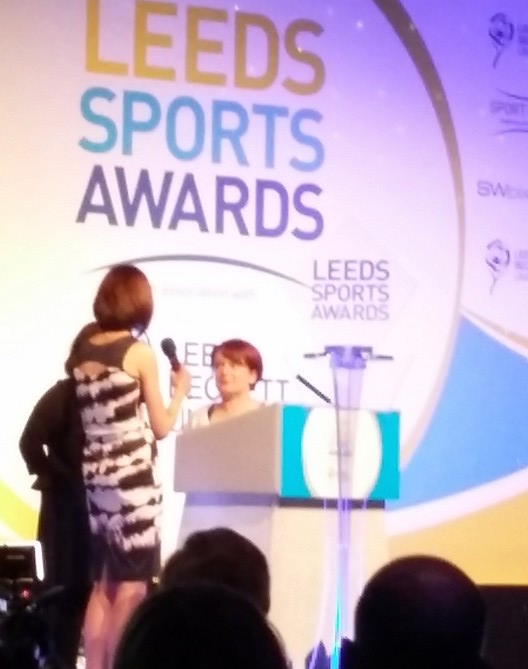 The proceedings began with a welcoming speech and the starters were served, quickly followed by the main course. Following the first two courses the awards began with the young achievers. I was aware that I would be on stage to answer questions about how the Leeds Girls Can campaign had influenced me and the time came all too soon. I was the most scared I had ever been in my life and when the introductions were made I tried to hide my nerves, we walked onto the stage to the tune of "This Girl is on Fire".
Gill from Leeds Girls Can made a speech about the campaign and introduced me and Tira as examples of the success of the campaign. The adverts that the campaign used showed "normal" women doing a variety of sports, it also encourages women to embrace their differences and to be less self-conscious.
When she asked me about how I felt about the adverts I replied that it had shown me that you didn't have to be tall and skinny to be a runner, the audience loved that. I then went on to say that from nothing, I was now running 3-4 times a week and also racing. I managed to include the 12 races in 12 months that I have embarked on to raise money for Leeds Children's Hospital. I was very relieved when it was over and the lovely bouquet that we were presented with was very well received.
Following our slot, the seniors received their awards, followed by dessert (the best bit). Amongst the winners such as Joe Root and Lizzie Armitstead were two South Leeds-based clubs. Leeds City Athletic Club (Senior Club/Team, non professional) and City of Leeds Swimming Club (Junior Club/Team, non professional) are both based at the John Charles Centre for Sport. The final awards were for the Lifetime Achievement Award and Special Contribution Awards. There was also a very moving presentation about the late Albert Johanneson.
I enjoyed every aspect of the evening, except maybe the nerves as my time on stage approached, and I look forward to being able to attend again in the future.
This post was written by Amanda Binns using our Create an article for South Leeds Life page.