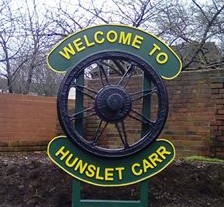 The ever-active Hunslet Carr Residents Association have a busy fortnight ahead, with a major fundraising event on Sunday 3 April, and the grand opening of their acclaimed 'Welcome to Hunslet Carr' sign the following Thursday (7 April 2016).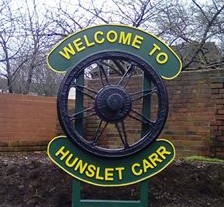 Their fundraising event is at the Parnaby Tavern on Middleton Road (the YEP's Leeds Pub of the Year: read the full story here) from 4pm on the Sunday (3 April) – and will feature games, scores of prizes up for grabs in a Grand Auction, a big money raffle, and bags of community spirit. All money raised will go to the Association, to fund their local work.
Then the following Thursday (7 April), they will be formally opening their 'Welcome' sign in the Bayhorse garden on Balm Road at 6pm – immediately before their (typically packed) monthly meeting at the Woodhouse Hill Community Centre.
Speaking about the Grand Auction, event mastermind Kath Harden commented:
"The Residents Association have worked tirelessly for our local community, so I was really happy to help out with this auction event. And I'm amazed how many donations and gifts we've received from all the local businesses and shops. The people of Hunslet are truly a generous and caring community. I'm proud to be one of them!"
For more info on Hunslet Carr Residents Association, visit their Facebook page, or come to their monthly meetings (6.30pm on the first Thursday of each month, at Woodhouse Hill Community Centre; new people always welcome). They're working on a range of local projects, including developing the allotments and a 'pocket park' on Sandon Mount, a traffic calming campaign for Pepper Road (click here), and much more.