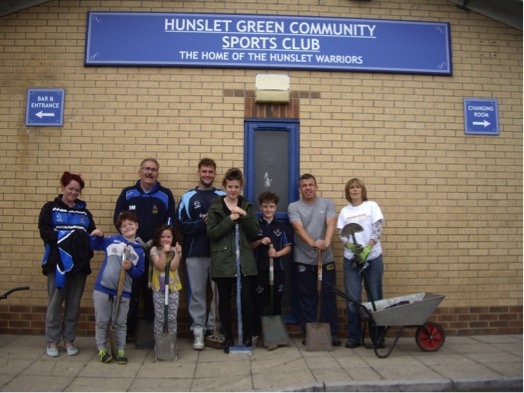 Our next entry for the St Luke's CARES Community Awards has been submitted by Hunslet Green Sports Club, home of Hunslet Warriors ARLFC. For details of how your community group can enter please click here.

The Hunslet Green project is that we want to change a tired, little-used gym in our clubhouse into a pair of female-friendly changing rooms and create a small kitchen with an external hatch so that hot drinks and food can be served to warm the spectators on match days. The smell of bacon butties at half time we feel will prove irresistible and be a service to the many families who come to watch at weekends, as well as eventually creating a small income stream. The area will be wheel-chair accessible, a big advantage over the small team-food kitchen on our first floor.
The Hunslet Green Committee, home of the Hunslet Warriors ARLFC, looks after the clubhouse and 2 rugby league pitches opposite Morrison's Supermarket. Children from under 7yrs old up to 18yrs come to have fun, get fit, learn skills and make friends in a safe and welcoming, if at times muddy, environment. Our two Men's Open Age teams and a Women's Open Age team complete our family, including teenage girls who can join either of the two girls' teams. Families and friends come to watch matches at weekends and are willing to stand in the cold and rain to support the Warriors teams.
The Green was created in the mid-1990s to give back a green space facility to the people of Hunslet after the motorway took away a large part of Hunslet Moor. Hunslet Green is run by a committee of volunteers who fundraise, maintain the pitches and fencing, cut the grass, litter pick and keep the clubhouse in good repair.
The Warriors rugby league teams see several hundred children from the Hunslet, Beeston, Belle Isle and Middleton areas come down 2 or 3 times a week to train and play. The training areas are in use most weekdays and the 2 pitches are used each weekend in the playing season. In addition, Leeds' Zimbabwe Group uses the clubhouse on Sunday evenings for their weekly social gathering. Our club is open to all races, genders, religious beliefs and abilities and new members are welcome at any time by our band of volunteer coaches and team managers.
We are negotiating with the College of Building for their apprentices to help us create our new changing rooms and kitchen, thus encouraging even more links with local youth and organisations. We will have to buy all the materials, employ an electrician and give a donation to the college. Any money St Luke's Cares kindly donates will be used to buy a cooker and suitable work surfaces and units for our projected kitchen. The facility could then be used throughout the week when the teams are training.
Find out more on Facebook: https://www.facebook.com/pages/Hunslet-Warriors-ARLFC/192668294081909
This post was written by Pat Benatmane – volunteer secretary of Hunslet Green – using our Create an article for South Leeds Life page.