A single street in Hunslet has raised hundreds of pounds for the NHS after holding weekly quizzes and bingo sessions throughout lockdown.
Residents of Parnaby Avenue have raised more than £200 and strengthened their community spirit in the process. All funds will be donated to Leeds General Infirmary's children's ward.
On a balmy summer evening, a merry band of 13 residents sit in their front gardens with chilled drinks and pore over sheets of paper for the picture round. Organiser Susan Powell walks up and down the street to read out the questions to each household while maintaining social distancing.
"It's brought us all together – we didn't really know our neighbours until this," says James Morrow.

"You've got to help each other. There are people who are poorly here, but we all pull together."

"You don't just come out here for nowt, you have a socialised drink. We've done it from the first week of lockdown," says Sandra Clay, who has lived on Parnaby Avenue for 39 years.

"It's been getting everybody out together instead of staying indoors being miserable or watching crap on the telly."
A bottle of wine is up for grabs for the winner and a packet of biscuits for the team with the lowest score. Previously, a large bar of chocolate was the prize. Seemingly simple things have led to something much bigger thanks to the community chipping in regularly during the lockdown.
One post in the neighbourhood's Facebook group at the start of lockdown has unexpectedly forged stronger community bonds and raised money, explains Ms Powell:
"We've done it to relieve boredom and support the doctors and nurses in the NHS. We're more of a community now. I'm an ex-landlady and used to do them [quizzes] in the pub. I thought they'd get fed up after a while, but they've loved it. People started giving me prizes to give out. It's not just one or two people – it's everyone, the whole street."
As a game of Play Your Cards Right concludes the latest evening of fundraising fun, Sharon Taylor, who organised the weekly bingo sessions, says the street has been brought together.
"It's been brilliant on a Sunday, everyone enjoys it. Everybody's out and it raises a bit more money. It pulls us all together. It's through lockdown that you really get to know your neighbours," she says.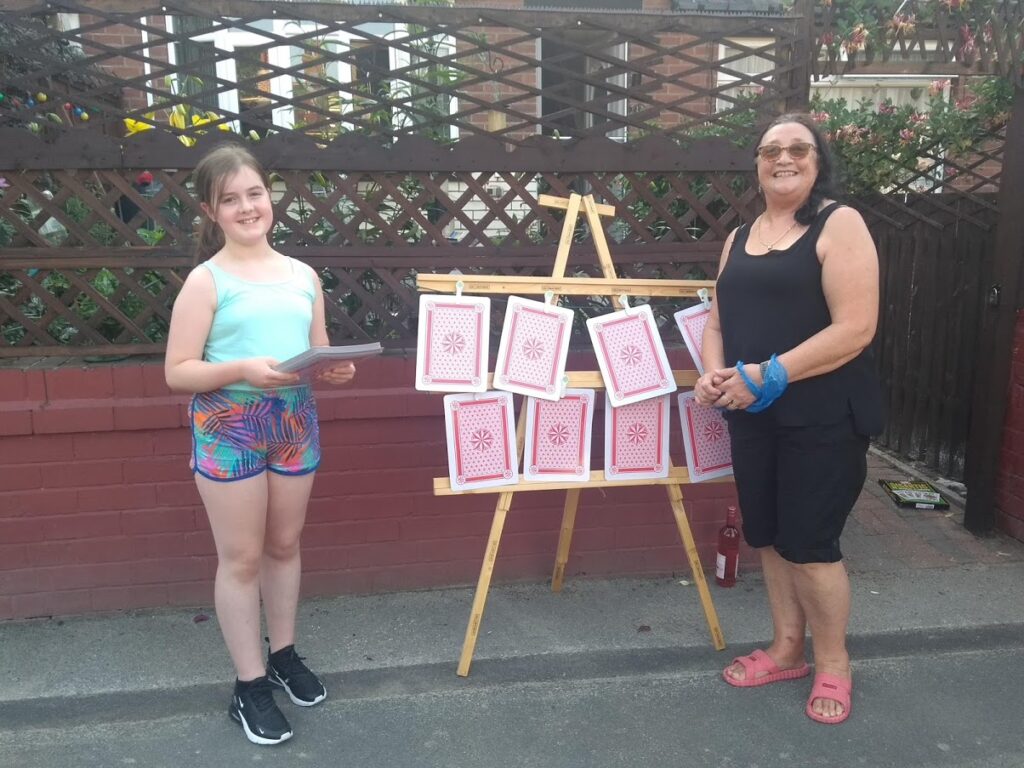 David Wigglesworth, who volunteers as a minibus driver with South Leeds Live at Home, pays tribute to Ms Powell for providing the initial impetus.
"It really does work – it brings us together. She's brought everybody together – we're just people in the street who've joined in."
Ms Powell reckons that the final community quiz will be held on Saturday 4 July, the date when several lockdown restrictions are due to be lifted in England – and she intends to finish on a high.
"People will want to get back to normal as soon as possible: going to pubs, going out," she explains. "We're going to do the street up and have a raffle and then we'll hand over the cheque."