The controversial High Speed Rail line (HS2) from London to Leeds has been given the go ahead today (11 February 2020) by the Prime Minister.
As we have previously reported over the last seven years, including here, here, here and here Leeds will see a new station built in the South Bank area of Hunslet and the line will approach the station through Stourton and Hunslet. Earlier plans saw the new railway line using the existing rail corridor through Hunslet, but last year it was proposed that this section should be on an elevated viaduct. A final decision on the viaduct is still awaited.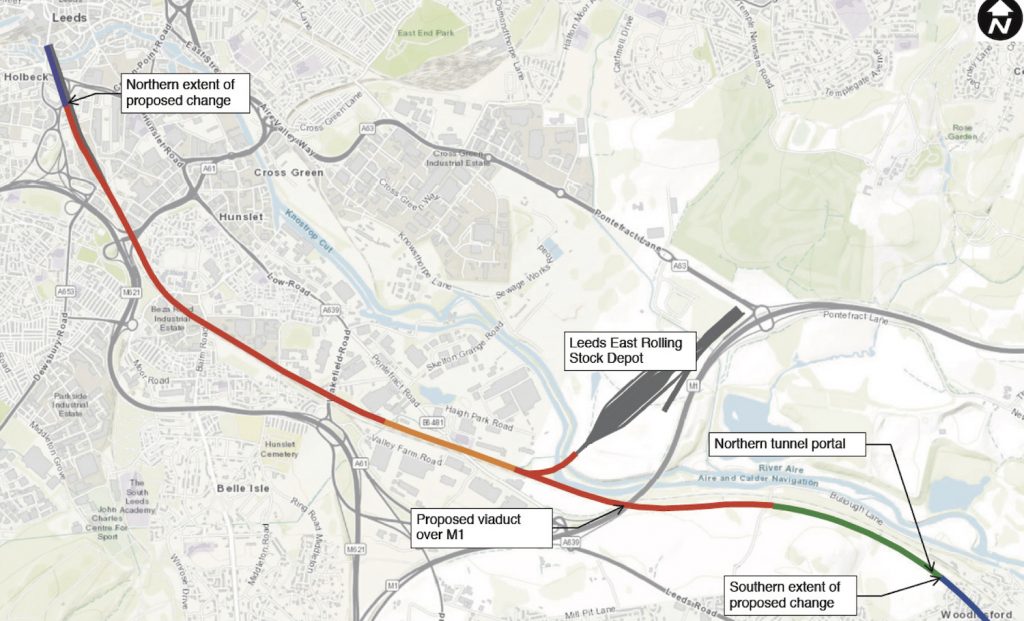 Supporters of the project argue that as well as cutting journey times the new line will free up capacity on the existing network to allow more local services to run. Opponents point to the increasing cost of the project and the loss of natural habitat along the route, however this appears to be the definitive decision.
The development of the new station is seen as a key part of the 'South Bank' regeneration plans. Developers are keen build offices and shops close to the station. The station itself will require roads to be re-routed providing an opportunity to promote walking, cycling and public transport over private cars.
Leeds Central MP Hilary Benn asked in Parliament today when the new HS2 station would open in Leeds. The Prime Minister replied "As soon as possible." However the Leeds section of the line isn't expected to open until 2035-40.
Hilary Benn MP commented:
"(It is) welcome news that HS2 has finally got the go ahead. A big thank you to everyone in Leeds and across Yorkshire who has worked so hard to achieve this outcome.

"We now need to make sure that the new review of phase 2b to Leeds does not result in further delay in the opening of the Leeds HS2 station."
Councillor Judith Blake, Leader of Leeds City Council and West Yorkshire Combined Authority Transport Lead and Middleton Park ward member, said:
"HS2 is a critical component of our established plans to transform the region, so we very much welcome the government's go-ahead to deliver the project in full today. The eastern leg alone would be worth £600million in annual benefits to the UK economy.

"We look forward to working with the government on the review of the eastern leg, with work then starting as soon as possible to deliver it for the benefit of all our communities.

"In looking again at the project which the Prime Minister referenced, we have our own plans and ideas to improve the eastern leg and allow it to be delivered faster which we would be keen to discuss with him and the new HS2 Minister.

"We remain unequivocal in our clear commitment that HS2 needs to be delivered in full as part of an integrated network with Northern Powerhouse Rail from Liverpool to Hull with improved connectivity to south and east Yorkshire, as well as an upgraded trans-Pennine route to truly transform connectivity, attract investment, and level-up communities across the north and the whole of the country."
Image shows an artists impression of the proposed viaduct crossing Balm Road in Hunslet