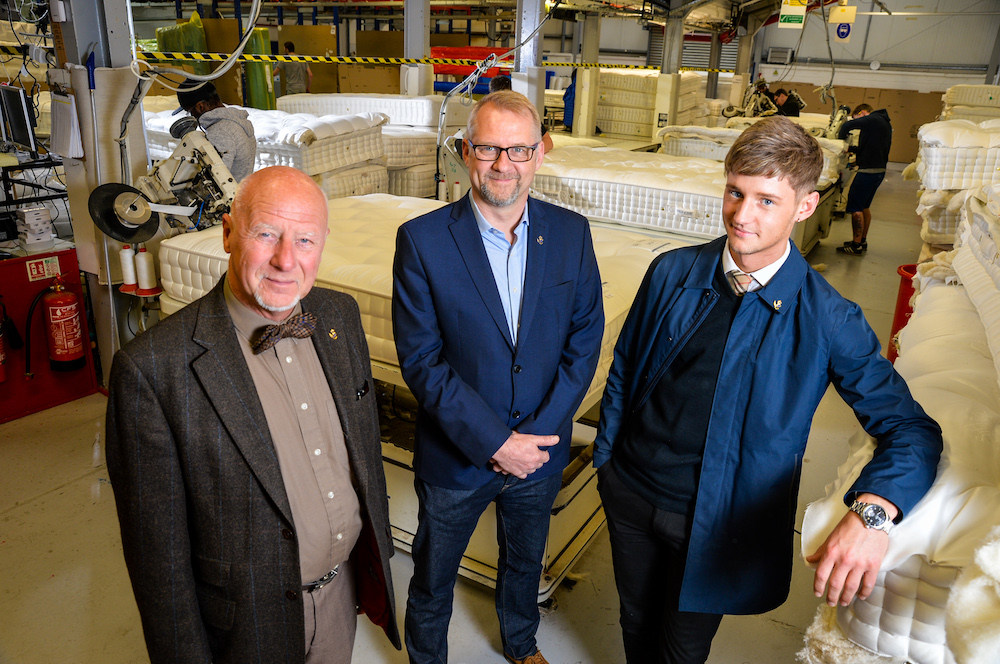 I knew very little about Harrison Spinks, the bed manufacturer until this month.
Their factory is at the bottom of my street. I knew they made beds for the Queen and that they kept expanding, taking over more and more of the industrial estate, but that was about it until they invited me to take a tour of their factory … and their farm!
I was shown round by Dan Spinks the fifth generation of his family to work for the company that bears his name, founded in 1840. They moved to Beeston in 1979 and now employ some 600 staff, who mostly live locally.
I must admit I had a image of family firms. Ancestor invents, steals, or his (it's usually a he) way to a fortune and hands it on to every more delinquent successors who swan around whilst someone else manages the business. I don't know if that's actually true for any family businesses, but it certainly isn't for Harrison Spinks.
Simon Spinks, Dan's dad and CEO, is very hands on, always looking for ways to improve the products or the manufacturing process. When Dan asked him for a job, he was sent to the factory floor, not the Board Room. He's currently working in the buying department, but I'm sure he will end up there one day. Dan's grandfather is also to be seen around the factory on a regular basis even though he retired some years ago.
The impression I got reminded me of innovators of the industrial revolution, always looking for the next technical advance. Springs are at the heart of every mattress, more springs means greater comfort. That means making them ever smaller and finding new ways to combine them.
Harrison Spinks does almost everything themselves. They can't buy wire thin enough to make the small springs they want, so they pull their own wire. They even had to partner with British Steel to get them to make a quality of steel that could be pulled into a wire thin enough for them.
Nine years ago the company bought a farm, Hornington Manor near Tadcaster, so that they could produce their own wool and grow their own hemp and flax. They also have forestry where they grow their own timber for bed frames. Again it's a question of controlling the quality of the raw materials, but they also have a commitment to sustainable production and work closely with Natural England and the RSPB the whole ecosystem thrives.
Hemp fibre is used as a mattress filler with wool and lavender, all from the farm. The parts of the hemp plant that can't be used are turned into animal bedding and bio-fuel briquettes that power the farm's heating system. Because of hemp's connection with marijuana, it has to be grown under licence and the variety grown has only trace amounts of THC (the psycho-active component of marijuana). The flax is woven into ticking at a new weaving shed at Beeston.
Being businesspeople the Spinks family maximise the farm's resource by using the 17th century house as a training venue. They also offer holiday lets and the house is very popular for weddings.
Harrison Spinks beds are not cheap, with prices ranging from £699 right up to £20,000 at the top end, but you get what you pay for. The company strives for excellence, which doesn't come cheap. Having seen the factory and met some of the staff it comes as no surprise that they won, not one, but two Queen's Awards for Enterprise this year.