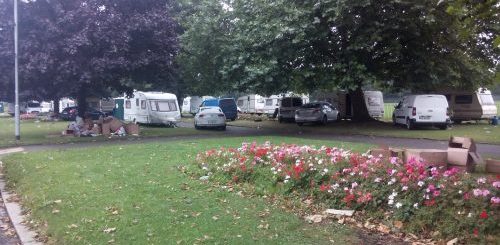 Local residents in Holbeck and Beeston have expressed growing anger around an encampment of Irish Travellers on Holbeck Moor Road.
As previously reported here on South Leeds Life, the group of Travellers arrived last week Tuesday (16th August) and established a camp with about 20 caravans and mobile homes. They stated they intended to stay just a few days, and insisted they'd cause no trouble.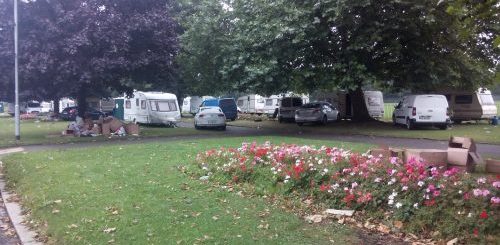 Ten days on, many local residents have been complaining bitterly online – particularly on the Save Our Beeston Facebook group – about the behaviour of the Travellers, and the perceived inaction of the Council and Police.
Allegations from local residents include: anti-social behaviour, such as intimidation and late-night noise nuisance; some damage to the grass, flowerbeds, and nearby skatepark; harassment from members of the encampment doing door-to-door sales; failure to control dogs; and littering.
There is evidence that waste from the camp has been somewhat cleared up at points during the week, especially when skips have been provided – but there have been piles of rubbish on site for most the past week. (And a further source of anger is that some of the waste is trade waste – packaging from the sales goods – and should therefore be subject to trade laws.)
There were suggestions that the encampment would voluntarily move on after the ancient Lee Gap Horse Fair in West Ardsley earlier this week – but although a couple of the caravans left mid-week, it appears the rest of the group remain established on site.
Meanwhile, local councillors and Council officers have insisted that they are working to resolve the current situation, and seek longer-term solutions for the site. As of yesterday (Thursday 25th August), notices have appeared on site pointing towards a court date next week Thursday (1st September), at which the Council will apply for permission to evict the encampment.
Adam Ogilvie, one of the Beeston and Holbeck councillors, commented:
"We understand residents' concerns about the time it's taking to move the encampment, which is down to getting a court date. In the meantime, we strongly urge that if people witness any anti-social behaviour issues, these need to reported to the police – who do have the power to take action, but only if they are getting these calls. We will do our best to find the funds to fence off this area to prevent the issue re-occurring."
Beyond the life of this encampment, the Council's Parks and Countryside team are apparently costing up bollards and fencing for the site – at a likely cost of about £20,000. Others locally are requesting that the Council might instead look to enact a by-law covering the site, to save money. South Leeds Life will add further coverage as the situation develops.