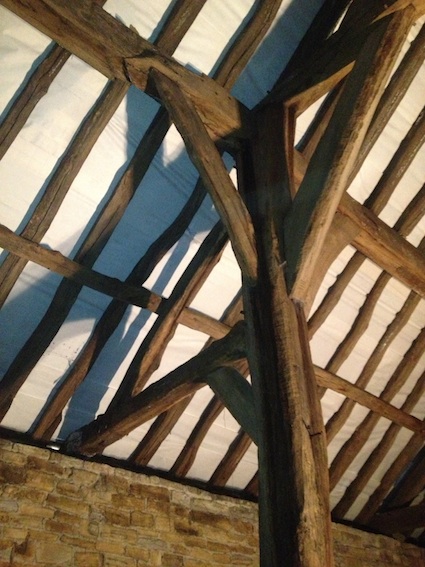 It's twelve months since South Leeds Life organised a public meeting calling for Stank Hall Barn to be saved.
Thirty people came along to hear about the history of the barn and find out what Leeds City Council planned to do with this hidden treasure. The Barn was in a poor state of repair with its stone roof tiles being stolen on a daily basis.
Stank Hall and its barn date back to the fifteenth century, about the time Christopher Columbus sailed to America. The architecture points to them being high status buildings of some importance and they are amongst the oldest buildings in Leeds. The site lies on a public bridleway, just off Dewsbury Road, between the railway line and the White Rose Shopping Centre.
Much has happened in the last year. The meeting turned itself into a Friends group and has been meeting monthly since. They organised displays at Beeston Festival and Middleton Park Craft and Produce Fair to raise awareness of the site. In July they held an open day on site and showed a hundred people around the barn as well as explaining the significance of the two other buildings Stank Hall and New Hall.
In December the barn featured on a BBC television programme with a visit from John Sergeant highlighting heritage at risk.
Meanwhile the Council pressed on with security works. New metal roof panels have stopped further damage to the barn, for now. New fencing was erected around Stank Hall and New Hall which are dangerous structures.
The Friends have gained considerable community support with a team of gardeners carefully germinating seeds ready for the planned community grow space. This is the next project and will see a garden laid out on the land next to the barn. The garden will be in raised beds to protect the archaeology in the ground and to reflect the gardens that would have existed in the fifteenth century. The Friends are currently awaiting a licence from the Council to proceed with the project.
The group also has plans for an oral history project. They are keen to interview anyone who has memories of the buildings which were in use up until the 1990s. Meanwhile a research group are sifting through the archives to better understand the history of the site.
To find out more about the Friends of Stank Hall Barn visit their website www.friendsofstankhallbarn.wordpress.com, like their Facebook page at www.facebook.com/FriendsOfStankHallBarn, or email friendsofstankhallbarn@gmail.com.