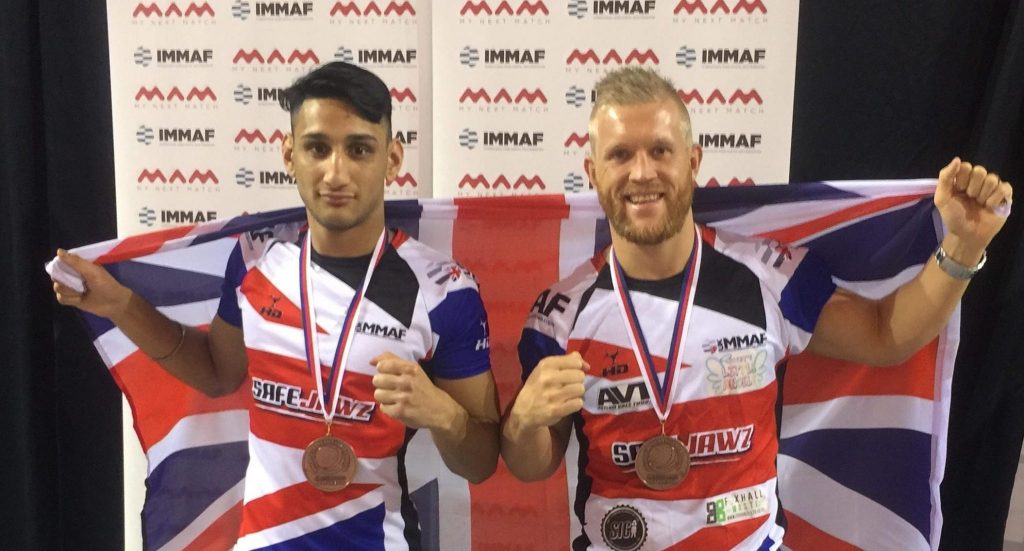 Local man Tom Crosby, nicknamed 'The Viking', once again joined the UK's Mixed Martial Arts team, this time to compete in the recent IMMAF European Open Championships – and added a bronze medal to add to his growing awards tally.
Mixed Martial Arts (commonly known as cage fighting) is a sport made up of multiple disciplines including kickboxing, jiu jitsu, 'grappling', 'grapple and strike', and more. Middleweight Tom – from Middleton – has been involved in the sport for just three years, but has already racked up a range of national and international awards and titles. Click here to read more about Tom's story and previous exploits.
These championships – held between 22-26 November (2016) in Prague, in the Czech Republic – saw Tom seeded third, and win his first two matches on points against Finland (a previous world medallist) and Norway. But he eventually came unstuck in the semi-final, losing on points to a fighter named Rostem Akman – the first seed from Sweden, and also the 2015 European gold medallist and 2016 world bronze medallist. Losing semi-finalists were automatically awarded bronze medals.
Tom told South Leeds Life:

"I'm really pleased with all my performances, including the semi-final. It was close, but I made a couple of mistakes, so it was fair enough to give him the nod. Even though I lost, to fight such a high-calibre experienced guy is awesome, it was a win-win, with lots of positives to take away, and things to work on to make me a better fighter. And it was great to be part of the UK team again: we all got on really well, supported one another, and came third in the medal table. And as one of the oldest members, they called me Captain Crosby!"
Next up are the 2017 European championships in Bulgaria, brought forward next year to March – after which Tom says he's looking to go professional at last. Watch this space, or click here for Tom's FB page, to get more info, footage, and news.