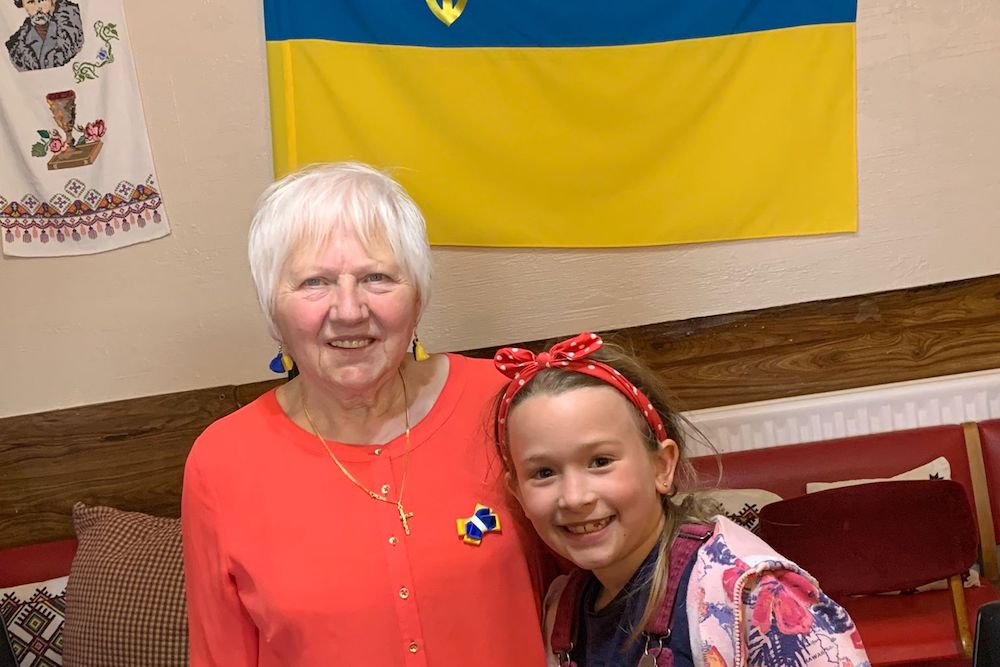 An arts and crafts fundraising afternoon was held on Sunday 3 April 2022 at St Luke's Church on Malvern Road in Beeston. The event was the brainchild of 8 year old Dorothy Brewer, who is in Year 4 at St Luke's Primary School. After hearing about the situation facing refugees fleeing Ukraine, Dorothy came up with the idea herself and even created the poster for it. She then got her mum to help with deciding on themes and crafts that were cheap and cheerful to do. This was a great event, bringing people of all ages together to sit, chat and craft.
There was quite a buzz about the place as everyone got stuck in. Even the men had a go at the crafts including knitting and finger painting cards. Donations for each activity started at 50p including the cakes, popcorn and refreshments. We asked people who helped why and what they thought about the event.
Christine, who helped serving cake, said:
"Hi, that's an easy one to answer: When someone as young as Dorothy, sees the plight of others in the world, she gets up and does something to help, so it's our pleasure (and it was) to support her in her worthwhile quest to do what she can. What an awesome job she did raising money for those in a terrible situation, but too giving us a real sense of togetherness and support. Well done that girl."
Cathy, who baked the cakes said:
"Something positive I could offer for a vital cause, to support a young person's initiative."

Laura commented:
"For me I hadn't done anything as of yet to help or raise money for Ukraine and was inspired by Dorothy wanting to do something and felt that it was something I could do and as well as wanting to support Dorothy in her efforts."
Dorothy's mum, Rowena told us:
"She is amazing, she is always on the go and incredibly creative. This was an idea that she came up with and all I had to do was find a venue, time and volunteers. Fortunately we are surrounded by a fantastic community. It was also good to see the process from beginning to end."
Dorothy seemed to be in her element showing and helping everyone on the different activities. We asked her what she thought about it and would she maybe do it again. She told us she wanted to do something to help and hoped to do it again in the future.
The total raised on the day was £519. Dorothy and her Mum Rowena presented this to Olga who works at the Ukrainian Centre in Leeds who was amazed and thankful for the effort and incredible donation.
The Leeds Ukrainian Centre is currently looking to kit out ambulances with equipment and send them over to the Ukraine to help people on the ground. They are continually looking for donations as people are arriving with no personal belongings. They are struggling for donations for teenagers and tourniquets. If you can help with anything please get in touch with the centre.
You can find more information and the projects they run on their Facebook page – the Ukrainian centre Leeds – Facebook page : www.facebook.com/Leeds-Ukrainian-Community-Centre
This post was written by Helen Carr

We encourage anyone living or working in South Leeds to use this website to tell their news. You can either use the Create an article for South Leeds Life page, or email us at: info@southleedslife.com