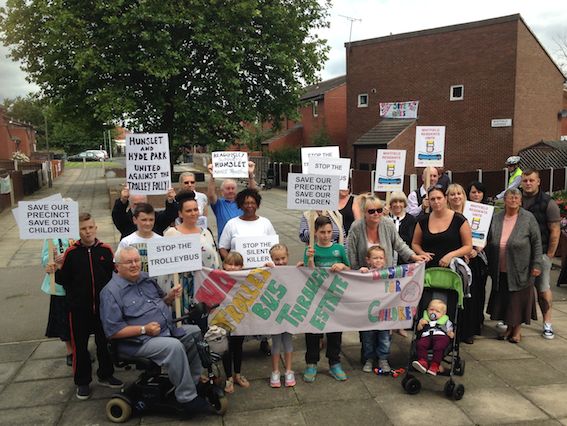 South Leeds campaigners fighting against plans for the £250m New Generation Transport 'trolleybus' scheme have spoken of the negative impact it may have on their community.
As reported by South Leeds Life, residents of the Whitfield estate in Hunslet recently mounted a protest against the plans, which would see a dual track run along the precinct past Hunslet Library, the Job Centre, the Garden Gate pub and through the Whitfield estate.
The proposals are currently being scrutinised at a public inquiry, but the plans would see a trolleybus passing the houses every three minutes from 6am until midnight.
Members of the Hunslet Against The Trolleybus campaign have released two videos on YouTube highlighting their concerns:
The second video highlights their concerns about the impact on the newly reopened historic Garden Gate Pub:
More information about the trolleybus project, including artist's impressions of Whitfield Way, can be found on www.ngtmetro.com. The public inquiry is set to restart on September 2. If the scheme is given the go-ahead construction on the NGT is due to start in early 2017.