Rolls of Honour from two former clubs in Stourton have been relocated and put on display in Hunslet Community Hub and Library.
The Rolls, which contain the names of club members who served and in some cases died during the two World Wars, were rescued from storage by members of Hunslet Carr Residents Association, who organised an unveiling ceremony on Saturday 12 November.
The packed ceremony was attended by the Lord Lieutenant of West Yorkshire, Hilary Benn MP, Councillors and standard bearers from the British Legion.
The ceremony included hymns, readings and an address by Rev Mike Hewison, who blessed the plaques before wreaths were laid and a two minute silence was observed.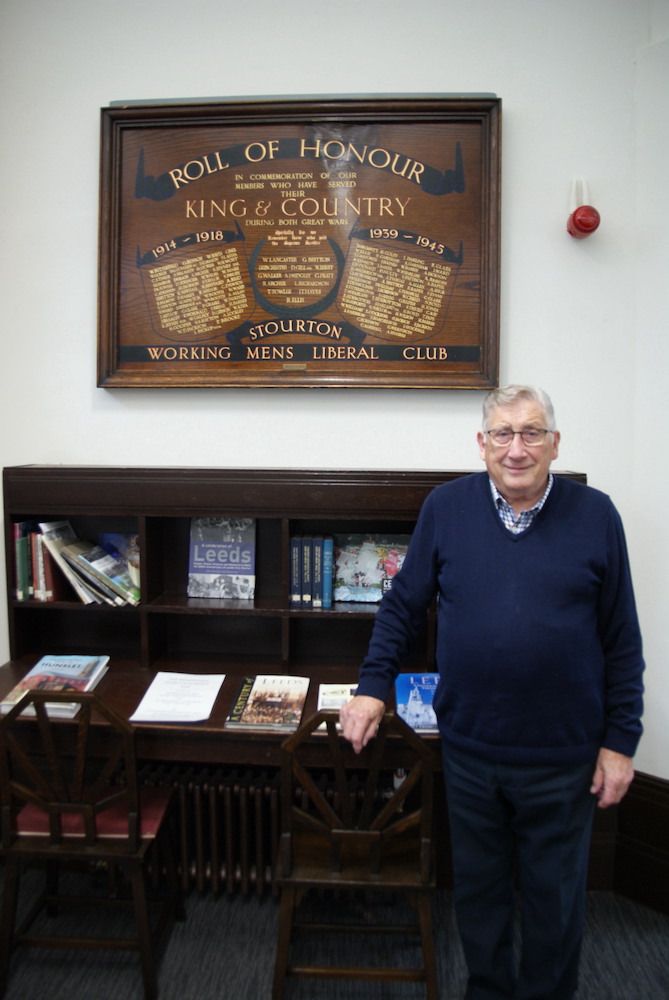 I spoke to Denis Gill whose father, also called Denis, and his uncle is listed on the Roll Of Honour from Stourton Liberal Men's Liberal Club.
Having grown up in care after his father died, Denis senior joined the army in 1932. He moved to the reserves in 1940 and took a job in engineering, but returned to active service the following year. He won the first of two Military Medals in Turkey in March 1943, when he led a bayonetted charge showing "dash and personal example … with tommy gun blazing (he) drove the Germans before him in headlong retreat" according to the citation.
Denis died on 5 January 1944 at Rocca in Italy, having won a second Military Medal and having been promoted to Company Quartermaster Sergeant. He is buried at the Cassino War Cemetery.
Denis junior was only 2 when his father died and doesn't remember him, but is very proud that his sacrifice is remembered on the Roll of Honour.
"I was born and grew up in Stourton" Denis told me. "It's all gone now, they knocked down the housing and the clubs. I'm pleased that Hunslet Carr Resident Association have found the Roll of Honour and that Hunslet Library have put it on public display. I found the unveiling ceremony very moving."
Main photo: Kenny Saunders, Chair of Hunslet Carr Residents Association, read the names of the men that died in the two World Wars
Whilst you're here, can we ask a favour?
South Leeds Life is published by a not-for-profit social enterprise. We keep our costs as low as possible but we've been hit by increases in the print costs for our monthly newspaper – up 50% so far this year.
Could you help support local community news by making a one off donation, or even better taking out a supporters subscription?
Donate here, or sign up for a subscription at bit.ly/SLLsubscribe