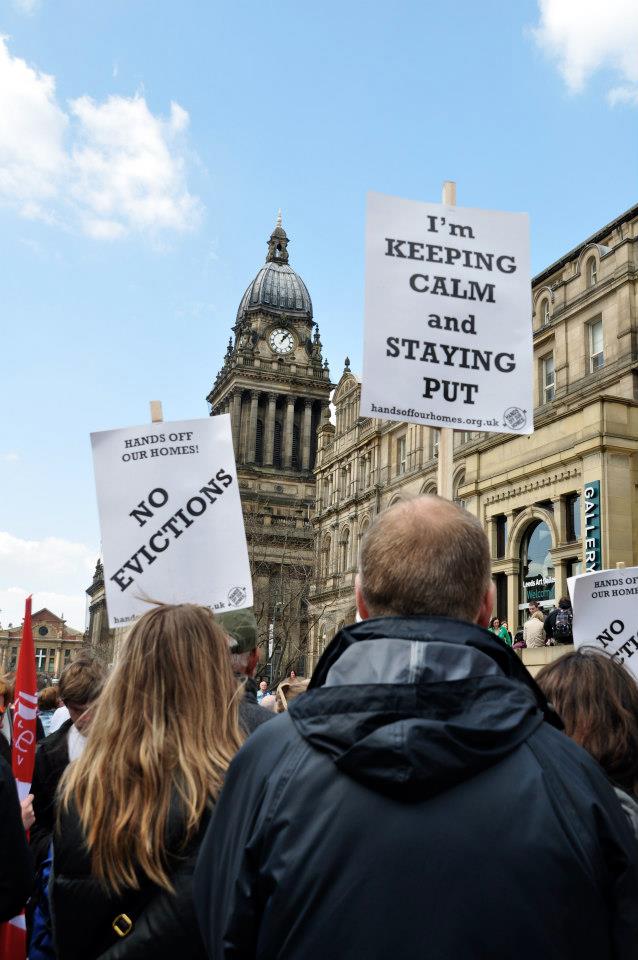 Stop the Housing Bill, Stop the Sell-Off of Social Housing, Stop Unfair Housing Benefit Cuts
– public meeting at 7pm, Thursday 12th May, at Middleton Cross church hall, Middleton Park Avenue, LS10 4HX

Do you care about having a decent, secure, affordable housing for yourself, your children and your grandchildren? Do you know how new government policy on housing and benefits could affect you, your family and your neighbourhood? Come to this meeting hosted by Hands Off Our Homes, to find out more and join the growing campaign for secure, affordable social housing.
BACKGROUND TO THE MEETING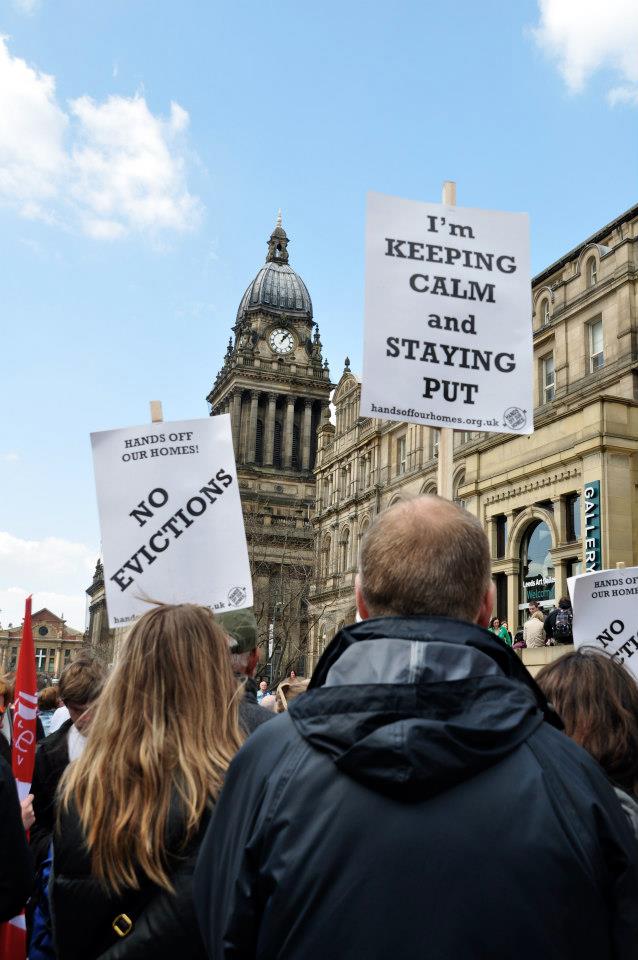 The government is trying to force councils to sell off desperately-needed council houses to pay for discounts on housing association tenants' right-to-buy. Leeds is set to lose 6% of its council house stock every year, with the profits going into the pockets of the better-off – at a time when there are already 25,000 lower-income households on the council waiting list, and private-sector rentals are insecure, often unaffordable and frequently squalid.
The government plans to raise rents for social tenants with a household income over £30,000 – basically, an extra income tax on people with modest earnings who happen to live in social housing – with the extra rents going to the Treasury, not ploughed back into local housing. They also want to end secure tenancies for new tenants, causing insecurity for families and reducing incentive for people to look after their homes and get involved in their local communities. Instead of building affordable homes to rent, they want developers to build "starter homes" for purchase, at up to £250,000 and so only affordable to those on higher incomes – with a 20% discount paid for by the public. This is what the government calls "fair"!
The bedroom tax is still with us and leaving thousands in debt or unable to eat properly or heat their homes. But worse is to come: the lowering of the Household Benefit cap to £20,000 will see thousands of Leeds families unable to pay their rent, putting 12,000 Leeds children at risk of homelessness. And plans to limit Housing Benefit to private sector rates will make supported and sheltered housing unaffordable for many pensioners.
Loss of Housing Benefit revenue will also close down much emergency accommodation such as homelessness hostels and domestic violence refuges, as well as essential services provided in residential settings for people needing specialist support. Street homelessness can be expected to soar – it has already doubled in the last five years due to expensive, insecure private tenancies, benefit cuts and sanctions, and these new cuts will make matters far worse.
Today's young people are starting their lives in a world where independence and security are an impossible dream for many – yet a massive programme of council house building could provide decent homes for everyone, genuinely useful jobs, stability for children and thriving communities. It would more than pay for itself over time, without the need to force councils into debt through rip-off private investment schemes.
Hands Off Our Homes believes that a decent and secure home is a right, not a privilege. We reject the false idea that rents should be dictated by the market, and we know that public investment in social housing is both economically sound and makes a huge difference to people's well-being and life-chances.
Campaigns around the country are already making a difference, with tactics ranging from lobbying councillors and MPs to demonstrating and, where necessary (as in several London boroughs), taking direct action to prevent sell-offs and evictions. But we need far more people to come together to make their voices heard. It's up to us – please come along to the meeting to see what we can do here in Leeds.
You can contact Hands Off Our Homes at handsoffourhomes@gmail.com, phone 07930 966205 – or see our Facebook page Leeds Hands Off Our Homes, or our blog at www.handsoffourhomes.co.uk
This post was written by Ellen Robottom using our Create an article for South Leeds Life page.