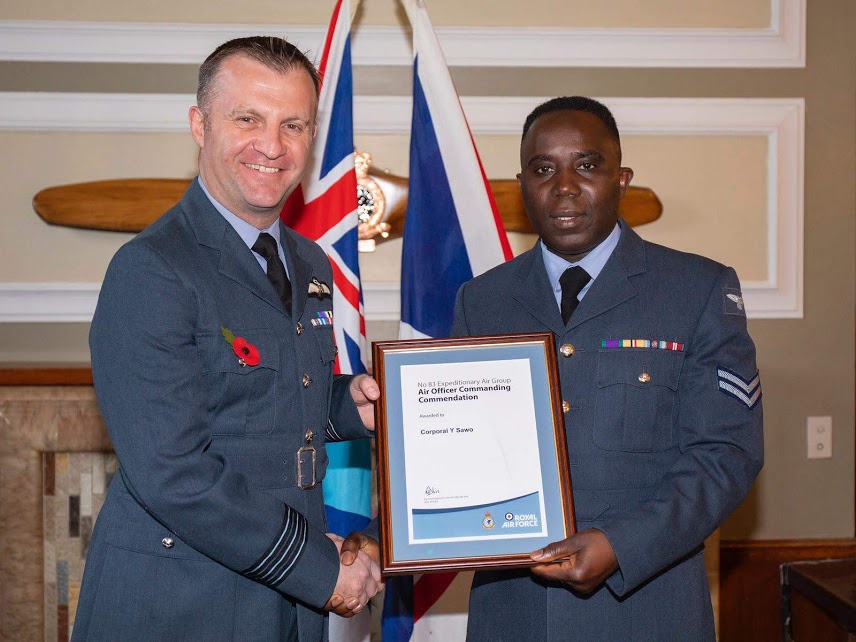 "It's changed my perspective and it's changed my life. I don't know what I would be doing now without the RAF," says Yanks Sawo, a man who was born in Gambia and lives in South Leeds but was moulded by the Royal Air Force.
Based at RAF Leeming in North Yorkshire, Mr Sawo joined in 1998 and is an instructor at mechanical transport flight, training personnel to operate specialist military vehicles and helping to promote road safety within RAF Leeming.
Now, after over two decades of service, he wants others from all backgrounds – especially in South Leeds – to follow in his footsteps as the city celebrates Armed Forces Day 2019 on Saturday 29 June.
"The RAF is a diverse community," he emphasises. "I would encourage youngsters to go to the RAF because the RAF has provided for all my needs," including providing halal food and catering for Muslim personnel during Ramadan.

"I would encourage my Muslim brothers and sisters and others from all walks of life and other religions, minority groups. The RAF caters for everybody."
Mr Sawo wasn't born in the UK and English wasn't his first language, but he says the RAF has equipped him with skills and career opportunities that go well beyond flying aircraft.
"Before I joined the RAF, I was a bit shy. I found it difficult to stand in front of a crowd of three or four.

"But now the training the RAF has given me has given me a broader perspective and confidence, [I] find it easier to talk to and approach people.

"It's got all the careers and they provide leadership skills. They'll train you from scratch. It's continuous training and personal development.

"The RAF promotes professional development and provides effective leadership training to personnel. The training will give you skills to become an effective leader not just for the RAF but also for your community as well."
Mr Sawo himself helps organise activities at the Hamara Centre in Beeston and says the RAF has facilitated his ability to contribute to projects in Leeds as an RAF BAME ambassador.
In 2015, he graduated from Staffordshire University with BA Honours in Business Management and his fees were entirely funded by the RAF.
Since then he has achieved two awards, one for outstanding contribution to RAF Odiham's reputation and an Air Officer Commanding 83 Expeditionary Air Group Commendation when based overseas, something only awarded "sparingly to people who go beyond their day-to-day duties".
"I like hard work. You have to work hard, you have to learn and improve yourself, and the RAF has always supported me. If you work hard, you get rewarded," he underlines.
With Armed Forces Day taking place in Leeds this weekend, Mr Sawo wants aspiring doctors, IT staff, chefs and engineers as well as pilots to know that an RAF career could be for them too.
"Armed Forces Day is fundamental. It's an opportunity for them [citizens] to engage and learn about their armed forces. It's a great opportunity!

"I'm grateful we have Armed Forces Day because the armed forces do a fantastic job for this country and the wider world. It's good that we're getting recognised and the way of getting recognised is having Armed Forces Day, where the public can have the chance to show support for the men and women in uniform from currently serving personnel to service families and veterans."