As part of LEEDS 2023's Awakening programme, award-winning theatre company Slung Low is premiering the film 'The Magician' with screenings at their new base The Warehouse in Holbeck.
A collaboration between Slung Low and Leeds People's Theatre(LPT), two South Leeds organisations specialising in supporting people to get involved with theatre and film production, and LEEDS 2023.
Director James Phillips describes the story:
"Set in a near-future Britain, where violence and civil war threaten to overturn a revolutionary government, our film follows a young man on a quest to find the only person who might have the knowledge to stop the burning and the hate."
Alongside professional actors, a cast of over 200 Leeds citizens filmed scenes for 'The Magician' at some of the region's most impressive locations, including the Yorkshire Dales and Peak District. The film also featured The Holbeck, the oldest working men's club in the country.
Amongst the cast were 90 children from Ingram Road Primary School who staged a battle reenactment in the grounds of Temple Newsam stately home, complete with war paint, smoke grenades and replica weapons.
Sarah Millard, headteacher at Ingram Road explained:
"Slung Low is resident in our school so our pupils are used to expecting the impossible, but this was a once in a lifetime experience for the children and one we are sure they'll never forget. To work alongside a professional crew and actors means their horizons were expanded that bit wider by the end of the day. We hope that our children understand that we are all entitled to culture; we should all dream big!"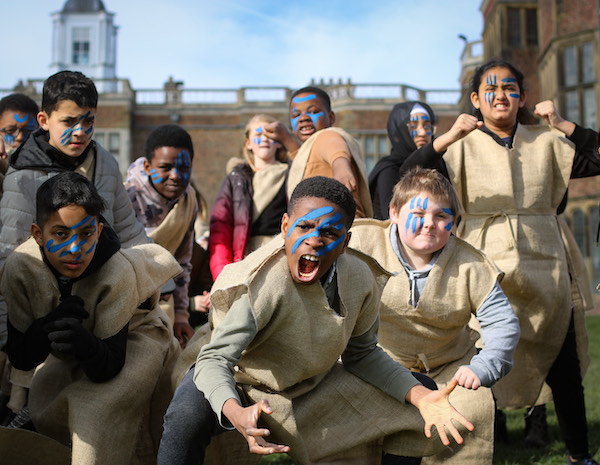 The film stands alone as a story itself but 'The Magician' is the third instalment from Slung Low's 'The Shining City Saga', charting the rise and fall of the fictional court of Bear the Queen, which began as an epic sell-out play 'Camelot: The Shining City' at the Crucible, Sheffield. Performed with a cast of 150, 'Camelot: The Shining City' told the story of the key figures from Bear's revolution.
At the start of 2019 Slung Low transferred the saga from stage to screen with the first of two films 'The Good Book'. Filmed in Leeds with a cast of 100 it took place within the same future world as 'Camelot: The Shining City' when civil war has gripped the country.
All three parts of 'The Shining City Saga' were written by James Phillips. He said:
"It's so exciting to have made the latest part of what feels like a unique project: a continuing story unfolding across both theatre and film."
Alan Lane, Artistic Director of Slung Low said:
"We are so proud to be Holbeck's theatre. That means that when we're asked to make an epic film it has to start here in Holbeck. Ingram Road Primary School is our most important partner and the chance to make these huge battle scenes with the talented kids in the school was just a dream come true."
Lane explained why they were not the only young performers in the film,
"The mix of experience in a people's theatre company is such a treat for these types of projects. 13 year old Florrie Bradley, was in LPT's first film 'The Good Book' as a young rioter with her mum. Now she returns to work alongside the likes of Colin Tierney, with all his experience, as a major character. These sorts of outcomes and journeys are almost as important as the film itself."
Appearing alongside founder of Northern Broadsides Barrie Rutter, who lent his unmistakeable voice to the character of Michael, was a young debut: Kamran Zahid, a student at Leeds Conservatoire. Kamran played the lead role of Owain, "It was such an amazing opportunity to work with established actors who I could observe and draw from, as well as a crew who could advise and help me hone my craft. I can't wait to see the finished film."
The film was commissioned by LEEDS 2023 as part of its Year of Culture. CEO and Creative Director Kully Thiarai explained their involvement.
"Championing and shouting about the diversity and brilliance of the our city is key to our mission, along with creating opportunities for everyone to participate in our Year of Culture. So we knew we had to help make the film happen. The Magician is a brilliant celebration of all that makes Leeds such a vibrant city brimming full of talent, energy and emotion. We can't wait for you to see it".
The Magician will be screened on Friday 3 March and Saturday 4 March 2023 at 7:30pm at Slung Low's venue, The Warehouse in Holbeck, Crosby Street, LS11 9RQ. Tickets are available via www.slunglow.org. The screenings are Pay What You Decide.
The film will be made available online later in March.
This post is based on a press release issued by Slung Low
Whilst you're here, can we ask a favour?
South Leeds Life is published by a not-for-profit social enterprise. We keep our costs as low as possible but we've been hit by increases in the print costs for our monthly newspaper – up 83% this year.
Could you help support local community news by making a one off donation, or even better taking out a supporters subscription?
Donate here, or sign up for a subscription at bit.ly/SLLsubscribe