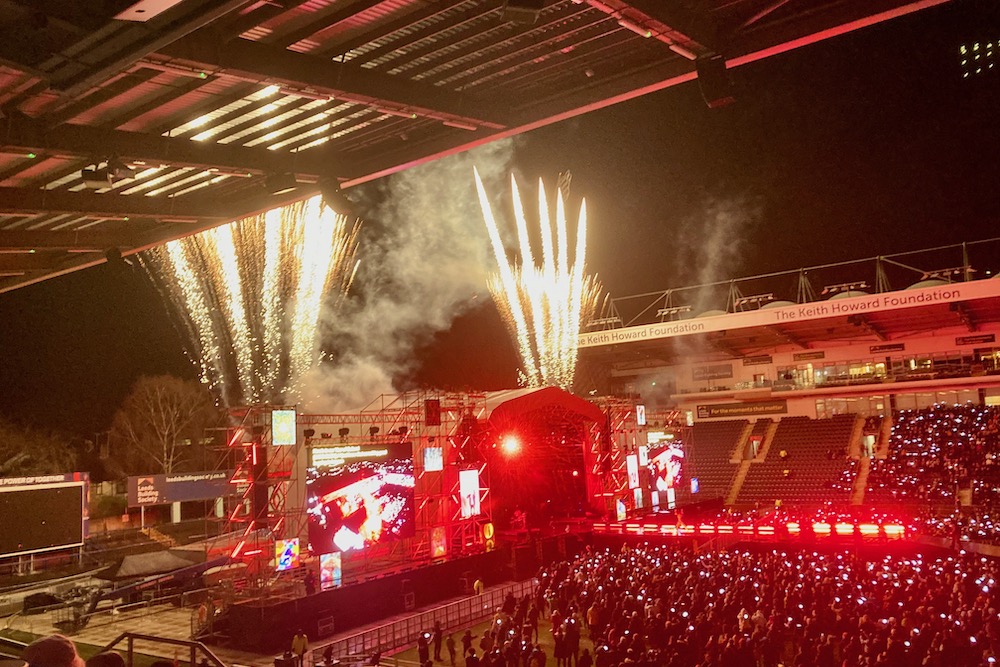 Anyone who thought Leeds couldn't put on a show should have been at Headingley Stadium on Saturday (7 January 2023) to witness The Awakening, a smorgasbord celebrating the many-faceted cultures of Leeds and kicking off LEEDS 2023 Year of Culture.
This opening film set the tone for the evening:
The audience was made up ten thousand artists who had submitted a piece of artwork in return for tickets. That artwork became part of the show, either hanging as an exhibition in the stands, on the stage, or as part of a series of short films.
Songs born in Leeds from Something Good (Utah Saints) to Tubthumping (Chumbawamba) to I Predict A Riot (Kaiser Chiefs) all got an outing, but a makeover too.
I particularly enjoyed seeing the chorus of Opera North singing the repeated refrain "Pissing the night away" with broad grins on their faces in a team effort with Hope & Social and Dunstan Bruce from the band on Tubthumping. "I get knocked down, but I get up again" really is Leeds semi-official motto now.
I Predict A Riot was set off by a rock band of ten year olds and about a hundred young dancers (and was that one of the Kaisers at the back on tambourine?) before morphing into a Caribbean stylee complete with carnival dragon costumes.
Spoken word came from a number of artists including a piece by the Poet Laureate, Simon Armitage with his band LYR. He may not be a Leeds lad (he's from and still lives in Marsden near Huddersfield) but he clearly knows Leeds. Other spoken word artists (poets? Rappers?) including Testament, Graft and Denmarc Creary also spoke about our city in way only locals can.
Nessun Dorma was a well chosen operatic aria, having been popularised by Italia 90, everyone knows the tune. The words "None shall sleep" and the concluding "I will win" were particularly appropriate. It was performed beautifully by Opera North reminding me once again that you really cannot beat live music.
The show's finale was provided by Corrine Bailey Rae, interrupted by a Look North report of a giant emerging from the River Aire and heading for Headingley. Sure enough he appeared over the stadium in the form of drone lights (I think). He was of course the sleeping giant that is the city and its culture.
Did the show finish with pyrotechnics? Alan Lane (Artistic Director of Holbeck's Slung Low) was co-director of the event, so of course it did.
The show was inclusive and participatory. I don't just mean the wheelchairs on stage, or CBeebies' George Webster's hilarious double act with his dad. As well supplying the artwork, the audience were given what appeared to be white maracas, but turned out to be remote controlled lights for the finale.
The Awakening wasn't the Year of Culture, it was a taster of some of what is to come this year. It was exciting, inspiring, funny and moving by turns. Those lucky enough to attend, and I spoke to a few excited families on the number 1 bus back to Beeston, were enthused and entertained.
I must confess that I was prepared to be underwhelmed, but thoroughly enjoyed the evening. It was the perfect start to what promises to be an exciting year in the city.
Whilst you're here, can we ask a favour?
South Leeds Life is published by a not-for-profit social enterprise. We keep our costs as low as possible but we've been hit by increases in the print costs for our monthly newspaper – up 83% this year.
Could you help support local community news by making a one off donation, or even better taking out a supporters subscription?
Donate here, or sign up for a subscription at bit.ly/SLLsubscribe