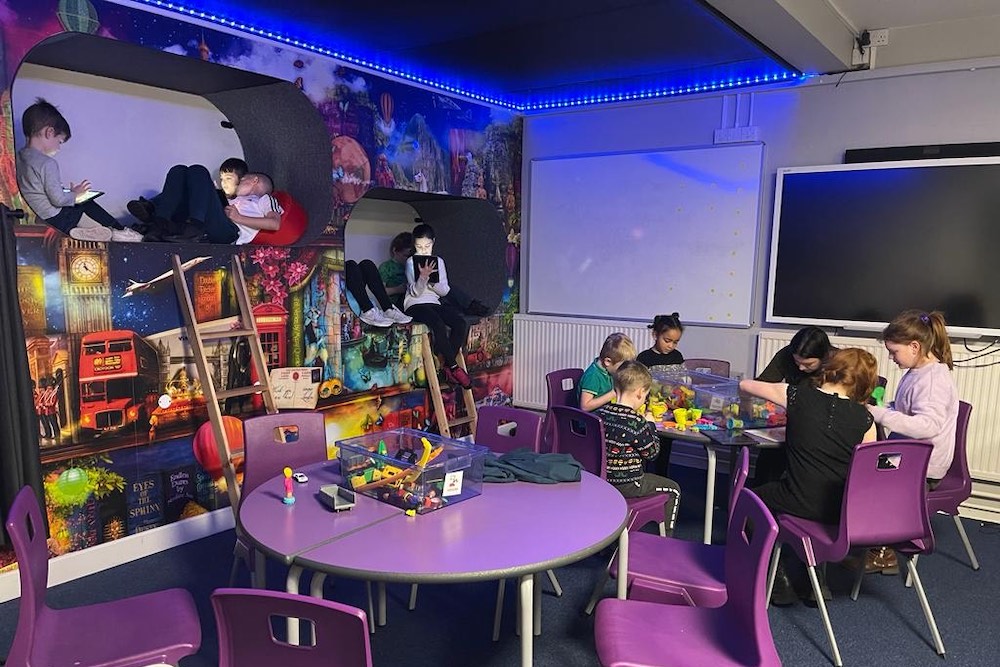 With Christmas being a hard time for many, Low Road and Windmill Music Federation were keen to ensure that not only did every child receive a gift, but that children continued to access school facilities as needed during the Christmas period.
With the help of Cash for Kids, a charity which the federation raise money for, every child in school took home two gifts to help keep them entertained on the run up to Christmas. The pastoral team were also aware of families who would be unable to provide gifts for the 25 December, and with the help of a generous donation, an additional 14 families were taking home numerous toys and games to help ease the burden.
School leaders at Low Road and Windmill Music Federation also considered any additional support they would be able to put in place during the two-week festive break so that up to 40 pupils could have a hot meal and warm, safe space to play in.
Mrs Troughton, Federation Headteacher, was quick to recruit an army of volunteers to help oversee the Christmas Club, which was run by 15 members of staff across three days. The volunteers gave up their own holidays to ensure a safe and fun series of sessions for the children of both Low Road and Windmill, whilst Executive Headteacher Andy Gamble donned his chef's hat at the helm of the kitchen.
The holiday club was hailed as a "lifeline" by many parents and it aimed to make sure youngsters had access to nutritious meals; a warm environment and stimulating activities, even out of term-time.
One parent posted online:
"Thank you to Low Road Primary School for going that extra mile after school had finished for Christmas." She continued … "They even picked her up and dropped her off knowing I would find it difficult."
The schools are rated "Good" by Ofsted and inspectors previously noted that the schools are " .. a very welcoming, friendly and nurturing school where staff help pupils to develop well, academically and personally."
This post was written by Caroline Harvison
We encourage anyone living or working in South Leeds to use this website to tell their news. You can either use the Create an article for South Leeds Life page, or email us at: info@southleedslife.com
Whilst you're here, can we ask a favour?
South Leeds Life is published by a not-for-profit social enterprise. We keep our costs as low as possible but we've been hit by increases in the print costs for our monthly newspaper – up 83% this year.
Could you help support local community news by making a one off donation, or even better taking out a supporters subscription?
Donate here, or sign up for a subscription at bit.ly/SLLsubscribe