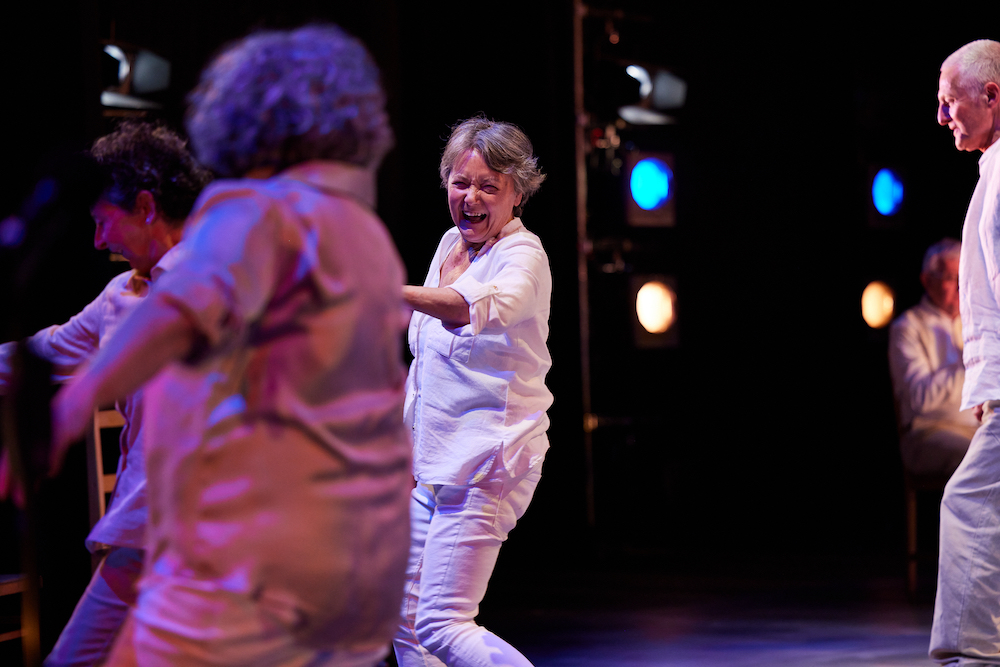 Sinfonia is a production that is part of the Leeds 2023 initiative '1001 stories'. A two-week takeover of Leeds Playhouse by older people. It brings together the work of The Performance Ensemble, Leeds Older People's Forum, Leeds Galleries and Museums and The Playhouse itself. It promises to celebrate the vast creativity of older people.
As I took my seat on Friday (28 April 2023) I wasn't sure what to expect. What even is a Sinfonia? The Italian for symphony according to Google. The bill promised music, dance and stories. As the Quarry Theatre filled up, I was aware of a very warm and excitable chatter in the audience as we waited for the curtain to lift.
The moment of the show opening will stay with me always. I go to the theatre as often as I can afford in Leeds, and I'm thrilled that over the last ten years casts are increasingly becoming more diverse. They include people of colour, disabled performers, people with regional accents, working class performers. Performances no longer feel like the domain of the elite, they represent the communities they serve.  However, the moment of seeing Sinfonia open and the stage entirely filled with white haired actors was still a shock to me and completely reflective of the youth obsessed society we have become.
Sinfonia mixed seamlessly music, dance, speech and visual effects. The stage was wonderfully choreographed to present movement that was continuous and fluid, the set was beautifully designed, minimal but impactful. As too the costumes for the performers, elegantly clothed in muted tones. This understated setting really contrasted with the creativity and the energy of the performance. The show ran for 75 minutes without interval but from the moment it began the audience was completely engrossed, it did not pause for one moment, there being always some movement and action that carried us all the conclusion in a wave of emotion.
Sinfonia at its heart tells stories, the stories of people, everyday moments of joy and sadness, of bravery, of pride, of the small moments that change everything. It is filled with warmth and humour; it encompasses a particularly impressive rant and the most beautifully evocative dance.
Reader, I did not expect to spend my Friday evening sobbing. But sob I did, and laugh, and cheer and applaud. It was an emotional rollercoaster that left me with the absolute conviction that we all want to be heard, to be seen and to be celebrated.
What Sinfonia does impressively well is gently remind us that we all have a story, and that as we age our personalities do not fade. Society and media continuously tells us that once we are old, we no longer matter. This performance was a complete joy to experience because it showed us the falsehood in that. Each and every performer in this show was magnificent and visibly thrived under the spotlights. I cannot recommend this show enough to you, it is a feast for the senses, please do try to catch it.
Sinfonia runs at Leeds Playhouse until Saturday 6 May 2023, then on tour. Full details and tickets at: leedsplayhouse.org.uk/event/sinfonia/
This post was written by reader Lou Bentley in return for two free tickets, as part of South Leeds Goes To The Playhouse.

Photo: Pat White in Sinfonia as part of 1001 Stories. Photo by David Lindsay

While you're here, can we ask a favour?
South Leeds Life is published by a not-for-profit social enterprise. We keep our costs as low as possible but we've been hit by increases in the print costs for our monthly newspaper – up 83% in the last 12 months.
Could you help support local community news by making a one off donation, or even better taking out a supporters subscription?
Donate here, or sign up for a subscription at bit.ly/SLLsubscribe