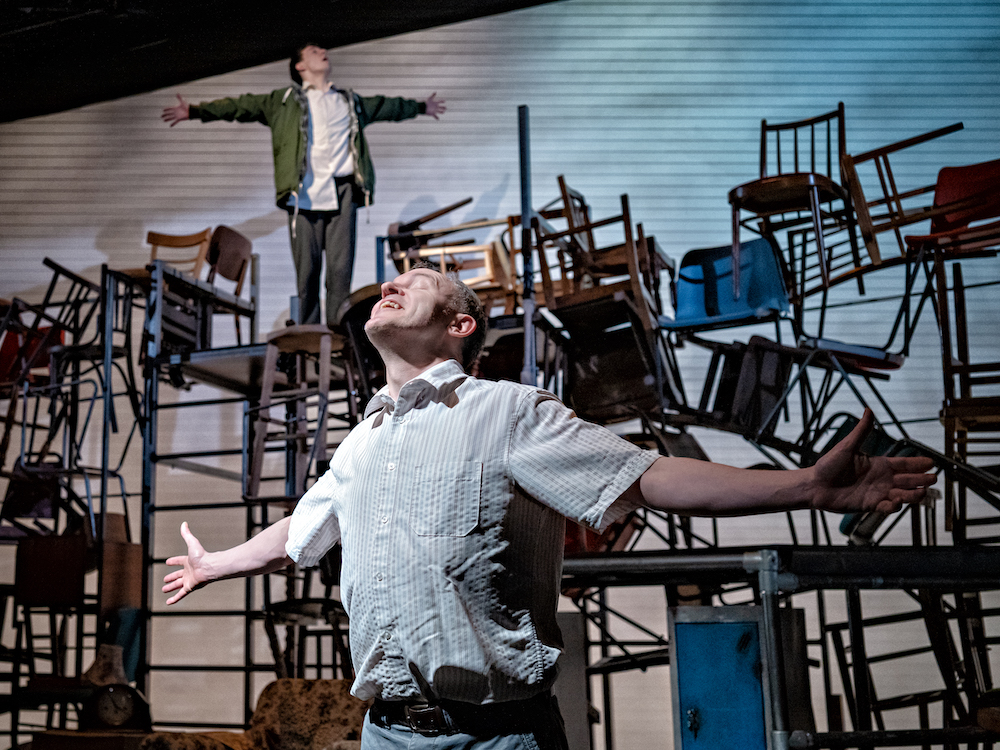 Leeds Playhouse never fails to impress the audience with a clever set and well staged performance. The same and much more was true of Kes, a brisk and well-choreographed play that captured honestly the raw emotions of Barry Hines's novel and its classic film adaption.
Lucas Button is outstanding in the role of Billy, expertly portraying the tenderness, innocence and growing pains of the character. In a departure from book and film, Jack Lord superbly plays an imagined and older, down-trodden Billy. Jack moves between the play's other roles with ease, providing the audience with rich characterisation and a mixture of laughs and groans: one minute a cane wielding teacher; the next a Les-Dawson-esque mother. Older members of the audience may be disappointed at the absence of the film's Bobby Charlton routine, but Jack's portrayal of the abusive sports master is also well realised.
Director Amy Leach chose to keep Kes in our imagination and I think this was the right choice. We quickly buy into the idea that Kes is soaring above our heads through the clever choreography and impeccable timing of the two actors.
Many of the audience will know what is coming in this tragic tale. Our own turmoil and angst is being played out through the addition of the older character. We sympathise and understand older Casper's inner battle to both remember and forget his precious Kes. Other audience members may get a different experience as they are shown the story for the first time through the eyes of Billy.
Although the play makes reference to its 1960s setting, it does not feel outdated or irrelevant to the current day. It is a timeless coming of age story, the fight between adolescence and adulthood and the premature loss of childhood innocence that all can relate to.
A gloomy look at both the present and future of poor Billy Casper may leave audiences with a sense of hopelessness for our anti-hero, but that won't stop you enjoying this beloved story brought to life in the pop-up theatre.
Kes runs at Leeds Playhouse until Saturday 16 February 2019. Suitable for age 11+. Tickets cost £13.50-£31, call (0113) 213 7700 or visit the website: leedsplayhouse.org.uk/events/kes
This post was written by Naomi Roxby Wardle

Photo: Lucas Button as Billy and Jack Lord as Man in Kes. Photography by Anthony Robling
We encourage anyone living or working in South Leeds to use this website to tell their news. You can either use the Create an article for South Leeds Life page, or email us at: info@southleedslife.com.