Belle Isle Circus and Whitfield estate safe as Trolleybus scheme is scrapped
The proposed trolleybus scheme for Leeds has been scrapped following the Planning Inspector's recommendation that the scheme was "not suitable for development".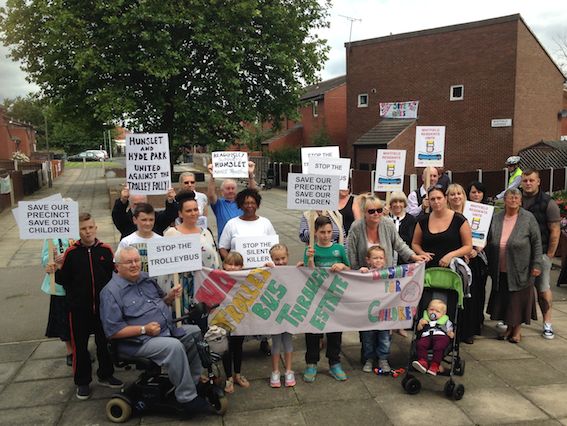 The trolleybus had been due to run from a park and ride off junction 7 of the M621 at Stourton, through Belle Isle and Hunslet into the city centre. The northern spur was to run through Headingley to Holt Park.
The Inspector reported that the scheme would damage green space and not properly serve the more economically deprived parts of the city.
Many people supported the scheme arguing that Leeds needs a rapid transit system to alleviate traffic congestion. But South Leeds Life has also reported on campaigns against the scheme including protests on the Whitfield estate outside the listed Garden Gate pub in Hunslet and on Belle Isle Circus. The protesters also presented their arguments at the public enquiry held last year.
Jacqui Sykes from the Whitfields Action Group in Hunslet said:
"We're obviously delighted that this daft scheme has been stopped – it would have wrecked our neighbourhood. And we'd like to give a special thanks to Deborah Fahey, for all the work that she – with her husband Jeff – put it to stop it."
Hunslet resident Stephen Roe said:
"As a Hunslet dweller who works in Headingly the scheme initially seemed to be ideal for me, not only would it occasionally (I usually cycle) enable me a quick commute but would have added value to our house and enabled my kids to get to schools across the city and it would be nice for Leeds itself to have a shiny new greener method of transport.

"But the more and more I read about the scheme it just seemed like it wouldn't solve any issues and would just create more for people and commuters along the route as well as problems for cyclists like myself so I'm hoping something more creative is done with the money instead."
Cancelling the project, Transport Minister Lord Ahmad promised that government funding of £173m would be held for Leeds to develop a better project.
Leeds Central MP Hilary Benn call on the government to give control to Leeds saying:
"We now have to take control of getting a modern rapid transport system. Leeds is a major European city and we need a tram and light rail scheme to get people about. We have got to be ambitious."