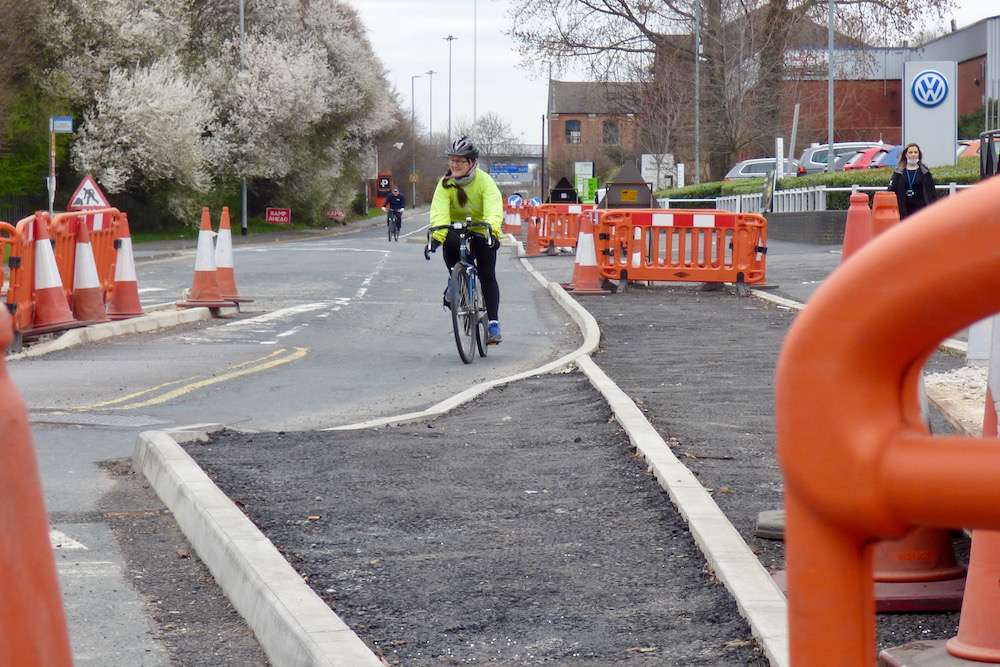 Work will complete this Spring on several cycling and walking schemes across Leeds which have been accelerated through the West Yorkshire Combined Authority's CityConnect programme, to meet the challenge of providing more travel choices for people as coronavirus restrictions are lifted across the country.
Working in partnership with Leeds City Council and Sustrans, the walking and cycling charity, more than 7km of new segregated cycling and walking routes will be delivered across Leeds in spring 2021 as part of a £7.1 million package to make it easier for people to travel by bike or on foot.
In the south of the city, two new routes have been accelerated, with new segregated cycle infrastructure along Dewsbury Road and Elland Road due to  open for use in May 2021.
The Dewsbury Road scheme will extend the existing segregated cycle route with a 1.5km section of new route between Garnet Road and Ring Road Beeston Park (Tommy Wass junction). Construction of a new 3km segregated cycling route between Elland Road Park and Ride and the city centre is also progressing well.
Cllr Kim Groves, Chair of the West Yorkshire Combined Authority Transport Committee, said:
"Enabling increasing numbers of us to travel by bike and on foot is more important than ever, not only as we look to address the health, transport and economic challenges created by Covid-19, but also in helping us achieve our aim of becoming a net zero carbon economy by 2038.
"These important schemes will provide communities across Leeds with high-quality cycling and walking routes that are safe and free from traffic, making it even easier for people to make the choice to travel more actively.
"From connecting people across our region, to reducing air pollution and congestion, and combatting physical inactivity and obesity, we know getting more people cycling and walking has a vital role to play in making West Yorkshire a great place to live and work."
Councillor Helen Hayden, Leeds City Council's Executive Member for Climate Change, Transport and Sustainable Development, said:
"We're delighted these schemes brought forward for construction of more than 7km of new segregated cycle routes are almost complete and ready for use. We're working hard to ensure walking and cycling are more of an attractive and natural everyday choice, for exercising and commuting.
"As we start re-opening services, these new routes will offer improved safety, convenience and a healthier way for people to travel in the south of the city connecting Beeston, Holbeck, Hunslet and the city centre.
"Every new piece of segregated cycleway in Leeds moves us closer to the 800km of cycle network we are aiming to deliver across the city. We look forward to seeing the schemes fully completed in just a few weeks' time."
These projects play a significant part of Leeds City Council Connecting Leeds 'Cycling Starts Here' ambition to create 500 miles of safer cycling routes across the city.
From route information to support for businesses, find out how CityConnect can help you cycle and walk more at www.cyclecityconnect.co.uk.
This post is based on a press release issued by West Yorkshire Combined Authority