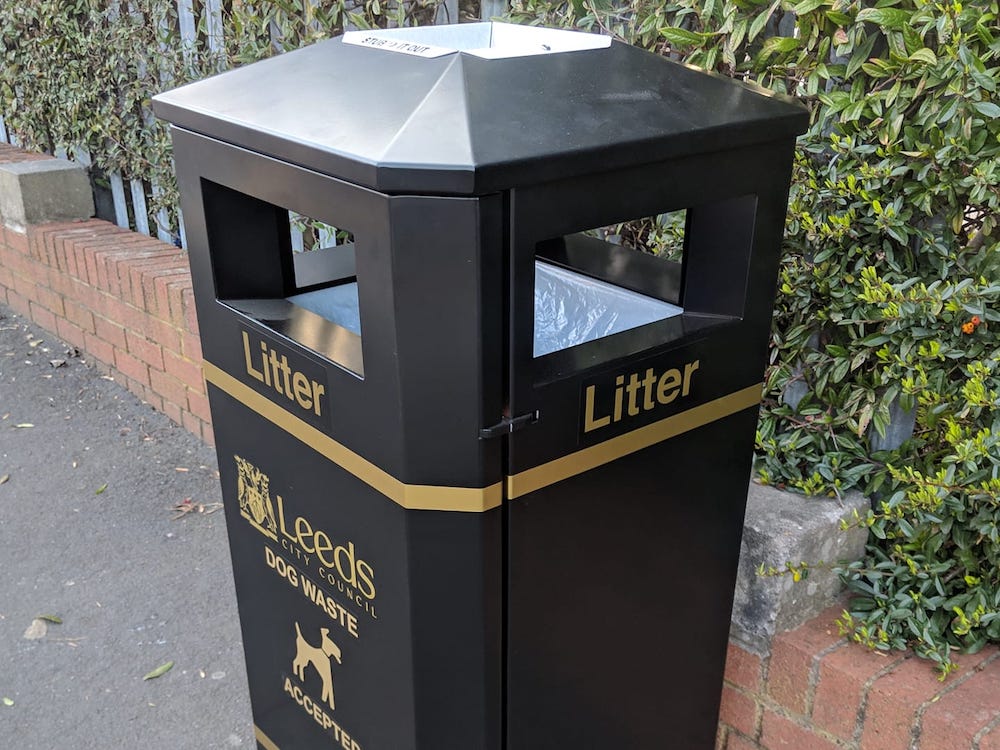 In an article last week, I talked about what steps we were taking to resolve missed bin collections. One of the other blights on our communities is litter. Not only does it make our streets messy, but it takes up a significant amount of staff time to collect, taking them away from complex and hard to deal with environmental work.
We're now (as of 23 March 2019) investing in a programme of new litter bins, being deployed throughout Hunslet and Riverside Ward to help tackle this blight. Evidence shows people do use letter bins when they are there, and there is a significant amount of "polite" littering, as people use flowerbeds, behind communication boxes, or other out of sight locations to dispose of their waste if there is no local litter bin nearby.
The first batch of 22 new litter bins, identified as the most problematic areas by staff are being installed now. The next batch, planned for after May, will focus on our inner housing estates and parks, with a third batch towards the end of the year looking to tackle litter along the riverside towpaths, in partnership with the Canal and Riverside Trust.
Reducing the density of litter will keep our communities cleaner, mean regular community litter picks can make a sustained impact, and allow Council staff to focus on bigger and more complex environmental cleaning challenges.
15 of the first batch of 22 new litter bins have been located at the below locations:
Greenmount Street ginnel, aside no. 59
Rowland Road, opp Westbourne Avenue
Rowland Road, at the junction Rington Road
Stratford Terrace, opp no. 74
Stratford Terrace, opp no. 34
Stratford Street, opp no.77
Woodview Road, outside the Mosque
Whitfield Square, near no. 1
Hunslet Road bus stop, near the Tesla showroom
Hunslet Road, Crown Point entrance
Harlech Road, opp no. 80
Harlech Road, opp no. 42
Harlech Road, opp no. 18
Moor Road, Hunslet, opp no. 21
Jack lane, opp no. 112
This post was written by Cllr Paul Wray (Hunslet & Riverside)
We encourage anyone living or working in South Leeds to use this website to tell their news. You can either use the Create an article for South Leeds Life page, or email us at: info@southleedslife.com