Please have a look at slide show above.
I was invited along with Members of Middleton Elderly Aid to Northern College at Wentworth Castle in Barnsley last Friday to see what course are available for Adults 19 years of age to 90 and to pass this information on to our members.
10 of us went along including the driver. Think me and driver were in the minority, as the rest of the group were 8 lovely ladies, including Samantha the centre manager and Cath Gill. Cath did a year Diploma in residence for 1 year at Northern College.
Thank you Cath, for giving me some advice as we walked around later.
It took us about 45 minutes to get to the College by Mini bus.
We all where greeted at the college by the lovely Katie Ashworth, who immediately showed us some of the courses available in our meeting room.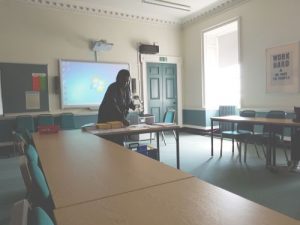 Katie tells us there are 100s of courses available and they run from 3 days to a year, depending on the course.
Some are residential and include breakfast and evening meal. Some courses are free, others you pay for and can be free if you are on certain benefits.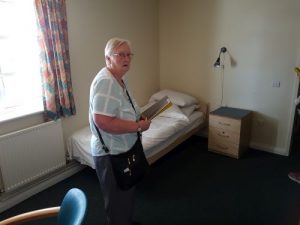 We all had the chance to look at some of the rooms students can live in.
They even have a Bar. I noticed no alcohol after 11pm and no noise, quite right too.
We had to introduce the person next to us to Katie, seems to go down well until Katie got to me and I got a tongue tied, me a volunteer reporter. Lol.
After getting loads of information about courses from Katie, we all got drinks vouchers for our first break of the day.
We made our way to the dining room for drinks. I immediately stepped out of the dining room onto the most beautiful views I've ever seen.
If I get to the college for a course, I will have to bring along my watercolours and do a painting.
Cath later told me that on her course the view was just as beautiful, covered in snow.
I stepped back as far as I could to take a picture of the Castle, even then not far enough to get it all in, so did a video which you can see at the bottom of this blog.
After about 20 minutes we made our way back to our meeting room, I was glad I followed the others as no doubt I would get lost.
Katie, asked when visiting the library, if I would like to interview the College Principle, of course I said yes.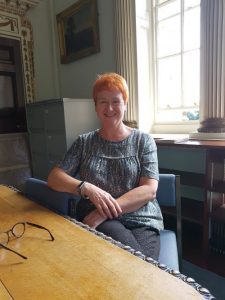 Jill Westerman, says
Principle tells me been at the college for 25 years (wow). 11 years as principle.

Jill's best moments are seeing students succeed, and worst moment the financial cuts. Jill is very proud that the College has been graded 'outstanding' by Ofsted.

Jill lives in Sheffield and loves cycling and walking. I told Jill I run two walking groups.

Jill's favourite holiday destination is in The Lake District and the Cotswolds.
Thank you Jill, I made my way back to the Library where the rest of the group having a look round.
At some point we were all given iPads which we took along with us around the castle to take photos. Later we all made a story board with the photos on the iPads.
Katie gave us all lunch vouchers and made our way back to the Dining room, and being Friday we had Fish and Chips. I'm still watching my weight, so no sweet.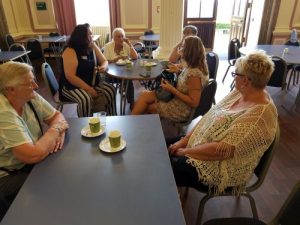 We all went back to the meeting room, and were given sheets of paper to write down what course we might be interested in and any new courses that may become available in the future.
I chose a course on Mental Health as one I maybe interested in.
Finally for the day Katie asked us if we would like to have a look around the gardens of the College. What a fantastic opportunity to take more lovely photos.
You can see some of those on the slide show at the top of this blog.
So thank you to Katie, Jill (Principle) of the college and Sam for inviting me along, and Cath for extra advice.
After a few hours We all made our way back to Middleton after a lovely afternoon in a fantastic college and gardens, thanks to our driver.
Northern College says
"We are passionate about providing educational opportunities for adult learners who have few or no formal qualifications. We treat everyone as an individual, recognising that everybody has had a different journey to where they are now. We ensure that your experiences at Northern College are positive ones.

"College life may differ for you depending on whether you decide to be a residential or non-residential learner, however, the majority of facilities and resources are available to all.

"You can stay residentially on our short courses as well as on our longer courses such as the Access to Higher Education Diploma.

The College was built as a private residence in the 1700s and along the way had many uses. It finally became the Northern College in 1978. www.northern.ac.uk
Local Area & Wentworth Castle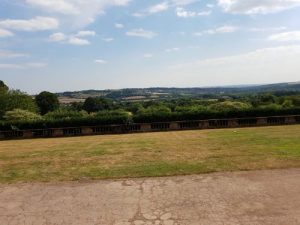 The Northern College has one of the most beautiful and impressive settings in the north of England.
It is located at Wentworth Castle, Stainborough, just three and a half miles from Barnsley town centre.
Wentworth Castle was the home of the Earls of Strafford during the 18th century, when most of the existing buildings on the site were built, and the gardens and surrounding park were designed.
The main house is a Grade 1 listed building of outstanding historical importance and is surrounded by the only Grade 1 listed landscape in South Yorkshire.
Its thirty-eight acres of grounds and gardens are of outstanding botanical and environmental interest.
https://www.youtube.com/watch?v=Yyjy4BFQ0_g