A Leeds man has been named as the 2018 PK Education West Yorkshire Supply Teacher of the Year.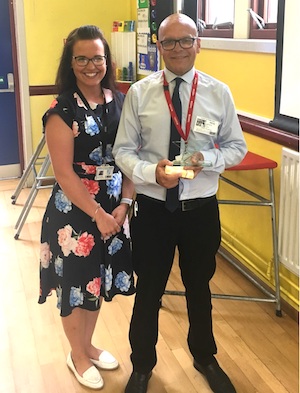 Former headteacher David Eaton, from Moortown, was nominated for the award by Hunslet Carr Primary School as well as the consultants at PK Education. He was one of three supply teachers shortlisted for the coveted award in West Yorkshire.
The annual awards are organised by Leeds-based education recruitment specialist PK Education and are designed to recognise and reward the vital role supply teachers play in UK schools every day.
David scooped 50% of the West Yorkshire votes and commented:
"It was a big surprise to be nominated and even more of a shock to win. Thank you to Hunslet Carr Primary School for nominating me."
David originally retired from teaching three and a half years ago having held the position of headteacher at East Garforth Primary Academy. However, he missed the classroom environment so turned to supply teaching. He now works three days a week combining his love of teaching with his passion for Manchester United, supporting the team at both home and in Europe.
He commented; "I love the variety of work and the opportunity to build relationships that supply teaching brings. It has enabled me to achieve that all important work/life balance."
Now in their fourth year, the annual PK Supply Teacher of the Year Awards recognise teachers from across six regions – the North East, West Yorkshire, South Yorkshire, East Midland, West Midlands and the North West.
Lee Carpenter, Director of PK Education, commented:
"Dedicated supply teachers, like David, are playing an increasing role in education as demand for supply is increasing.

"Although supply teaching offers many rewards it is not without its challenges. Often, supply teachers are walking into an unfamiliar school with students they've never met with little to no prep time. Yet they take it all in their stride, and teach with passion and professionalism to ensure every child can continue their education, regardless of what situation schools find themselves in.

"These awards are a small way of publicly recognising the UK's many supply teachers for all their hard work and effort."
For advice, support and roles in supply teaching, contact PK Education's West Yorkshire, office, which is based in Leeds on (0113) 280 5905.