Middleton Elderly Aid & 100% Digital Leeds team up to help members improve digital skills.
Middleton Elderly Aid is a charity promoting independence amongst the over-60s living in Middleton, Leeds.
They do fantastic work and provide a huge range of services and activities for local older people such as lunch clubs, coffee mornings, day trips, exercise classes, holidays, games, bingo, hearing aid clinics and more.
Being in one of the most digitally excluded areas in Leeds and working with some of the most excluded demographics it was a natural fit for them to join the 100% Digital Leeds movement.
From the start it was clear that 100% Digital Leeds and Middleton Elderly Aid had shared goals including: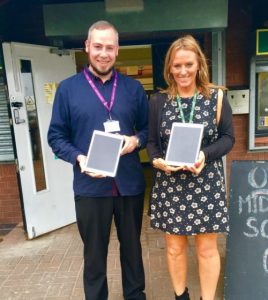 Improving health and wellbeing for residents Reducing social isolation. Promoting independence.
Click this link for more information: 100% Digital Leeds
We first met in June 2018 and discussed the work that we were both doing.  From this we identified that Middleton Elderly Aid could benefit from joining the Online Centres Network.
They had a Beginners ICT class being run by Age UK but this was coming to an end and there was interest for more digital skills training from the members.
Becoming an Online Centre gave them access to the online learning platform Learn My Way as well as other benefits such as support from Good Things Foundation and access to funding opportunities.
In September 2018 in order to facilitate further digital skills learning at the centre they submitted a tablet lending application form.  We were delighted to add them to our tablet lending scheme and they borrowed four iPads for use in their classes.
The classes covered a wide variety of learning, members brought in their own tablets or devices if they had them, and those who did not have their own equipment were able to use one of our iPads.
Subjects covered included the controls of a tablet, details around settings and accessibility, how to take photos and send them to family and friends, and how to use apps to make their lives easier.