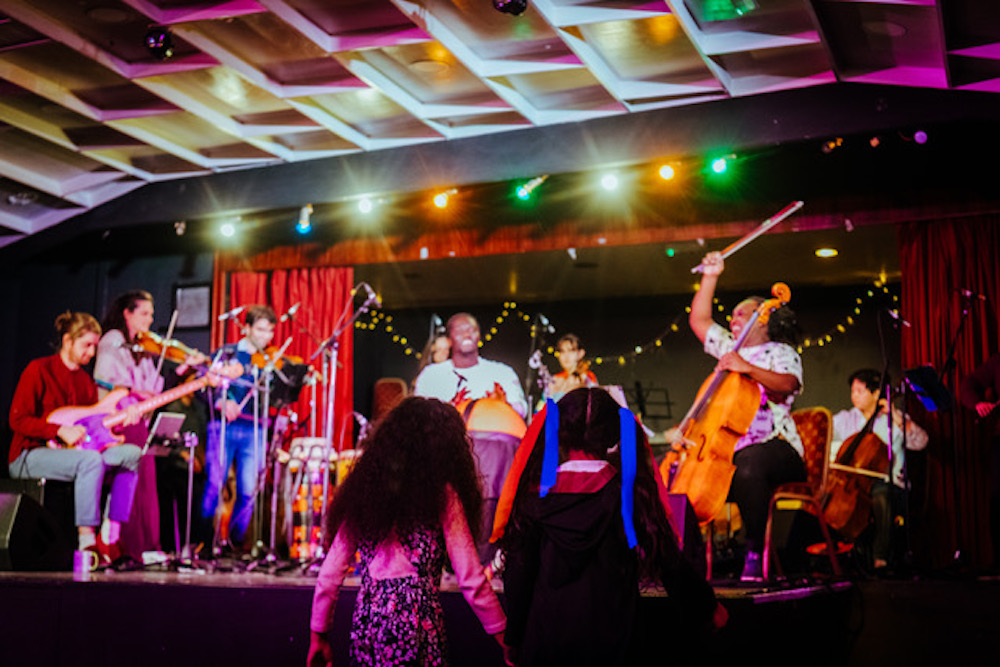 Last month the incredibly talented Manchester Collective and Abel Selaocoe came to Slung Low at The Holbeck to perform a concert featuring classical futuristic and African music.
The doors opened at 1pm with activities, including making lanterns, and food for the guests, with every flavour of Fanta!
Manchester Collective were invited by the Imaginative Intelligence Warriors (IIW), the children who organised the event. The IIW are a group of creative pupils from Ingram Road Primary School in Holbeck who for the past year have used their imaginations to work with Slung Low to create family events.
As the chair of the IIW, I lead the monthly meetings which are held in the library at school. Slung Low makes the agenda based on agreed targets from past events/meetings and I go through the points with the rest of the group. One of our favourite jobs is handing out badges for creativity to adults and pupils who we feel are deserving of them.
At the concert I helped Slung Low set up the decorations and we got to meet the orchestra who were really nice and worked well together as a team to create different atmospheres within the room.
During the show the audience joined in with some of the songs and towards the end people stood up and danced to the music, joined by some of the musicians. We gave badges to the whole orchestra for their creativity, specifically for the freestyling during their first song.
Families in the audience said: "We really loved it. I want them to come back again."

"It was so cool … I didn't think we'd hear something like that in Holbeck."

"I thought it was amazing. I think everyone did amazingly. And I can't think of any other adjective than amazing."
I greatly look forward to the future IIW events planned for both the school and the community which include a kindness festival and something special for the Year Six leavers in the summer. We are excited for welcoming people to our events and hope you enjoy them as much as we enjoy making them.
This post was written by Aminah Yasmin
We encourage anyone living or working in South Leeds to use this website to tell their news. You can either use the Create an article for South Leeds Life page, or email us at: info@southleedslife.com