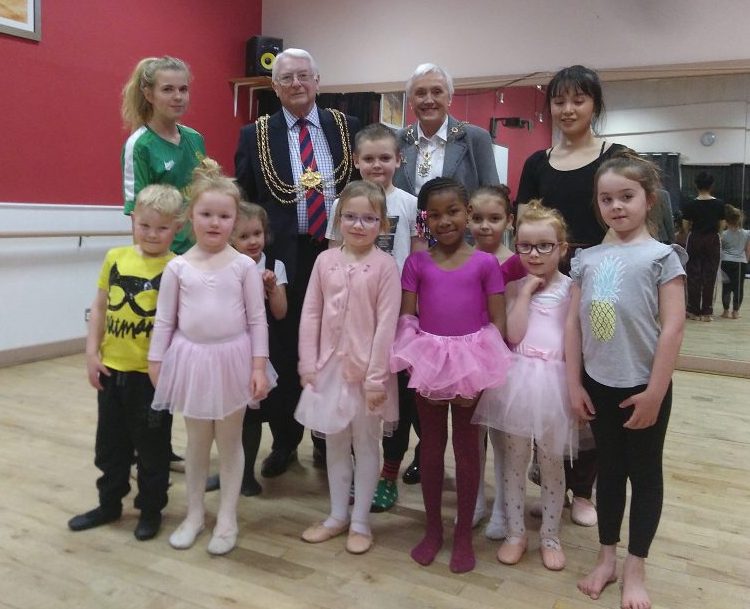 The Lord Mayor of Leeds Cllr Graham Latty yesterday (Wednesday 13 March 2019) paid a formal visit to the Hunslet Club with the Lady Mayoress (also a councillor: Cllr Pat Latty) – and couldn't quite believe his eyes.
Following a tour of the site – which was heaving with after-school classes and activities – Cllr Latty commented:
"Ten years ago, my wife came home from a visit to this Club, and she's never stopped going on about it to this day. Now I've seen it with my own eyes, and I'm amazed. I never dreamt there would be so much going on. It's wonderful."
During the visit, the Lord Mayor and Lady Mayoress got to see and hear about the wide-ranging life and work of the club – including the garage, the many sports and dance programmes, the hair and beauty facilities, the catering courses, the music and IT suites, the building workshops, and more. They also got to meet club members, staff, volunteers, and some of the many youngsters who are part of it. One of the youth people even gave the Lady Mayoress a giant hug, mistaking her for the Queen!
Dennis Robbins, the Club CEO, added:
"This is what it's like every single day, every single evening: the Club pretty much never closes. We're working hard to give all the youngsters and adults who come here opportunities, that bring something out of them. Looking back 20 years, we never dreamt we'd get to where we are now – but here we are, it's a great place, and I think we're making a real difference."
The Hunslet Club (formerly known as the Hunslet Boys Club) was established in 1940, and currently runs 98 regular activities, engaging thousands of people of all ages. As well as their after-schools activities, they also run an acclaimed alternative education scheme, community events, sports teams, social enterprise projects, and more. They have over 1600 active members, 43 members of staff, and dozens of volunteers. For full info, visit their website.
The Lord Mayor of Leeds is a ceremonial role, rotated amongst the elected councillors each year. For more info, click here.