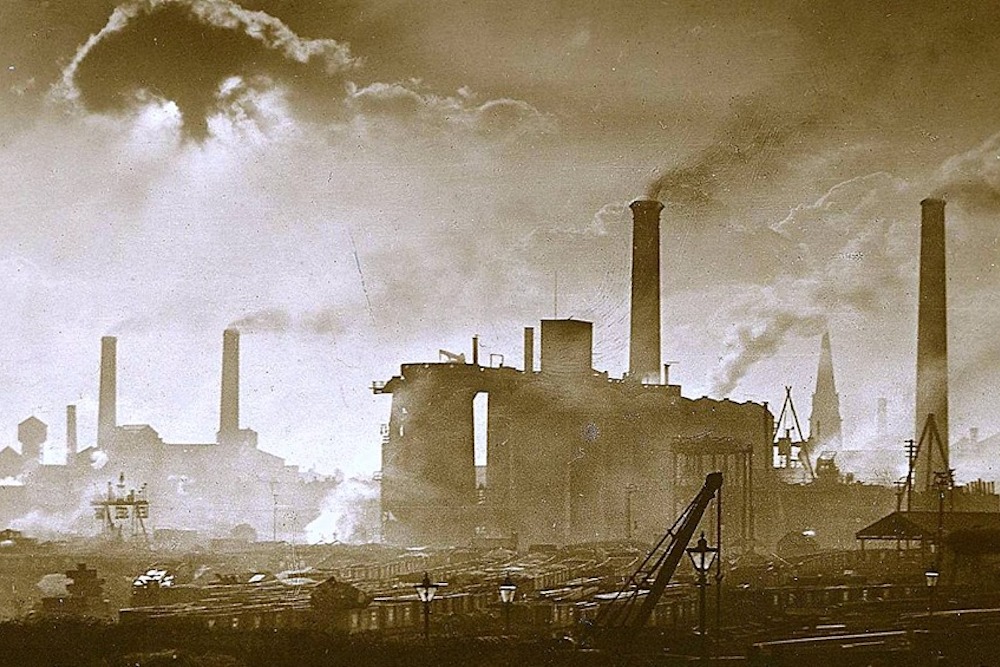 The Leeds Steel Works became one of the largest iron and steel works in Yorkshire.
It occupied an area of around 25 acres (10 hectares) between Balm Road and Pepper Road in Hunslet and lying alongside the Midland Railway line. Its perimeter extended to just over one mile and at its peak it employed 1,400-1,500 people and its products were exported world-wide.
Hunslet's industrial history can be traced back to the 18th century and its advantages for this was its location between two streams on flat land. It had good transport links with the opening of the Aire & Calder Navigation in 1700 up to Leeds Bridge leading to great trading opportunities, while in 1758 the Leeds & Wakefield Turnpike Trust improved the road.
The availability of local coal and clay was a bonus, there was a local colliery opened in 1739 followed by potteries and a brewery in 1763 with iron founding in 1770. Textile mills were opened in 1787 followed by chemical works in 1798; it can be seen from this that by 1800 Hunslet was ready to become one of the great 19th century workshops of the world.
Iron founding was begun by one Joseph Ledger on a site that would eventually become the site of the Leeds Steel Works in 1860s. The year 1871 saw the first blast furnace built here on what became known as the Airedale Iron Company in 1881 and the Airedale Hematite Iron Company in 1882-83 (Hematite is the principle ore of iron).
It started converting pig iron into steel by the Bessemer process in 1888 and became known as the Airedale Steel & Iron Company. It was in 1889 that Walter Scott Ltd of Newcastle-upon-Tyne acquired the works and its three blast furnaces, Sir Walter Scott (1826-1910) was renowned as a railway builder as well as a colliery and shipyard owner, the name was to change once again, now it was known as the Leeds Steel Works.
Re-construction and expansion to the works began under the new owners. Originally standing in fields, the expansion of the works is more than likely to have been a major factor in the building of back-to-back houses in the 1890s and early 1900s in the Bower Road and Pepper Road areas of Hunslet.
Large iron ore mines were owned by the Company in Frodingham, North Lincolnshire which supplied the works with over 2,000 tons of ore each week. The beauty of this ore was it was strongly impregnated with lime, which reduced the need for limestone. Ore was also brought in from Northamptonshire, this ore and other supplies such as coke and limestone were brought in by rail, the works site included five miles of railway sidings which were also used to send out pig-iron and finished steel.
By 1912 there were four blast furnaces at the works, each of these was capable of making 100-130 tons per day of iron and all the iron produced went into the making of Bessemer steel in an adjoining plant. Here the steel was cast into ingots and transferred to heating furnaces in the rolling-mill department where it was rolled to different sizes and sections where 1,800 to 2,000 tons of steel were produced each week.
In 1892 the Company was the first to produce a rail 60 feet long, a longer rail making for smoother running, while since 1894 a speciality for tram rails had come to the fore, the Company producing 50 different sections of rail for most Councils in Britain. By the 1920s the works had made over half the total tramway rails in use in England.
The Company also produced the first wide grooved tram rail that was suitable for mainline (railway) stock, this allowed railway wagons to run on tram rails and this seems to have been a great benefit to dockside systems. All this specialised rail trade that had been in the hands of foreign companies was taken over by the Company while permanent rails were rolled for several leading English railways as well as those in South America and Canada.
In an industry like this there were always accidents, serious and otherwise, and two of the most serious were widely reported. One was on 11 January 1900 when the material in No3 Blast Furnace had 'dropped' causing the gas that had formed to explode. This caused the "bell" or moveable roof, which weighed many tons, to be blown in the air followed by a tongue of flame and smoke as well as debris comprising of limestone, coke, and iron ore killing four men. The next disaster was on 26 August 1913 when a terrific explosion was caused when a boiler end cap was blown out causing a rain of red hot bricks, scolding water and smoke. This resulted in the deaths of nine men and injured a further twenty. It is said that men wanting work used to wait outside the works for ambulances to arrive and take away the accident victims and then apply for their jobs.
Slag produced in the blast furnaces was broken up and used for road making, concreting, railway ballast, and artificial manure. Since 1908 a business had been developed to make tarmacadam of asphalt using a lot of the slag; molten slag was run off from the furnaces into containers and allowed to cool, it was then put under giant crushers and ejected for mixture with tar to form a perfect road making material which was much used around Leeds.
After the First World War, in the 1920s, competition from abroad began to make steel production unprofitable. However, the works still had an efficient iron making plant and was now producing high grade iron for foundry and forge work for other steelworks throughout England, it being one of the leading firms in the country in this product.
Although conversion of iron to steel had ceased the Company was fabricating other steel sections such as constructional steelwork for buildings, roofs, and bridges. All this while the asphalt plant was producing over 100,000 tons a year.
Britain's iron and steel industry had grown to be a world leader in the 19th century, but from the latter part of the century foreign competition became more intense and in the 1930s a world-wide recession hit all the users of iron and steel and because there was over capacity in the industry firms started to close.
The Leeds Steel Works employed only a few hundred when a receiver was appointed in 1934 and in August 1935 an 18 month dismantling period began. There was 400,000 tons of slag on the site and this led to the slag plant being re-opened to make rod making materials and concrete.
There may be people still alive who remember Hunslet as an hive of industry some may even remember when the sky was aglow at night with the light from the huge blast furnaces and seeing the smog while breathing in the sulphur.
Main photo: The blast furnaces of Leeds Steel Works with Hunslet spire in the background and railway sidings in the foreground
Whilst you're here, can we ask a favour?
South Leeds Life is published by a not-for-profit social enterprise. We keep our costs as low as possible but we've been hit by increases in the print costs for our monthly newspaper – up 50% so far this year.
Could you help support local community news by making a one off donation, or even better taking out a supporters subscription?
Donate here, or sign up for a subscription at bit.ly/SLLsubscribe