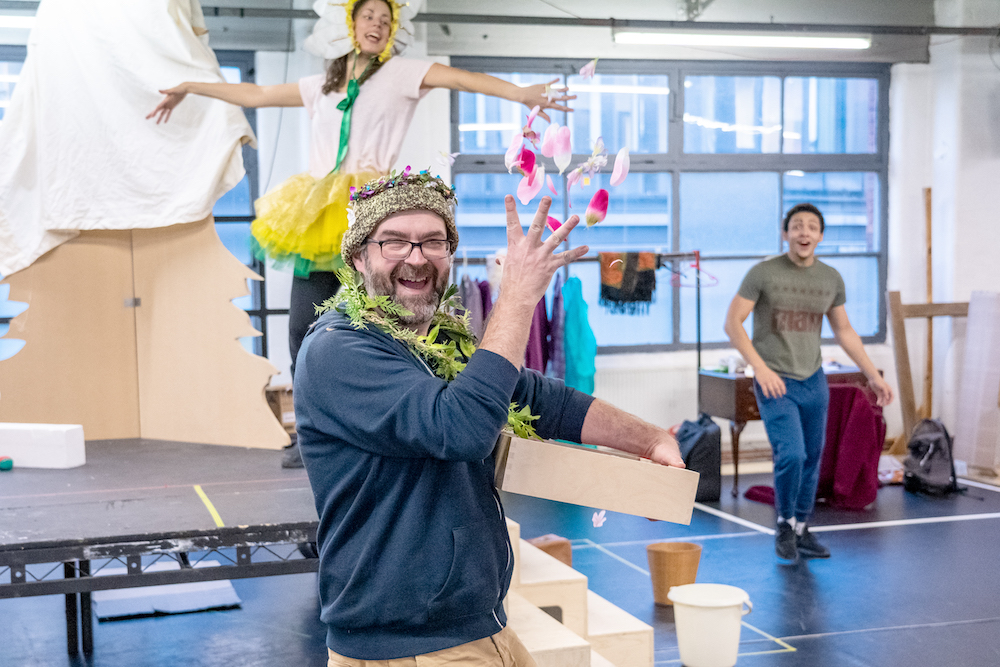 Something magical is happening in communities across Leeds. Fairy Poppins and the Naughty Winter Ghost – a new family show commissioned by Leeds Playhouse to celebrate its 50th anniversary – is heading out on a tour of neighbourhoods, schools, care homes, community centres and village halls.
Written by Robert Alan Evans and directed by Leeds Playhouse Associate Director (Creative Engagement) Alexander Ferris, the show premieres in Playhouse Square on 27 May before hitting the road on a five-week multi-venue tour of the city, including Holbeck Community Centre, the Hamara Centre in Beeston, St Aidan's Church Community Hall in Harehills, The Old Fire Station in Gipton, and Richmond Hill Academy.
Families, schoolchildren, older people – everyone, in fact – can enjoy this magical yet meaningful adventure safely as a trio of rambunctious players deliver the excitement of live theatre from the back of a truck.
"After the year we've all had, I am so thrilled we can share the joy of this irreverent new story for all the family as told by a group of hapless but earnest storytellers," said Alexander. "We're looking forward to meeting and entertaining people across Leeds come rain or shine and, if the Naughty Winter Ghost gets its way, even a bit of snow."
Hilarious and a tiny bit spooky for scaredy-parents (a lion roars softly more than once), Fairy Poppins and the Naughty Winter Ghost is performed by three storytellers – Henderson, Brown and Wallis – with a tall tale to tell about an 800-year-old forgotten fairy and a brave(ish) child called Freddy who try to save spring from the freezing clutches of a naughty ghost.
Packed with music, magic and very bad jokes, it's a show with hope at its heart.
The tour will be taking the show to specially invited audiences in schools and care homes, as well as public performances where tickets can be booked for just £3. These public performances currently include:
Wednesday 2 June 5pm: The Bridge, Holbeck Community Centre
Saturday 19 June 5:30pm: The Holbeck, Slung Low
Wednesday 23 June 4pm: Hamara Centre, Beeston
More community venues will be announced later. In the meantime, please note that this is an outdoor, all-weather tour experience (in other words, don't forget your brollies and sunscreen).
Book online here or call the box office on (0113) 213 7700
The production is sponsored by JM Glendinning Insurance Brokers in association with Caddick Group Families Partner
This post is based on a press release issued by Leeds Playhouse
Photo: Christopher Chilton (Penith Henderson), Stephanie Rutherford (Ascot Brown) and Kyle OGara (Wallis) in rehearsals for Fairy Poppins and the Naughty Winter Ghost at Leeds Playhouse. Photograph by Anthony Robling