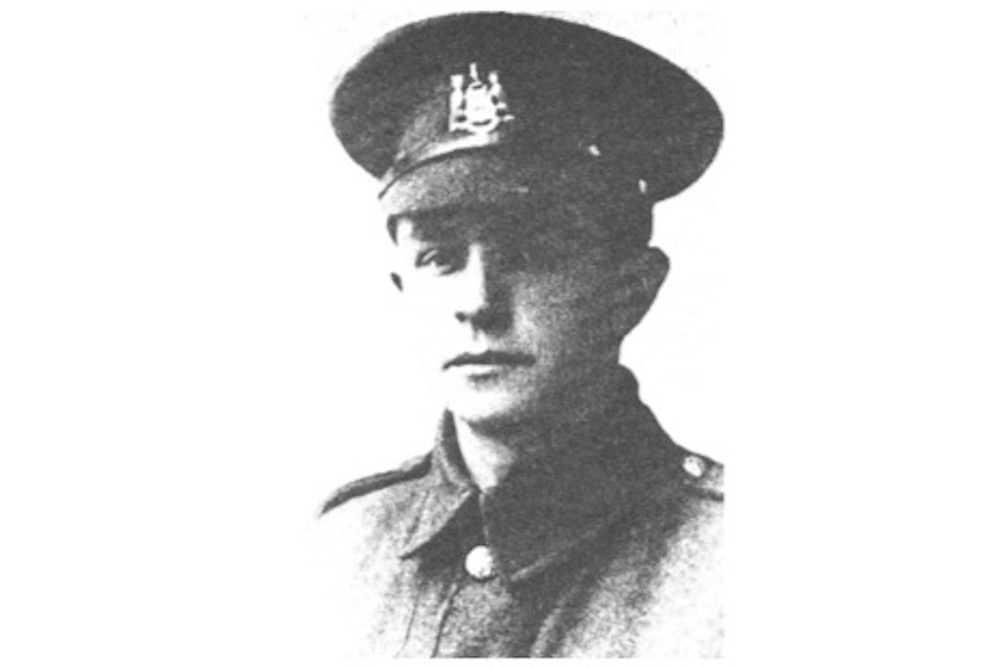 William Arthur Hollings from Hunslet joined the Leeds Pals Battalion and fought in the Battle of the Somme during the First World War. Although he survived the battle, he later died of pneumonia. This is his story.
William was born on 4 September 1890, the fourth of six children. The family lived at 3 Grove Road, off Church Street. His father, also called William was born in Hunslet and worked as a blacksmith and by 1911 he was a master farrier. William senior died in 1920, aged 66. His first wife, Alice Rumfitt, had died probably in childbirth and although the son survived, he died aged 8. Two of the six children William had with his second wife Mary Anne Hamer also died very young. This was typical for a working class family in Victorian Hunslet.
When William was 19 he was working as a shorthand typist in an engineering firm. His sister Dorothy was similarly a shorthand typist, but for a brush manufacturer. This was a time when the jobs of secretary, shorthand typist and similar were gradually changing from being traditional men's occupations to women's, a change which was to be greatly accelerated by the war.
Britain declared war on Germany on 4 August 1914, exactly one month before William's 23rd birthday.  On the day before his birthday he put his name down to join The Leeds Pals, and a week later he was attested. His service records have not survived, but he will have gone to Colsterdale for his basic training, then on to Ripon and Fovant.  William was quite a prolific letter writer and kept his father up to date on what was happening.  But more significantly, many of these letters have survived.  On 21 June 1915 he wrote from Ripon:
"Today we have been drilling in delightful surroundings, and if only we had had no pack and rifle and could have gone about and done just as we liked it would have been fine. We went for the day to Studley Park, the weather was blazing hot and as we had a lot of 'doubling' to do we didn't half sweat."
William had been put into No 13 Platoon of D Company, and was made Lance Corporal.
The Battle of the Somme began on 1 July 1916, and a few days later William wrote once more to his father:
"The honour of being first 'over the lid' of our brigade fell on my own platoon and No 10. Not a man hesitated. In broad daylight last Saturday morning our lads had the order to advance. No sooner had the first lot got over the parapet than the Germans opened up a terrific bombardment … They had machine guns every few yards, and it seemed impossible for a square inch of space to be left free from flying metal."
But William somehow survived, and on 22 October he wrote:
"Isn't it somewhere about a year ago since I was home on leave last. Nearly all the men about me are new, as very few of the old lot are left."
He would not be 'one of the old lot' for much longer. In another letter he wrote about:
"Canteens run by men who had done their bit and many a time I wished that I could get a similar job … We are having some very wretched weather here and the water has nowhere to drain away to, therefore the whole country, roads and trenches are in a mobile muddy mess. We used to have hopes of some day going into a rest camp, but I do not think such camps exist."
Then William fell ill, and was taken to No 44 Casualty Clearing Station, where, on 4 March 1917, he died of pneumonia.  He was buried in Puchevillers British Cemetery, Picardy, and after the war was awarded the 1914-15 Star, the British War Medal and the Victory Medal. These, together with his Memorial Plaque and Scroll, would have been sent to his mother, his father having died in 1920.
This post is based on research carried out by Peter Taylor as part of a joint research project between Leeds Museums and Galleries and Nidderdale Area of Outstanding Natural Beauty's (NAONB) Heritage Lottery Funded First World War Centenary project. You can read Peter's original article here.