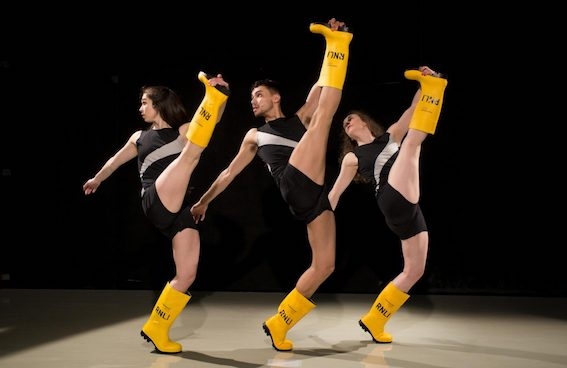 Leeds' contemporary dancers swapped their jazz shoes, for the Royal National Lifeboat Institution's yellow wellies to show support for Mayday, the charity's national annual fundraising campaign which is calling out for people to 'Do your bit, fund our kit'.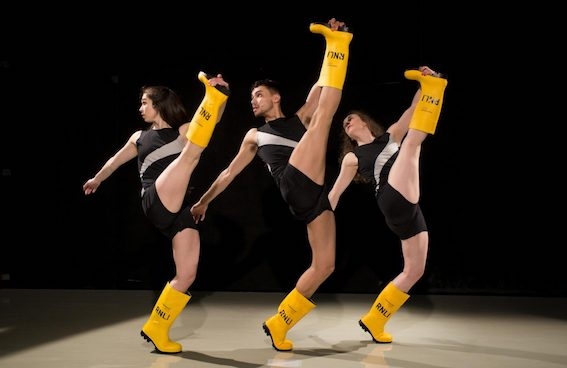 Students from the Northern School of Contemporary Dance showed off their specialist dance moves in bright yellow wellies to help raise funds for crucial RNLI kit for brave volunteer lifeboat crews.
Worn by generations of volunteer lifeboat crews to grip the deck in slippery conditions, the yellow wellies keep crew safe and steady on stormy seas, with reinforced toecaps to protect their feet.
Northern School of Contemporary Dance 2nd year student Henry Morris, comments:
"It was a humbling experience stepping into the shoes of the RNLI volunteers to raise awareness of their lifesaving work around our coastlines. I have a friend who became an RNLI lifeguard because of the exciting nature of the job and the commitment and dedication saving lives takes. I admire the courageous work they do. Being an avid climber and adventurer myself, I would consider joining the RNLI in the future, it's an amazing charity who save lives at sea every day. I'd encourage everyone to do their bit this Mayday to fund the crews kit. Visit RNLI.org/Mayday to see how you can get involved."
Mayday distress calls can come in any time, day or night, 365 days a year, with 4,700 volunteer crew members from 238 lifeboat stations across the UK and Ireland on standby to drop everything in an instant to save lives at sea.
Hannah Jackson, RNLI Community Fundraising Manager for Leeds, said:
"Our crews rely on lifesaving kit, like their yellow wellies, lifejackets and helmets, when they go out in all weathers to save lives at sea. From sponsored bike rides and welly walks, to running a bake sale, there are all sorts of ways to raise money for the RNLI this Mayday. Visit RNLI.org/Mayday to download a fundraising pack and see how you can do your bit to fund our kit." 
The RNLI's Mayday campaign runs throughout May and aims to raise £750,000 to fund lifesaving kit for the charity's brave volunteers. An RNLI crew member's yellow wellies cost £54 a pair, a lifejacket costs £458 and a safety helmet costs £263.
Hannah Jackson continued:
"In 2016 RNLI lifeboat crews launched 8,851 times, rescuing 8,643 people and saving 431 lives. Holidaymakers from urban areas, like Leeds, can be less aware of the dangers the sea can bring. They may not know the efforts the RNLI and its army of volunteers go to in order to keep the public safe around our coasts."
Mayday fundraising events are taking place right across the UK and Ireland, many with a yellow welly theme. To find a Mayday event near you, or to download a fundraising pack, visit RNLI.org/Mayday.
This post was written by Alexandra Wright using our Create an article for South Leeds Life page.